Jurassic World: Dominion Dominates Fandom Wikis - The Loop
Play Sound
NOTE: This article is about the incarnation of Starscream from the Transformers live-action film series. The mainstream version can be found here: Starscream.
| | | |
| --- | --- | --- |
| " | I live to serve you, Lord Megatron. | " |
| | ~ Starscream's first onscreen line. | |
| | | |
| --- | --- | --- |
| " | YOU CAN'T HIDE, BOY! | " |
| | ~ Starscream to Sam Witwicky in his villainous breakdown | |
Starscream is a major antagonist in the Transformers Cinematic Universe. He served as the secondary antagonist of Transformers (2007), a major antagonist in Revenge of the Fallen and Dark of the Moon, and a posthumous antagonist in The Last Knight. He also appears in the Universal Studios attraction Transformers: The Ride.
He was voiced by Charlie Adler, who also played Cobra Commander in G.I. Joe Resolute and G.I. Joe: Renegades and voiced Snivley in Sonic SatAM.
Biography
Over the centuries, he has come to believe both Optimus and Megatron have lost sight of what is best for the Cybertronian race, and simply pursue their own agendas. At some point, he came to the decision that, for the good of the species, a new leader must emerge, and he would be that leader. However, over time, he became as corrupt in his own way as Megatron, although he prefers subtlety and deception to Megatron's brute force. Now, what may once have been noble goals are buried under layers of self interest, transforming Starscream into that which he supposedly despised.
IDW Publishing Prequel Comics
The back story of the Transformers on ancient Cybertron is told in Transformers: Defiance. In this story, Starscream returns to Cybertron after encountering an enemy scout ship in the Eshems Nebula. After being repaired for minor damage by Ratchet, Starscream and Ironhide report to Optimus Prime and Megatron. Later, the planet is invaded by aliens from the Eshems Nebula and Starscream is among the defenders in the city of Metrotitan, near the temple at Simfur. In issue #2, he sides with Megatron in his decision to counterattack Cybertron's invaders and is among the fleet that attacks their ships.
Starscream also appears at the end of issue #3 of Transformers: Movie Prequel, where he, Blackout and Barricade destroy the Mars Beagle probe. In issue 4, he travels to Earth, gaining his F-22 alternate mode by scanning an experimental Raptor before shooting it down. The three Decepticons, detecting emissions similar to that of the Allspark, then stumble onto Sector 7's trap for Bumblebee, wiping out their military backup. Starscream then approves Barricade's plan to follow Bumblebee and see if he could lead them to the AllSpark, tailing him from the air.
Transformers
Starscream is the secondary antagonist of the 2007 film. He is first seen in disguise as an F-22 jet plane where he opens fire on the Sector Seven facility that Megatron has been held a frozen prisoner in at the same time Frenzy infiltrates the control center to melt Megatron. When Megatron is released by both Starscream and Frenzy's efforts, Starscream rushes to greet his leader. However, rather than thanking Starscream, Megatron berates him for losing the AllSpark and orders him to go find and retrieve it.
During the final battle, Starscream begins his attack by firing at the Autobots and manages to strike Bumblebee's legs. He fights Ironhide and Ratchet, almost killing them. Because of him, Ironhide and Ratchet were unable to participate in the majority of the battle. He also managed to be too much of a challenge for a fleet of F-22 Raptors that were not prepared for his surprise attacks.
In less than two minutes, he was able to put Bumblebee, Ratchet, and Ironhide out of battle by shooting at them and using the same surprise tactics, shot down the helicopter that was supposed to rescue Sam, destroyed an F-22 pilot and was able to easily escape other F-22s that were trying to shoot him down. It is likely that Starscream fired missiles at Megatron when he blended in with other F-22s. Starscream was overjoyed to see that Megatron was slaughtered by the efforts of Optimus Prime and Sam Witwicky. Starscream then flew away from Earth and retreated back to Cybertron.
The Reign of Starscream
He appears in the official movie sequel comic called "The Reign of Starscream". In this story, Starscream leaves the battle in Mission City, where he finds Barricade alive, but damaged, and then goes to recover Frenzy's body from the Sector 7 base under Hoover Dam in hopes of gaining information on the All Spark. After recovering Frenzy, Starscream is confronted by Sector 7 forces commanded by Agent Salazar. After an unsuccessful attempt by Salazar to use L.M.-1 in battle Starscream kidnaps Salazar and leaves Earth for Mars. Salazar dies from decompression, much to Starscream's surprise, when they leave the Earth's atmosphere.
Starscream barely makes it to the Nemesis on Mars before he runs out of power. His return is noted by the Autobot Cosmos, who alerts Arcee, Cliffjumper, Smokescreen, Camshaft and Air Raid. Aided by Thundercracker aboard the Nemesis, Starscream recovers and sends the information Frenzy had gathered back to Cybertron just as Hardtop spots the Autobots closing on the Nemesis.
In issue #5, Starscream sacrifices the sparks of Crankcase, Elita One, Grindcore, Signal Flare and Warpath to bring his new AllSpark Cube online. Although the cube fails to function, Starscream does not have time to find out why, as Dreadwing makes his bid to overthrow the Decepticons using his army of drones. Ramjet and Divebomb side with Dreadwing, but Thundercracker and Stockade remain loyal to Starscream. Crosshairs beheads Ramjet and the Autobots are able to deactivate the drones as Starscream overcomes Dreadwing's remaining forces, including Divebomb. Dreadwing escapes to the Nemesis, but is followed by Starscream. Crashing on Mars, Dreadwing thinks he was free, but Starscream kills him before turning his eye to Earth.
Revenge of the Fallen
| | | |
| --- | --- | --- |
| " | You left me to die on that pathetic insect planet! | " |
| | ~ Megatron calling Starscream out as a traitor. | |
Starscream is first seen in Revenge of the Fallen pretending to greet Megatron back home and expressing relief that he has been revived. Megatron has gotten angry at Starscream for taking his leadership when Megatron was killed by the AllSpark power, then Starscream (obviously unhappily) was back to second or third-in-command. Because of this, Megatron strangles Starscream who starts begging for release by using the hatchlings as an excuse, that they're inside the hatchling nest. Whether or not the excuse worked, Starscream was released but only after enduring a few seconds of getting strangled. As Megatron claimed his intention to activate the Sun Harvester in order to acquire more Energon, Starscream came in holding a dead Decepticon hatchling as an example why they need more Energon fast, as the one he held died from not having any. Starscream then joined in the Decepticon assault on Optimus Prime in the forest battle. Within seconds of flying into battle, Starscream chased after Sam until Optimus immediately grabbed and kicked Starscream from getting to Sam. It seemed that he, Grindor and Megatron combined were too much of a match for Prime, until Prime got out his Energon swords, cutting off Starscream's arm and crippling him badly. Because Prime kills Grindor and Autobot reinforcements of Ironhide, Ratchet and Sideswipe show up, Starscream and Megatron retreat, Megatron angrily blames Starscream for losing Sam ("I can't even rely on you to swat a simple insect!") and physically hurts him terribly on top of a skyscraper for being useless. Starscream being given Sam and Bumblebee's coordinates by Soundwave tracked down and fired missiles near Sam and tried chasing him during the end of the film. Fleeing in the face of Major Lennox and his men coming in, Starscream emitted an EMP blastwave that corrupted Lennox's team's equipment thus forbidding the US military and General Morshower from making contact with them.
When Optimus combined with Jetfire's parts faced the Fallen and Megatron in the film's climatic battle, Megatron questioned just where did Starscream go. Reasons could include Starscream is too much of a coward or he wants his two superiors dead for leadership woes, if not both. After Optimus shoots Megatron in the face with the latter's own gun before the former blasts him through an Egyptian temple wall, Megatron called out for Starscream to get to the battle already. Starscream reluctantly complies, then (eagerly) watches Optimus narrow down his competition for Decepticon leadership by ripping out The Fallen's face and crushing his spark with a squeeze, before uttering to Megatron now would be a good time to retreat because sometimes, cowards do survive.
Dark of the Moon
Starscream's first appearance was at when the three primary Decepticons Soundwave, Laserbeak and Megatron are meeting at Africa. Starscream being delighted that Megatron is rotting away mocks the burns on his face. Being unable to pulverize Starscream for the insults, Megatron only responds at Starscream to just shut up about it, calling him a gaseous sycophant. Later on, Megatron and Starscream invade Washington D.C. where Sentinel Prime unleashes hundreds of Decepticons to slaughter the humans in Chicago, Starscream compliments on Megatron's decision to ally with Sentinel Prime ("So impressive"). Sentinel extorts the Autobots to leave Earth in a spaceship called the Xantium. Starscream was sent to shoot it down, and the humans believed the Autobots were dead. However, it turns out that they did not hide in the spaceship and were in a rocket pod that was below the Xantium. Because the Autobots and humans were waging war on the impending Decepticon reinforcements from the moon, Starscream flew in to kill many human soldiers on Ospreys during the middle of the war, successfully killing at least dozens of NEST human men. Starscream was able to be extremely near Sam Witwicky, and this time, there was no Autobot around. Sam used Autobot Que's grappling hook to injure one of Starscream's eyes. As Starscream was blind and tried to kick Sam, while under fire from Lennox's NEST team, the brave human stabbed a boom stick at Starscream also given to him by Autobot Que. The boom stick kills Starscream and Bumblebee rescues Sam and Lennoz when they fell from a building Starscream exploded on top of. His last words were, "I'm gonna kill you.....", a case of verbal irony.
Age of Extinction
Starscream's head was seen on a card from Harold Attinger who was ordering a group of government agents that they must eliminate any trace of Transformers who were responsible for the Battle of Chicago. However, the shot that shows the card is not clear enough for viewers to see at the movie's speed.
The Last Knight
| | | |
| --- | --- | --- |
| " | The end is near, my old treachous friend. What a shame you'll be unable to see it! | " |
| | ~ Megatron as he holds his fallen lieutenant's head. | |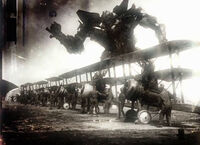 Starscream was one of the many Decepticons present on Earth, having been first documented around 1914. He was seen during World War I, fighting alongside the Germans.
Starscream's severed head was discovered by Daytrader in Buffalo, New York, who added it to his junk collection and dropped it right next to a disinterested Cade. Later, Megatron held Starscream's head and gloated that his "old friend" would not live to see the Decepticon's triumph.
Other Appearances
Transformers: The Ride
| | | |
| --- | --- | --- |
| " | Just dropping in! | " |
| | ~ Starscream assures the humans "not" to panic. | |
In the Universal Studios attraction Transformers: The Ride which follows its own continuity separate from the movies, Starscream appears as a major antagonist. He shows up near the end of the ride, after EVAC carrying the human passengers managed to outmaneuver Grindor, Sideways, Bonecrusher and Devastator. After Devastator used his vacuum mouth to suck in EVAC, EVAC turned on his shields to rip his way out of Devastator's face instead of getting eaten and while in the air, Starscream used a hook wire to grab EVAC, fly him around and throw him straight into a building where Megatron was waiting for them. As Megatron nearly starts tearing apart EVAC to death, Optimus barely managed to stop Megatron. As EVAC tried retreating, Starscream destroyed a NEST helicopter that was supposed to take EVAC's passengers to safety. Starscream proceeded to kill EVAC and the humans inside but is shot in the back by two NEST helicopters and he screeched in pain. Starscream in retaliation tried killing them with his gun on the spot, but changed his mind and transformed into his F-22 raptor mode and flew away to safety.
Victims
Multiple humans including NEST soldiers
Multiple U.S. Air Force airmen in the first movie, third movie, video games and theme park ride
Elita-One (Revenge of the Fallen movie)
Possibly numerous counts of human civilians off-screen
Possibly numerous counts of Autobots back on Cybertron off-screen
Stratosphere and the Aerialbots (in Dark of the Moon videogame)
Dino (in Dark of the Moon novelization)
Quotes
| | | |
| --- | --- | --- |
| " | Lord Megatron, I was so relieved to hear of your resurrection. (Megatron: You left me to die on that pathetic insect planet.) Only to help spawn our new army. The Fallen decrees it! After all, in your absence, someone had to take command. [Megatron pits him against a cybertronian embryo] (Megatron: So disappointing.) Hatchlings! Hatchlings! Careful, fragile! (Megatron: Even in death, there is no command but mine.) | " |
| | ~ Starscream being reprimanded by Megatron for proclaiming himself leader in his absence. | |
| | | |
| --- | --- | --- |
| " | We've lost the boy, Master. The Autobots must be shielding their signals. [Gets thrown to the ground then kicked by Megatron] (Megatron: I can't even rely on you to swat a simple insect?) One insect among seven billion! (Megatron: Shut up!) He could be anywhere. (Megatron: Then we will force them to find him for us!) | " |
| | ~ Starscream is beaten up by Megatron for not being of much help during the fight in the forest. | |
| | | |
| --- | --- | --- |
| " | Master, sorry to be the bearer of bad news, but the soldiers brought the body of Prime! | " |
| | ~ Starscream reporting Megatron of NEST arrival | |
| | | |
| --- | --- | --- |
| " | Not to call you a coward, Master, but sometimes cowards do survive. | " |
| | ~ Starscream after the death of The Fallen. | |
| | | |
| --- | --- | --- |
| " | Oh, my poor master. How it pains me to see you so wounded, so weak... | " |
| | ~ Starscream taunting his weakened master. | |
Gallery
Images
Videos
Trivia
It has been suggested that, following his attack on the F-22 squadron over the city, Starscream was able to hide among the survivors and take part in the attack on Megatron, shortly thereafter. This theory is speculative; while it fits the character of the G1 Starscream from the 1980s, there is nothing actually on the screen to suggest it (except for the fact Starscream is nowhere to be seen following the strike and is later seen leaving Earth's atmosphere). (Roberto Orci was asked, but refused to give a definite answer.) In The Reign of Starscream, the first issue reveals that during the battle, he was highly tempted to fire on him, Whether this will be retconned is unknown.
This is the second incarnation of Starscream to have transformed into a Lockheed Martin F-22 Raptor, the first beng his Armada counterpart. Also, Lockheed Martin F-22 Raptor is the successor of F-15 Eagle, the alt mode of the original Starscream.
PS3/360/PC Video Game (Revenge of the Fallen) version of Starscream is far worse than his film counterpart.

Villains
Animated Features
General Mandible | Colonel Cutter | Pharaoh Rameses | Hotep and Huy | Baka | Pharaoh Seti I | Tzekel-Kan | Hernán Cortés | Mrs. Tweedy | Mr. Tweedy | Lord Farquaad | Thelonious | Captain of the Duloc Guards | Merry Men (Monsieur Hood) | Unidentified Witch | George Armstrong Custer | The Colonel's Cavalry | Roy, Bill, Jake, Pete and Joe | Eris | Cetus | Roc | Fairy Godmother | Prince Charming | Arm Guards | Elves (Jerome) | Pirates (Captain Hook) | Cyclops | Headless Horseman | Steve and Ed | Witches | Gnomes | Lola | Sharks (Don Lino & Frankie) | Luca | Fossas | Nana | Victor Quartermaine | Philip | Vincent | Gladys Sharp | Dwayne LaFontant | The Toad | Le Frog | Spike & Whitey | Thimblenose Ted | Fat Barry | Ladykiller | Henchfrogs | Rapunzel | Evil Queen | Stromboli | Mabel | Black Knights | Layton T. Montgomery | Ken | Tai Lung | Criminals | Makunga | Teetsi | Tour Guide | Poachers | Gallaxhar | Robot Probes | Red Death | Rumpelstiltskin | Griselda | Baba | Pied Piper | Megamind | Minion | Tighten | Lord Shen | Lord Shen's Wolf Army (Boss Wolf) | Jack and Jill | Humpty Alexander Dumpty | Chantel DuBois | DuBois' Men | Pitch Black | Nightmares | Chunky | Guy Gagné | Ms. Grunion | Maximilien de Robespierre | Ay | Northern Alliance (Drago Bludvist, Drago's Bewilderbeast & Eret) | Octopi (Dave) | The Boov (Captain Smek & Officer Kyle) | Kai the Collector | Chef | Creek | King Gristle Sr. | Francis E. Francis | Eugene Francis | Professor Poopypants | Benjamin Krupp | Melvin Sneedly | Turbo Toilet 2000 | Tara Ribble | Talking Toilets | Bank Robbers | Grimmel the Grisly | Deathgrippers | Warlords | Dr. Zara | Burnish | Goon Leader | Queen Barb | Rock Trolls | The K-Pop Gang | Reggaeton Trolls | Spiny Mandrilla | Punch Monkeys | Hendricks | Dr. Erwin Armstrong | Bellroc | Skrael | Zong-Shi | Mr. Wolf | Mr. Snake | Mr. Shark | Mr. Piranha | Ms. Tarantula | Professor Marmalade | Cuddles
Live-Action Films
The Mouse | Sadako Yamamura | Ocean Entity | Dr. Reingold | Benny | Ruby | Commando Elite (Major Chip Hazard, Butch Meathook, Nick Nitro, Brick Bazooka, Link Static, Kip Killigan, & Gwendy Dolls) | Gil Mars | Steamboat Willie | Vivian Thompson | Frank Fitts | General Roth'h'ar Sarris | Commodus | Jacob | Norman Spencer | Genus | General Granger | General Russell Woodman | Voltan | Morlocks (Über-Morlock) | Lamar Burgess | Connor Rooney | Harlen Maguire | Dietrich Banning | Samara Morgan | Anna Morgan | Galem Burke | Frank Abagnale Jr. | Dean Gordon Pritchard | Larry Quinn | James Rethrick | Madame Vandersexxx | Claire Wellington | Vincent | Paco | Felix Reyes-Torrena | Count Olaf | Hook-Handed Man | Henchperson of Indeterminate Gender | Bald Man | White-Faced Women | Officer LeFlore | Jack Byrnes | Chris Wilton | Martians | Dr. Bernard Merrick | Tom Lincoln | Jackson Rippner | Hatsumomo | Curtis Taylor, Jr. | Jean-Baptiste Grenouille | Norbit's Parents | Rasputia Latimore | Big Black Jack Latimore | Blue Latimore | Earl Latimore | Deion Hughes | Buster Perkin | Stranz Van Waldenberg | Fairchild Van Waldenberg | Katie Van Waldenberg | Robert Turner | Decepticons (Megatron, Starscream, Barricade, Frenzy, Blackout, Scorponok, Bonecrusher, Brawl, Dispensor, The Fallen, Soundwave, Sideways, Grindor, Ravage, Alice & Scalpel) | Constructicons/Devastator (Demolishor, Rampage, Long Haul, Mixmaster, Scrapper & Scavenger) | Lila Cantrow | Assef | Sweeney Todd | Nellie Lovett | Judge Turpin | Beadle Bamford | Jonas Fogg | Adolfo Pirelli | Predatory Vines | Tran | Les Grossman | ARIIA | Jake | Max | Anna Ivers | Theodore Galloway | George Harvey | Hilly Holbrook | Setrakus Ra | Jerry Dandridge | Evil Ed | Tak Mashido | Farra Lemkova | Ricky | Zeus | Julian Assange | Dino Brewster | Deja Thoris | Louis | Carl, Rudy, Stevie and Vern
Animated Television
Fearless Leader | Boris Badenov | Natasha Fatale | Snidely Whiplash | Dr. Blowhole | Coverton | Sta'abi | Johann | Dragon Flyers (Krogan, Mr. Murderous Pile of Yak Dung & Flyer Leader) | Dragon Hunters (Viggo Grimborn, Ryker Grimborn, Cleve, Ingar Ingerman, Dragon Hunter Commander & Fight Master) | Dagur the Deranged | Amos | Gruffnut Thorston | Slitherwings | Firecomb Crasher | Hookfang's Nemesis | D-Structs | Skrap-It | Splitter | Blayde | Pounder | D-Stroy | Goldtrux | Galra Empire (Emperor Zarkon, Prince Lotor, Haggar, Sendak & Lotor's Generals) | Morgana | Gunmar | Angor Rot | Bular | Stricklander | Nomura | NotEnrique | Queen Usurna | Dictatious Maximus Galadrigal | Zoe | Stu | Maria | Patty Pupé | Bloodwolf | The Splotch | Socktopus | Theodore Murdsly | Smartsy Fartsy | Melvinborg | Teachertrons | Croco-bats | Butt-erflies | Dr. Disgruntled | Bootsy Calico | Wendi McCraken | Frederic Estes | Turtleneck Superstar | Happy Sedengry | Odlulu | The Horde (Hordak, Catra, Shadow Weaver, Scorpia, Double Trouble & Entrapta) | Horde Prime | Galactic Horde | Light Hope | First Ones | General Morando | Zeron Alpha | Colonel Kubritz | Gaylen | Cleve Kelso | SH1FT3R (Shashi Dhar & Layla Gray) | Rafaela Moreno | Mitsuo Mori | Moray | General Dudley | DANN | Dominic Toretto | Scarlemagne | Mod Frogs (Jamack & Mrs. Satori) | Newton Wolves (Bad Billions and Good Billions) | Scooter Skunks | Humming Bombers | Tad Mulholand | Fun Gus | Human Resistance (Dr. Emilia, Greta & Zane) | King Arthur | Mantah Corp (Daniel Kon & Kash D. Langford) | Henry Wu | Indominus rex | Eddie | Mitch & Tiff | Hawkes | Reed | Eli Mills | OCB | Pyg And Tam | Maria Maria | M-M-R-T-B | Bug The Pug
Video Games
King Fossa | Arachne | Doom Syndicate (Psycho Delic)
Shorts
Mr. Chew | Tour Guide | Boneknapper | Wu Sisters | Le Chuchoteur
See Also
20th Century Studios Villains | Aardman Villains | Amblin Entertainment Villains | Buena Vista International Villains | Farrelly Brothers Villains | Fast and the Furious Villains | Fright Night Villains | How to Train Your Dragon Villains | ImageMovers Villains | Jurassic Park Villains | Kung Fu Panda Villains | Madagascar Villains | Netflix Villains | Nickelodeon Movies Villains | Norbit Villains | Paramount Villains | Ridley Scott Villains | She-Ra 2018 Villains | Shrek Villains | Small Soldiers Villains | Sony Pictures Villains | Steven Spielberg Villains | Sweeney Todd Villains | Tales of Arcadia Villains | The Boss Baby Villains | Tim Burton Villains | Turbo Villains | Transformers Cinematic Universe Villains | Universal Studios Villains | VeggieTales Villains | Wallace and Gromit Villains | Warner Bros. Villains

Villains
Animated Features
Holli Would | The Goons | Beavis and Butt-head | Dallas Grimes | Muddy Grimes | Principal McVicker | Angelica Pickles | Eric Cartman | Saddam Hussein | Sheila Broflovski | Satan | Mr. Garrison | Chef | Randy Marsh | Shelly Marsh | Gerald Broflovski | Coco LaBouche | Jean-Claude | Robosnail | King Goobot | Ooblar | Poultra | Alphonse Perrier du von Scheck | Nick Vermicelli | Big Bob Pataki | Sloan Blackburn | Bree Blackburn | Poachers | Siri | Sheldon Plankton | Karen Plankton | Mr. Krabs | Dennis | Cyclops | Victor | Boat Jacker | The Thug Tug Gang | Kim Jong-il | Film Actor's Guild (Alec Baldwin) | Vincent | Gladys Sharp | Dwayne LaFontant | Dag | Nora Beady | Coyotes | The Toad | Le Frog | Spike & Whitey | Thimblenose Ted | Fat Barry | Ladykiller | Henchfrogs | Prince Charming | Rapunzel | Pirates (Captain Hook) | Evil Queen | Cyclops | Headless Horseman | Stromboli | Steve and Ed | Mabel | Black Knights | Witches | Gnomes | Layton T. Montgomery | Ken | Grendel | Grendel's Mother | Dragon | Tai Lung | Criminals | Makunga | Teetsi | Nana | Tour Guide | Poachers | Gallaxhar | Robot Probes | Red Death | Rumpelstiltskin | Griselda | Baba | Pied Piper | Megamind | Minion | Tighten | Tortoise John | Rattlesnake Jake | Bad Bill | Hawk | Balthazar Douglas Peterson | Lord Shen | Lord Shen's Wolf Army (Boss Wolf) | Jack and Jill | Humpty Alexander Dumpty | Maybelle | Ivan Ivanovitch Sakharine | Allan | Tom | Pedro | Falcon | Aristides Silk | Red Rackham | Chantel DuBois | DuBois' Men | Max Mordon | Kopponen | Odysseus Inc. | Pitch Black | Nightmares | Burger-Beard | Jack Rackham | Moriarty | Reggie and Ronnie | Chimpanzombies | King Poseidon | El Diablo | Mayor Humdinger | Kitten Catastrophe Crew | Ruben and Butch | Tentacular | Jimothy Brett-Chadley III | Lady Mayhem
Live-Action Films
Frank | Pod People | Arthur Slugworth | Emilio Barzini | Emilio Barzini Jr. | Fabrizio | Jack Woltz | Luca Brasi | Francesco Ciccio | Carmine Cuneo | Michael Corleone | Vito Corleone | Sonny Corleone | Fredo Corleone | Connie Corleone | Vincent Corleone | Peter Clemenza | Carmine Cuneo | Don Fanucci | Paulie Gatto | Archbishop Gilday | Moe Greene | Tom Hagen | Rocco Lampone | Licio Lucchesi | Mark McCluskey | Al Neri | Frank Pentangeli | Carlo Rizzi | Hyman Roth | Virgil Sollozzo | Victor Stracci | Philip Tattaglia | Bruno Tattaglia | Salvatore Tessio | Joey Zasa | Petrox Corporation (Fred Wilson) | Orca | Captain Nolan | Leo Balmudo | Mr. Firat | Assassins (Moras) | Katahdin | Pamela Voorhees | Bluto | The Miner (Axel Palmer) | Jason Voorhees | Vermithrax Pejorative | Tyrian | Adolf Hitler | René Belloq | Major Arnold Ernst Toht | Herman Dietrich | Gobler | German Mechanic | Otto | Satipo | Barranca | Mola Ram | Chief Guard | Chattar Lal | Lao Che | Eh Tar | Mrs. Dribb | Victor Maitland | Curly Shepard | Tim Shepard | Texan Thugs | Maxwell Dent | Karla Fry | Walter Donovan | Elsa Schneider | Ernst Vogel | Panama Hat | Garth | Koji Sato | Carl Bruner | Willy Lopez | Don Altobello | Abigail Craven | Tully Alford | Benjamin Oliver | Holli Would | The Goons | Bobby Cahn | Debbie Jellinsky | Gary and Becky Granger | Amanda Buckman | Mr. Curran | Ellis DeWald | Orrin Sanderson | Steve Fulbright | Paul Barish | Beverly Barish Burns | King Edward I | Prince Edward | Robert de Brus | Craig | Mornay | Marion Hawthorne | Agatha K. Plummer | Governor Tracy | Aaron Stampler | John Shaughnessy | Archbishop Richard Rushman | Jim Phelps | Franz Krieger | Max Mitsopolis | Claire Phelps | Matthias | Sala | Sky Bandits | Xander Drax | Charlie Zephro | Skulls of Touganda | Quill | Singh Brotherhood (The Great Kabai Sengh, The Evil Kabai Sengh & Kabai Sengh) | Ray Zephro | Styles | Jack Farley | Morgan | Breen | Castor Troy | Pollux Troy | Kurt Bozwell | Troy and Griffin | Roxanne | Dr. William Weir | Cal Hockley | Spicer Lovejoy | Ruth DeWitt Bukater | Christof | Steamboat Willie | Kevin Dunne | Lady Van Tassel | Headless Horseman | Reverend Steenwyck | Sean Ambrose | Hugh Stamp | John C. McCloy | Wallis | Ulrich | Michael | Simon | Jacobim Mugatu | Henry Gates | Richard and Jay | James Rethrick | Madame Vandersexxx | Claire Wellington | Vincent | Paco | Felix Reyes-Torrena | Jed Parry | Plankton | Karen Plankton | Mr. Krabs | Dennis | Cyclops | Victor | Boat Jacker | The Thug Tug Gang | Count Olaf | Hook-Handed Man | Henchperson of Indeterminate Gender | Bald Man | White-Faced Women | Zateb Kazim | Yves Massarde | Zakara | Martians | Owen Davian | John Musgrave | Brownway | Kimbrough | Ramses | Brooks & Elwyn | Curtis Taylor, Jr. | Jean-Baptiste Grenouille | Norbit's Parents | Rasputia Latimore | Big Black Jack Latimore | Blue Latimore | Earl Latimore | Deion Hughes | Buster Perkin | Stranz Van Waldenberg | Fairchild Van Waldenberg | Katie Van Waldenberg | Robert Turner | Megatron | Decepticons (Starscream, Barricade, Frenzy, Blackout, Scorponok, Bonecrusher, Brawl, & Dispensor) | Charles Meachum | Issac Johnson | Mikhaylo Sczerbiak | Officer Timmons | Lila Cantrow | Assef | Sweeney Todd | Mrs. Lovett | Judge Turpin | Beadle Bamford | Jonas Fogg | Adolfo Pirelli | Clover | Parasites | Mulgarath | Red Cap | Goblins | Mole Troll | Lindsay Marlings | Predatory Vines | Irina Spalko | Antonin Dovchenko | George McHale | Tran | Les Grossman | ARIIA | Jake | Max | Anna Ivers | Jason Voorhees | Ozymandias (Watchmen) Romulans (Nero, Ayel) | The Fallen | Decepticons (Soundwave, Sideways, Grindor, Ravage, Alice, & Scalpel) | Constructicons/Devastator (Demolishor, Rampage, Long Haul, Mixmaster, Scrapper, & Scavenger) | Theodore Galloway | Cobra Commander | COBRA/M.A.R.S. Industries (Destro, Storm Shadow, Baroness, Zartan, Dr. Mindbender & Cobra Troopers) | George Harvey | Fire Nation (General Zhao, Ozai & Zuko) | Therman Murch | Darla | Sentinel Prime | Decepticons (Dylan Gould, Laserbeak, Shockwave, Driller, Igor, Watch-Out, Crankcase, Crowbar & Devcon) | Kurt Hendricks | Marius Wistrom | Sabine Moreau | Brij Nath | Bogdan Anasenko | The Zec | Charlie | Emerson | Muriel | Firefly | Zandar | Jordan Belfort | Donnie Azoff | Gordon Gekko | Colonel Nelec | Cooper | Khan Noonien Singh | Alexander Marcus | Zombies | Harold Attinger | Cemetery Wind (Lockdown, James Savoy, Steeljaw, & Shadow Raiders) | Kinetic Solutions Incorporated (Joshua Joyce, Stinger & KSI Drones) | The Creators | Noah | Tubal-Cain | Shredder | Foot Clan (Eric Sacks & Karai) | Dr. Mann | Burger-Beard | The Syndicate (Solomon Lane, Janik Vinter, Kagan, Saif, Richter, & Atlee) | T-3000 | T-5000 | T-1000 | T-800 | Skynet | Howard Stambler | Krang | Baxter Stockman | Bebop and Rocksteady | Krall | Manas | General James Harkness | The Hunter | Reece Tenneson | Burke | Quintessa | Infernocons | Decepticons (Nitro Zeus, Mohawk, Berserker, Onslaught & Dreadbot) | Transformers Reaction Force (Commander Santos) | Unicron | Death Angels | August Walker | White Widow | Zola Mitsopolis | Nils Debruuk | Rev-9 | Legion | Shatter | Dropkick | Blitzwing | Agent Jack Burns | Dr. Powell | Alejandro Gutierrez | Swiper | Powell | Viper | Christina X | Clayton Verris | Dr. Robotnik | Agent Stone | Echidna Tribe (Pachacamac) | Lyfegro (Zac Tieran & Colette) | Ghostface | Richie Kirsche | Amber Freeman | Abigail Fairfax
See Also
Amblin Entertainment Villains | Avatar Villains | Avengers Villains | Beavis and Butt-Head Villains | Beverly Hills Cop Villains | Captain America Villains | Chinatown Villains | Clone High Villains | CSI Villains | Danny Phantom Villains | Dimension Films Villains | DreamWorks Villains | Farrelly Brothers Villains | Friday the 13th Villains | G.I. Joe Villains | Henry Danger Villains | Indiana Jones Villains | Invader Zim Villains | Iron Man Villains | Jack Ryan Villains | Jerry Bruckheimer Villains | Jimmy Neurton Villains | King Kong Villains | Kung Fu Panda Villains | Legendary Entertainment Villains | Lemony Snicket Villains | Lucasfilm Villains | Madagascar Villains | Marvel Cinematic Universe Villains | Miramax Villains | Mission Impossible Villains | N.C.I.S. Villains | Nickelodeon Villains | Nickelodeon Movies Villains | Norbit Villains | Rango Villains | Ridley Scott Villains | Rugrats Villains | Scream Villains | Sherlock Holmes Villains | Shrek Villains | Sleepy Hollow Villains | Sonic the Hedgehog Villains | South Park Villains | SpongeBob SquarePants Villains | Star Trek Villains | Syfy Villains | Sweeney Todd Villains | Terminator Villains | The Addams Family Villains | The Cloverfield Universe Villains | The Fairly OddParents Villains | The Godfather Villains | The Loud House and The Casagrandes Villains | Thor Villains | Tim Burton Villains | TMNT Villains | Transformers Villains | Transformers Cinematic Universe Villains | Village Roadshow Pictures Villains | XXX Villains

Cinematic Universe Villains
Original Continuity

Movies
Transformers: Decepticons (Megatron, Starscream, Barricade, Frenzy, Blackout, Scorponok, Bonecrusher, Brawl & Dispensor)
Transformers: Revenge of the Fallen: Decepticons (The Fallen, Megatron, Starscream, Soundwave, Scorponok, Sideways, Grindor, Ravage, Alice & Scalpel) | Constructicons/Devastator (Demolishor, Rampage, Long Haul, Mixmaster, Scrapper, Hightower, Scavenger & Overload) | Theodore Galloway
Transformers: Dark of the Moon: Sentinel Prime | Decepticons (Megatron, Starscream, Soundwave, Laserbeak, Shockwave, Driller, Watch-Out, Igor, Crankcase, Crowbar, Hatchet & Devcon) | Dylan Gould
Transformers: Age of Extinction: Cemetery Wind (Harold Attinger, James Savoy), Lockdown, Steeljaws & Shadow Raiders | Kinetic Solutions Incorporated (Joshua Joyce, Galvatron, Stinger, & KSI Drones) | The Creators
Transformers: The Last Knight: Quintessa | Infernocons | Decepticons (Megatron, Barricade, Nitro Zeus, Mohawk, Berserker, Onslaught & Dreadbot) | Transformers Reaction Force (Commander Santos) | Unicron
Comics
Transformers: Movie Prequel: Swindle | Dreadwing | Payload | Wreckage
Transformers: The Reign of Starscream: Thundercracker | Ramjet | Stockade | Hardtop | Crankcase
Transformers: Alliance: Fracture | Reverb | Overcast | Jetstorm
Transformers: Defiance: Skywarp | Divebomb
Transformers: Tales of the Fallen: Flatline
Transformers: Nefarious: Rumble | Ratbat | Buzzsaw | Beastbox | Breakdown | Dirt Boss | Ransack | Fortress | Thrust | Skystalker | Tankor | Sonar
Transformers: Foundation: Astrotrain
Transformers: Rising Storm: Fearswoop | Ruination | Deadlift | Bludgeon | Mindwipe | Space Case
Video Games
Transformers: The Game: Megatron (Console, Nintendo DS)
Reboot Continuity
Bumblebee: Decepticons (Shatter, Dropkick, Blitzwing, Soundwave, Ravage, Shockwave, Starscream, Thundercracker, Skywarp & Thrust) | Jack Burns | Dr. Powell