| | | |
| --- | --- | --- |
| " | The choice is made! The Traveler has come! | " |
| | ~ Gozer announcing Stay Puft's arrival. | |
| | | |
| --- | --- | --- |
| " | We've been going about this all wrong. This Mr. Stay Puft's okay! He's a sailor, he's in New York, we get this guy laid, we won't have any trouble! | " |
| | ~ Dr. Peter Venkman joking about Stay Puft. | |
| | | |
| --- | --- | --- |
| " | Nobody steps on a church in my town! | " |
| | ~ Dr. Venkman exclaiming Stay Puft for destroying the church. | |
The Stay Puft Marshmallow Man is a recurring antagonist from the Ghostbusters franchise, appearing as the final antagonist of the 1984 film Ghostbusters, an antagonist in the animated television series The Real Ghostbusters, and a major antagonist in Ghostbusters: The Video Game. Originally the vessel used by Gozer to destroy the world in Ghostbusters, Stay Puft became a ghost in its own right shortly afterwards.
The Stay Puft Marshmallow Man has varied in the series from a villain to a hero but rarely displayed the same level of malevolence as it did in the original film - perhaps due to the fact that it was no longer fully controlled by Gozer, the most noticeable examples being in The Real Ghostbusters.
History
Ghostbusters (1984 film)
The Stay Puft Marshmallow Man was formed during the climax of the original Ghostbusters movie in which the destroyer-god known as Gozer decided to take the form of the first thing the Ghostbusters thought of to destroy their world - despite the group making an effort to clear their thoughts, after Peter Venkman mentioned that if for example they thought of J. Edgar Hoover, he would come down to destroy everyone, Ray couldn't help himself from thinking of the one thing he felt could never possibly harm them: namely the Stay Puft Marshmallow Man.
Gozer caught Ray's stray thoughts and formed a gigantic Stay Puft Marshmallow Man by which to terrorize New York - this giant Stay Puft Marshmallow Man would proceed to climb the skyscraper the Ghostbusters were on in an attempt to reach them: proving itself durable despite taking heavy damage from the group's photon-packs.
In the end, Egon decides the only way to defeat the Stay Puft Marshmallow Man is to "cross the streams" - which risked a cataclysmic explosion but surprisingly Egon's gamble paid off and the resulting explosion was strong enough to destroy the Stay Puft Marshmallow Man while not causing a cataclysm (though it did result in a river of molten marshmallow raining down on the streets below as well as a parachute sized sailor hat floating down).
The Real Ghostbusters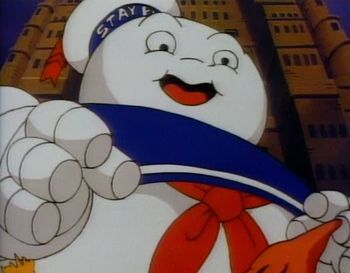 Due to the Stay Puft Marshmallow Man's extreme popularity with fans and his iconic status he was destined to return in the Ghostbusters cartoon series - though this version of Stay Puft was much more benevolent than the movie version, in fact the cartoon version of the Stay Puft Marshmallow Man was often a heroic figure rather than an antagonist: though there were a few exceptions to this rule where the Stay Puft Marshmallow Man was back to his usual villainous ways.
The opening credits of the Real Ghostbusters showed the Stay Puft Marshmallow Man as a central figure amongst the horde of ghosts that were promptly "busted" by the group - this version of Stay Puft was shown as rather menacing despite the fact he was rarely a villain in the actual show (as mentioned above). In fact, he has even assisted the Ghostbusters on two occasions in the episodes Sticky Business, and The Revenge of Murray the Mantis respectively.
Ghostbusters Video Games
The Stay Puft Marshmallow Man is a boss in several Ghostbusters video games including Ghostbusters: The Video Game. In both the stylized and realistic versions of this game, Stay Puft has the ability to spawn smaller marshmallow-based monsters, a power that the original Stay Puft Marshmallow Man never displayed before. Despite this, this version of Stay Puft has been described in-game to be neither as big or as powerful then the one in the film.
Ghostbusters (2016 film)
Stay Puft returned in the 2016 reboot Ghostbusters film. In this film, he returned as a parade balloon with the ghosts controlling him, and he falls and lands on Abby, Jillian and Patty, but is popped by Erin.
Gallery
Images
Videos
Trivia
The video game/anime series Yo-kai Watch features a Yo-kai that is based on the Stay Puft Marshmallow Man named "Whisped Cream".

Villains
Animated Features
The Beast | Constance Nebbercracker | Shaw | Tank Evans | Reggie Belafonte | Mayor Shelbourne | Fifi | Doug | Quasimodo Wilson | Esmeralda | Queen Victoria | Chester V | Live Corp (Chester V's Holograms & Barb) | Bela | Bat Cronies | Ed and Edna | King Leonard Mudbeard | Green Pigs | Douche | Gargamel (2017) | Azrael (2017) | Monty | Smiler | Anti-Virus Bots | Hunter | King Herod | Thaddeus and Rufus | Abraham Van Helsing | Ericka Van Helsing | Kingpin | Prowler | Doctor Octopus | Tombstone | Scorpion | Green Goblin | Vanessa Fisk | Richard Fisk | Zeta | PAL Labs (PAL, PAL Max, Glaxxon 5000 and PAL Max Prime)
Live-Action Films
Christine | Gozer | Stay Puft Marshmallow Man | Terror Dogs (Zuul & Vinz Clortho) | Library Ghost | Dr. Christopher Meddows | Vigo | Janosz Poha | Scoleri Brothers | Mink Coat | Luc Deveraux | Andrew Scott | Van Pelt | Agatha Trunchbull | Harry Wormwood | Cable Guy | Arachnids | Edgar the Bug | Zilla | Alley Cats (Smokey, Monty, Lucky, Red & Unnamed Gray Cat) | Snowbell | S.E.T.H. | Genus | General Russell Woodman | Green Goblin | Dennis Carradine | Bank Robbers | Harry Osborn | J. Jonah Jameson | Falcon | Serleena | Scrad & Charlie | Jarra | Dog Poop | Corn Face | Pineal Eye | Mosh Tendrils | Flesh Balls | Jeff | Creepy | Kylothians | Doctor Octopus | Grigori Rasputin | Karl Ruprecht Kroenen | Ilsa Von Haupstein | Sammael | Ogdru-Jahad (Behemoth) | Mr. Electric | Minus | Zorgons | Robot | Venom | Sandman | Gargamel (2011) | Azrael (2011) | Boris the Animal | Weasel | Lilly | Obadiah Price | Mr. Wu | Boglodites | Lizard | Gustav Fiers | Cash Register Thief | Norman Osborn | Vexy and Hackus | Electro | Green Goblin | Donald Menken | Rhino | Ashley Kafka | Felica Hardy | Vincent Moore | Hippo | Amerika | Ninja | Yolandi | Slappy the Dummy | Monsters (Giant Praying Mantis, Will Blake, Madame Doom, Brent Green, Count Nightwing & The Haunted Mask) | Rowan North | Mayhem | Electrocuted Ghost | Gertrude Aldridge | Francis Begbie | Sick Boy | Bestman Salvage (Vulture, Tinkerer, Shocker #1, Shocker #2 & Randy Vale) | Mac Gargan | Aaron Davis | Russel Van Pelt | Tommy Madigan | Thomas McGregor | Mr. McGregor | Mrs. McGregor | James Tod | Eddie Brock/Venom | Carlton Drake/Riot | Roland Treece | Cletus Kasady | High-T | The Twins | Riza Stavros | Luca Brasi | The Hive | Mysterio's Crew (Mysterio, William Ginter Riva, Victoria Snow, Gutes Guterman, Janice Lincoln, & Doug) | Elementals (Molten Man, Hydro-Man, Sandman, Cyclone & Elemental Fusion) | Skrulls (Talos) | Obadiah Stane | Jurgen the Brutal
See Also
Bad Boys Villains | The Boys Villains | Ghostbusters Villains | Ghost Rider Villains | Godzilla Villains | Goosebumps Villains | Hotel Transylvania Villains | Jackie Chan Adventures Villains | Jumanji Villains | Karate Kid Villains | Men in Black Villains | Sony Pictures Universe of Marvel Characters Villains | Spider-Man Villains | Stuart Little Villains | The Boondock Villains | Total Recall Villains | Trainspotting Villains | XXX Villains | Underworld Villains
Community content is available under
CC-BY-SA
unless otherwise noted.