We're Getting Mutants in the MCU - The Loop
Play Sound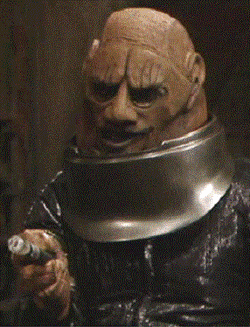 Stike is a major antagonist in the Doctor Who story "The Two Doctors".
He was portrayed by the late Clinton Greyn.
Biography
Group Marshall Stike was the leader of the 9th Sontaran Battle Group, who allied with the augmented Androgum Chessene, in the hope of gaining control of the Kartz-Reimer time capsule and thus unlimited time travel. He arranged an attack on the scientific research station Camera, massacring its inhabitants, in order to secure the model, and also captured the Second Doctor, which Chessene believed could be completed by genetically analysing a Time Lord.
Stike, with the renegade scientist Joinson Dastari, transported the captive Second Doctor to Earth, where Chessene, her associate Shockeye and Stike's aide Varl had set up a base in a Spanish hacienda. Stike was frustrated by the constant delays in examining the Doctor, feeling he had made a mistake committing to the project when his unit was about to take part in a major campaign. Although he agreed to treat his allies as equals, he warned them that if the delays became too much, he would kill them all and depart.
When the Sixth Doctor and Jamie crept into the base, Stike overheard the Doctor claiming that he could make the capsule workable simply by using it. He thus forced the Doctor to take a short trip in it, which he believed meant the capsule was now safe, unaware the Doctor had removed a vital component. Although the Sixth Doctor and Jamie escaped, Stike made plans to kill his allies and use the capsule to return to his unit, telling Varl to set their spaceship to self-destruct.
However, Chessene struck first, attacking the Sontarans with grenades of coronic acid, which killed Varl and badly injured Stike. He attempted to depart in the capsule but it failed to operate correctly, leaving him further injured. He was finally killed when he was caught in the explosion of his spaceship's self-destruct. Shockeye recovered one of his legs.