Obi-Wan Finale - The Loop
Play Sound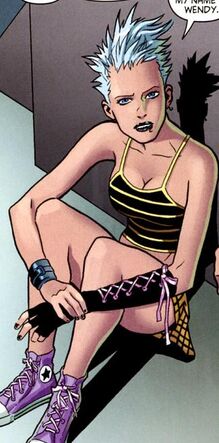 Alliance of Evil
A young valley girl with electrical-based mutant powers, Stinger was a member of the Alliance of Evil, Apocalypse's original strike force.
Because of her youth, Stinger often handled situations recklessly, as seen when she accidentally killed Michael Nowlan's girlfriend, Susan. During their battles with X-Factor, Stinger often flirted with Angel, much to his annoyance. Stinger stayed with the Alliance of Evil when they defied the Mutant Registration Act, and later battled the New Mutants with the team.
After M-Day
Wendy was among the mutants who kept their powers after the M-Day, and consequently joined the mutants on Utopia, the X-Men's new home base, feeling that she had no choice but to live among her kind.
Fearing rumors of an impending attack, and feeling isolated, she sought reassurance in Iceman who admitted to having been attracted to her, even in their initial confrontations. Shooting off a joke to lighten the mood, Iceman inadvertently offended her, leading her to take Dr. Kavita Rao hostage in an attempt to leave the island. Only willing to negotiate with Iceman, he eventually talks her down, defusing the situation. Later, the two are seen having a picnic and enjoying each others' company.
Stinger was among the mutants gathered to listen to Cyclops' speech making them all X-Men, as the Nimrods were invading the island.
Her current whereabouts are unknown.

Villains
Comics
0101 | Abomination | Absorbing Man | Absalom | Acolytes | Adversary | Ahab | A.I.M. | Akhenaten | Alan Lewis | Amanda Sefton | Ani-Mator | Annihilus | Apocalypse | Arcade | Archangel | Arclight | Arnim Zola | Avalanche | Awesome Android | Azazel | Badoon | Barbarus | Bastion | Baron Karza | Baron Wolfgang von Strucker | Batroc | Beef | Beetle | Black Tom Cassidy | Belasco | Beyonder | Black Box | Blastaar | Blockbuster | Blood Brothers | Bolivar Trask | Blob | Bogeyman | Boomerang | Brood | Brotherhood of Evil Mutants | Brainchild | Bulldozer | Bullseye | Burner | Cameron Hodge | Carnage | Cassandra Nova | Chameleon | Children of the Vault | Chimera | Clan Akkaba | Coach | Computo | Constrictor | Count Nefaria | Creeps | Crossbones | Dark Avengers | Dark Beast | Dark Phoenix | Dark X-Men | Deadpool | Demon Bear | Demogoblin | Doctor Doom | Doctor Octopus | Doctor Rice | Dracula | Egghead | Electro | Emma Frost | Erik Killmonger | Exodus | Fenris | Freedom Force | Friends of Humanity | Frightful Four | Frost Giants | Galactus | Gamesmaster | Graydon Creed | Green Goblin | Grizzly | Hammerhead | Hand | Hela | Hellfire Club | Henry Peter Gyrich | High Evolutionary | Hobgoblin | Holocaust | Horsemen of Apocalypse | HYDRA | Impossible Man | Jackal | Jack O' Lantern | J. Jonah Jameson | Juggernaut | Kang | Kid Omega | Kingpin | Killer Shrike | Klaw | Knull | Krakoa | Kraven | Lord Deathstrike | Lady Deathstrike | Legion | Leper Queen | Lilith | Living Monolith | Lizard | Loki | Mad Thinker | Madame Viper | Madelyne Pryor | Magneto | Magus | Malekith the Accursed | Mandarin | Marrow | Masters of Evil | Master Mold | Medusa | Maximus | Mesmero | Mikhail Rasputin | Mister Jip | Mister Negative | Mister Sinister | M.O.D.O.K. | Mojo | Mole Man | Moonstone | Morbius | Morlocks | Moses Magnum | Mutant Response Division | Mystique | Mysterio | N'Astirh | Namor | Nanny | Nekra | Neo | Nightmare | Nimrod | Nitro | Norman Osborn | Obnoxio the Clown | Omega Gang | Omega Red | Onslaught | Orphan-Maker | Ozymandias | Pandemonia | Phalanx | Piledriver | Pilgrimm | Predator X | Proteus | Psycho-Man | Puma | Punisher (Earth-95216) | Purifiers | Pyro | Quicksilver | Reavers | Red Ghost | Red Skull | Reverend Craig | Rhino | Right | Rogue | Ronan | Sabretooth | Sandman | Sat-Yr-9 | Sauron | Savage Land Mutates | Scarlet Witch | Scorpion | Sebastian Shaw | Selene Gallio | Sentinels | Serpent Society | Shadow King | Shadow Xavier | Shocker | Silver Sable | Silver Samurai | Simon Trask | Sinister Six | Skrulls | Spiral | Stranger | Stinger | Stryfe | Stephen Lang | Sublime | Sugarman | Super-Adaptoid | Super-Apes | Supreme Intelligence | Swarm | Thanos | Thunderball | Thunderbolt Ross | Tiger Shark | Tinkerer | Toad | Trevor Fitzroy | Typhoid Mary | Tyrannus | Unus | Vampires | Venom | Vulcan | Vulture | Wendigo | Whiplash | Whirlwind | White Rabbit | William Stryker | Wizard | Wrecker | X-Man | Xemnu | Xorn | Ymir | Zaladane
Movies
X-Men: Brotherhood of Mutants (Magneto, Mystique, Sabretooth & Toad) | Pyro
X2: William Stryker Jr. | Lady Deathstrike | Jason Stryker | Brotherhood of Mutants (Magneto, Mystique & Pyro)
X-Men: The Last Stand: Brotherhood of Mutants (Magneto, Dark Phoenix, Pyro, Juggernaut, Multiple Man & Mystique) | Omega Gang (Callisto, Psylocke, Quill, Arclight, Avalanche, Spike, Glob Herman & Phat) | Archangel
X-Men: First Class: Hellfire Club (Sebastian Shaw, Emma Frost, Azazel, Angel Salvadore & Riptide) | William Stryker Sr. | Magneto | Mystique
X-Men: Days of Future Past: Trask Industries (Bolivar Trask, William Stryker Jr. & Sentinels) | Magneto | Mystique | Toad | Horsemen of Apocalypse (Apocalypse)
X-Men: Apocalypse: Ashir En Sabah Nur/Horsemen of Apocalypse (Apocalypse, Magneto, Psylocke & Archangel) | Dark Phoenix | Mystique | William Stryker Jr. | Blob
X-Men: Dark Phoenix: Dark Phoenix | D'Bari (Vuk & Jones) | Brotherhood of Mutants (Magneto & Selene Gallio) | Mystique
The New Mutants: Essex Corp (Cecilia Reyes) | Demon Bear | Reverend Craig | Smiley Men
Television
X-Men (1992): Magneto | Sentinels | Sabretooth | Juggernaut | Apocalypse | Mesmero | Horsemen of Apocalypse | Mister Sinister | Omega Red | Brotherhood of Mutants (Mystique, Avalanche, Blob & Pyro) | Dark Phoenix | Master Mold | Bolivar Trask | Silver Samurai | Hellfire Club (Sebastian Shaw, Harry Leland, Jason Wyngarde, Donald Pierce & Emma Frost) | Reavers (Bonebreaker & Lady Deathstrike) | Supreme Intelligence | D'Ken | Deathbird | Graydon Creed | Red Skull | Toad | Sauron | High Evolutionary | Phalanx | Brood | Skrulls | Super-Adaptoid | Awesome Android | Mojo
X-Men: Evolution: Magneto | Brotherhood of Mutants (Mystique, Avalanche, Toad, Blob, Quicksilver & Scarlet Witch) | Pyro | Mastermind | HYDRA (Madame Viper & Omega Red) | David Haller | Juggernaut | Bolivar Trask | Sentinels | Apocalypse | Horsemen of Apocalypse | Mesmero | Sabretooth | Destiny | Arcade
Wolverine and the X-Men: Brotherhood of Mutants (Magneto, Mystique, Scarlet Witch, Juggernaut, Quicksilver, Avalanche, Blob, Pyro & Toad) | Dark Phoenix | Bolivar Trask | Sentinels | Sabretooth | Mutant Response Division (Colonel Moss) | Shadow King | Hellfire Club (Sebastian Shaw, Donald Pierce, Harry Leland, Selene Gallio, Emma Frost & Stepford Cuckoos) | Master Mold | Silver Samurai | Nitro | Mojo | Mister Sinister | Apocalypse
Marvel Anime: X-Men: Hellfire Club (Emma Frost, Martermind) | U-Men (Sublime)
Legion: Legion | Shadow King | Oliver Bird | Time Eaters
The Gifted: Sentinel Services (Jace Turner, Ed Weeks) | Trask Industries (Roderick Champell) | Ted Wilson | Hellfire Club (Fenris, Reeva Paype, Frost Sisters) | Benedict Ryan

Video Games
The Uncanny X-Men: Magneto | White Queen | Juggernaut | Sabretooth | Boomerang
X-Men: Madness in Murderworld: Arcade | Magneto | Juggernaut | Blob | White Queen | Mystique | Pyro | Wendigo | Silver Samurai
X-Men II: The Fall of the Mutants: Mystique | Avalanche | Blob | Pyro | Spiral
Spider-Man & X-men: Arcade's Revenge: Arcade | Carnage | Rhino | Apocalypse | Juggernaut | Selene Gallio | Sentinels | Master Mold
X-Men (1992): Brotherhood of Mutant Terrorists (Magneto, Mystique, White Queen, Juggernaut, Blob, Pyro, Wendigo & Living Monolith) | Sentinels
X-Men (1993): Magneto | Apocalypse | Sabretooth | Juggernaut | Sentinels | Ahab | Mojo
X-Men 2: Clone Wars: Apocalypse | Phalanx | The Brood | Magneto
X-Men: Children of the Atom: Magneto | Juggernaut | Omega Red | Silver Samurai | Sentinel | Spiral | Mojo
X-Men (1994): Magneto | Sebastian Shaw | Callisto | Sauron | Brood Queen | Omega Red
X-Men 2: Game Master's Legacy: Gamesmaster | Apocalypse | Mister Sinster | Exodus
X-Men: Mutant Apocalypse: Apocalypse | Juggernaut | Omega Red | Brood Queen | Sentinels | Acolytes | Exodus | Magneto
X-Men vs. Street Fighter: Apocalypse | Acolytes | Magneto | Juggernaut | Sabretooth | Rogue | Angel
X-Men 3: Mojo World: Mojo | Magneto | Master Mold | Trevor Fitzroy | Spiral
X-Men: The Ravages of Apocalypse: Apocalypse | Mister Sinister | Magneto
X-Men: Mutant Academy: Magneto | Mystique | Sabretooth | Toad
X-Men: Mutant Wars: Magneto | Mystique | Sabretooth | Apocalypse
X-Men: Wolverine's Rage: Lady Deathstrike | Sabretooth | Deadpool
X-Men: Mutant Academy 2: Magneto | Mystique | Sabretooth | Juggernaut | Toad
X-Men: Reign of Apocalypse: Apocalypse | Archangel | Magneto | Dark Phoenix | Juggernaut | Sabretooth | Silver Samurai | Sauron | Blob | Pyro
X-Men: Next Dimension: Brotherhood of Evil Mutants (Magneto, Sabretooth, Toad, Mystique, Juggernaut, Blob, Lady Deathstrike & Pyro) | Bastion | Sentinels
X2: Wolverine's Revenge: Magneto | Sabretooth | Wendigo | Lady Deathstrike | Juggernaut | Omega Red | Apocalypse | Mr. Sinister
X-Men Legends: Brotherhood of Evil Mutants/Acolytes (Magneto, Mystique, Blob, Pyro, Avalanche, Sabretooth & Toad) | Marrow | Juggernaut | Shadow King | Apocalypse | Master Mold
X-Men Legends II: Rise of Apocalypse: Apocalypse | The Brood | Lady Deathstrike | Sauron | Omega Red | Stepford Cuckoos | Deadpool | Mister Sinister | Dark Beast | Living Monolith | Mystique | Destiny | Blob | Emma Frost | Sebastian Shaw | Archangel | Selene Gallio | Quicksilver
X-Men The Official Game: Brotherhood of Mutants (Magneto, Sabretooth & Pyro) HYDRA (Silver Samurai & Deathstike) | Multiple Man | Jason Stryker | Master Mold | Mystique | Toad
See Also
Alpha Flight Villains | Deadpool Villains | Excalibur Villains | New Mutants Villains | Wolverine Villains | X-Factor Villains | X-Force Villains | X-Men Movie Villains