We're Getting Mutants in the MCU - The Loop
Play Sound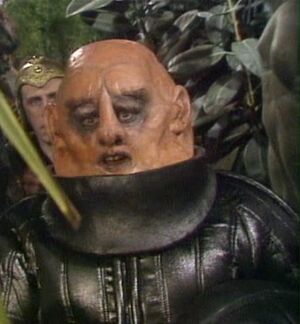 Stor is the main antagonist of the Doctor Who story "The Invasion of Time".
He was portrayed by the late Derek Deadman.
Biography
Commander Stor of the Sontaran Special Space Service was the mastermind behind the Sontarans' invasion of Gallifrey. This plan had involved using the Vardans as a front, having them invade and occupy Gallifrey first and disable the transduction barrier, allowing Stor to land with a Sontaran force unnoticed. By the time they arrived on the scene, the Doctor had already defeated and expelled the Vardans but was taken by surprise by the new invaders. The Doctor and his allies fled the scene when the Sontarans were disabled by the sound of the victory gongs. Only the cowardly Castellan Kelner, who had previously collaborated with the Vardans, stayed to offer Stor his services and identify the Doctor for him. Stor ordered his men to search for the Doctor but they failed to stop his group taking refuge in the TARDIS.
Stor switched his attention to trying to bring down the transduction barrier in order to summon reinforcements. He and Kelner headed to the power planet but found the Doctor had bypassed the controls, with everything being run from the TARDIS. Stor led Kelner and one of his troopers into breaking into the TARDIS in the hope of either tracking down the Doctor or disabling the power. However, a pursuit of the Doctor and his friends through the ship saw Stor continually frustrated.
Leaving Kelner and the other Sontaran to continue the pursuit, Stor headed to the Panopticon where he planned to detonate a grenade above the Eye of Harmony, a move which would destroy the planet and possibly the whole galaxy. Stor reasoned that if the Sontarans could not control the power of the Time Lords it must be destroyed. The Doctor confronted him and fired the Demat Gun at him, erasing both Stor and the grenade from existence.
Trivia
Despite being the main antagonist, Stor does not appear until the end of the fourth episode (of six), and then only briefly without dialogue. Most of his material is in the last two episodes with both Kelner and the Vardan Leader having more screen time. However, he has been working behind the scenes in the early part of the story and is in control of things when he does appear.
Stor also spends surprisingly little of his screen time with his features on display. He only removes his helmet in the last episode, once on entering the TARDIS and then again prior to his final confrontation with the Doctor.