Reider, also known as Strategist Reider and later Space Reider, is a sorcerer serving as a high-ranking member of the Space Crime Syndicate Madou and the secondary villain of Space Sheriff Sharivan. He later returns as the secondary antagonist of Kamen Rider x Super Sentai x Space Sheriff: Super Hero Taisen Z.
History
Space Sheriff Sharivan
Originating from the Death Spirit World, Reider intended to take over Madou after infiltrating their ranks. However, Reider was destroyed by Demon King Psycho through his medium body Psychorror.
Kamen Rider × Super Sentai × Space Sheriff: Super Hero Taisen Z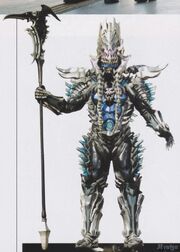 Being resurrected to revive Psycho, Reider uses his magic to revive Shocker while enhancing them into "Space Shocker" to help him capture Psycholon, who is a fragment of Psycho's consciousness. Though destroyed by Kamen Rider Wizard and the Zyuden Sentai Kyoryuger, Reider is resurrected by Psycho in the form of Space Reider with supported by numerous Super Sentai Villains. But in the end, Reider is destroyed by Kyoryu Gold and Kamen Rider Beast.
Community content is available under
CC-BY-SA
unless otherwise noted.