She-Hulk Trailer Dropped - The Loop
Play Sound
The Students for Lex Luthor were a group of radical students at Central Kansas A&M who were dedicated to getting Lex Luthor elected state senator and an antagonistic faction in Smallville.
They appeared as supporting antagonists in the Season 5 episode "Fanatic".
They were portrayed by Annie Burgstede, Sage Brocklebank, who also played Gaston in Once Upon a Time, and Miles Meadows.
History
The Students for Lex Luthor were three seniors consisting of James, Doug and their leader Samantha Drake. They attended Central Kansas A&M and supported Lex's candidacy for state senate. The group interviewed Lex at his mansion and Samantha unnerved Lex with her blind devotion.
Samantha had her two co-conspirators James and Doug harassed Jonathan Kent with scrambled phone calls giving him a last warning to drop out of the campaign.
Jonathan was not intimidated telling the caller not to call again and hangs up. On campus, Lois Lane was putting up election posters when Samantha's group started to tear them down, claiming they were not regulation size. They argued and Samantha realized that Lois will not back down. Samantha tells her friends they need to play harder.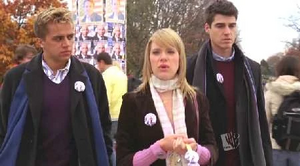 While Jonathan was working in his barn, Doug and James ambushed and attacked him with baseball bats while Samantha watched deviously. They knocked him out and tied him upside down from the rafters in the barn.
After the attack, the group learned that Jonathan's poll numbers were raised due to the attack.
Enraged, Samantha stated the only way to get rid of him and ensure Lex's victory was to kill him. James and Doug objected and were scared of what they were doing and wanted to back out. Samantha then killed both of them and shaved her head to match Lex's.
She left the bodies in their headquarters and Clark Kent discovered them after tracing the harassing phone calls to them. Clark managed to stop Samantha from assassinating his father and the Students for Lex Luthor were no more.

Villains
Protagonists