Cobra Kai Season 4 - The Loop
Play Sound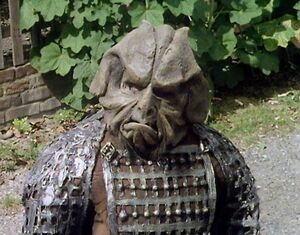 Styggron is the main antagonist of the Doctor Who story "The Android Invasion".
He was portrayed by the late Martin Friend.
Biography
Styggron was the chief scientist of the Kraals. His people's home planet, Oseidon, had been poisoned by radiation to the point that it was becoming uninhabitable, so he crafted a plan to occupy Earth instead. As the first stage, he abducted the human astronaut Guy Crayford and convinced him that he had been in an accident and the humans had abandoned him, with the Kraals saving his life. As part of the charade, he told Crayford he had lost an eye, fitting him with an eyepatch.
Styggron convinced Crayford to let him scan his memories, from which he created a duplicate of the research station from where Crayford's ship had launched and the nearby village of Devesham. He then created androids of the research station staff and the villagers as part of a plan to form a bridgehead. Crayford believed the Kraals wanted to co-exist with humanity but in fact Styggron had plans to wipe them out with a virus. He also created a weapon effective against the androids in case they were turned against him.
When the Doctor and Sarah arrived on Oseidon, Styggron made plans to have them captured. The Doctor escaped and Styggron produced an android double of Sarah in an attempt to trap him. Having completed the androids' training, he set up a matter disintegrator bomb to destroy the fake village and tied up the Doctor next to it. However, Sarah managed to free him and they reached shelter. Styggron wanted them both killed but Crayford convinced him to capture them alive. However, he secretly planned to kill them both, placing a jug of water laced with the virus in Sarah's cell to test it on her, then scanning the Doctor's mind to produce an android of him and leaving him plugged in to the machine which would slowly kill him. Both attempts failed with Sarah instead using the water to short-circuit an android guard and then freeing the Doctor.
Crayford smuggled Styggron back to Earth in his ship, where Styggron had his android duplicates replace most of the research centre staff. However, the Doctor and chief technician Grierson managed to transmit a jamming signal that shut down the androids. Crayford confronted Styggron on realising the truth but Styggron dismissively stated he had used Crayford like he would an android and killed him. He was then confronted by the Doctor's android duplicate, which had been reprogrammed to attack him. In the struggle that followed, Styggron fell onto his virus capsule and was infected. He shot down the android Doctor before dying, unaware that it hadn't been the real Doctor.