We're Getting Mutants in the MCU - The Loop
Play Sound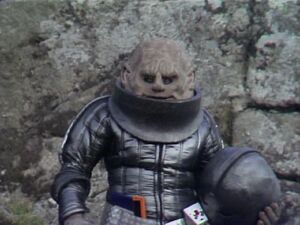 Styre is the main antagonist of the Doctor Who story "The Sontaran Experiment".
He was portrayed by the late Kevin Lindsay, who had portrayed the show's previous Sontaran antagonist, Linx, in "The Time Warrior".
Biography
Field Major Styre of the Sontaran G3 Military Assessment Survey was a key member of the forward planning for the Sontarans' planned invasion of human space. With Earth having been abandoned, Styre set up base there with a robot, the Scavenger, for assistance. He then used a fake distress call to lure a Galsec ship there. He destroyed the ship shortly after it landed, stranding its nine crewmembers on the planet.
With the aid of the Scavenger, Styre began systematically capturing the crewmembers and subjecting them to lethal experiments to find the easiest ways to kill humans. This included holding one underwater until he drowned and leaving another chained up until he died of thirst. Early on, he captured the ship's captain, Vural, and promised to spare him if he gave him assistance. He released Vural after fitting him with a camera so he could observe how the free humans behaved.
One of Styre's subjects, Roth, managed to escape after receiving burns from the experiments but Styre recaptured him along with Sarah Jane Smith. When Roth tried to make a run for it, Styre casually killed him. He was bothered by Sarah's presence on the planet, knowing she was not one of the GalSec crew, but still used her in an experiment to learn human response to fear, causing hallucinations of her deepest fears. The Doctor halted the experiment and, after a brief scuffle, Styre shot and apparently killed him. The Doctor survived thanks to a piece of metal in his pocket taking the blast.
Styre then captured Vural and the other two remaining crewmembers. Ignoring his earlier bargain, he decided to test strength and chest resistance by having the other two struggle to stop a metal bar which repeatedly increased in weight from crushing Vural's chest. The Doctor interrupted the experiment and challenged Styre to single combat, to which Styre agreed. While they fought, Sarah and Harry freed the prisoners. Vural tried to intervene in the fight but Styre killed him. He triumphed over the Doctor but was too weak to finish him off. He staggered back to his ship to re-energise but this had been the Doctor's plan: Harry had removed a vital component, meaning the process was reversed. Styre's body collapsed in on itself, moments before his ship exploded.