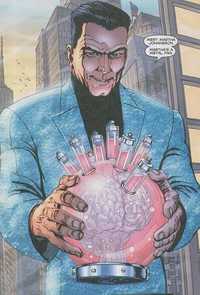 Sublime is a powerful villain from Marvel comics and an enemy of mutants everywhere, making it a natural enemy of Charles Xavier and the X-Men.
Biography
Sublime was a sentient bacterial lifeform that arose during the beginnings of life on Earth. With the numbers of hosts it could infect., Sublime arose and  become the first threat to Sublime's domination. It was hinted that the bacteria took more direct actions in order to ensure that mutant population would be held in check. The first step was Sublime took over a human body and became the director of the Program, overseeing the creation of living weapons created by each installation of the program, from Captain America (Weapon I) to the Super-Sentinels - Fantomex, Huntsman and Ultimaton (Weapon XIII, Weapon XII and Weapon XV), passing through Nuke, Wolverine, and Deadpool, the latter two originating in the Weapon X Project, seemingly the most prolific living weapons producer.
For many years, Sublime remained behind the scenes, manipulating the Weapon Plus Project and installing Malcolm Colcord as the Director of Weapon X, which would eventually became an independent organization. As the U-Men sealed themselves in containment suits.
During a trip to Hong Kong's new office of the X-Corporation, the X-Men discovered Sublime who was in the country on a book tour, thus became aware of the X-Men's immediate threat to his plans. Sublime also planted the mutant healer Xorn in one such prison in the People's Republic of China.
Although Xorn was rescued by the X-Men, Xorn, was revealed to apparently be Magneto.
Community content is available under
CC-BY-SA
unless otherwise noted.