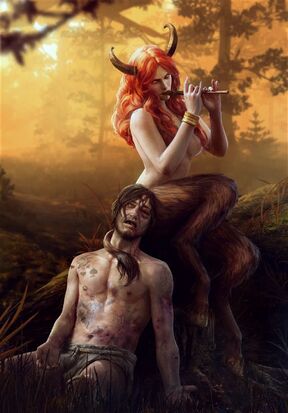 The Succubus is a female-demon, which appears in dreams, which take the female form to seduce men, mainly though a sexual intercourse. In the Religions, a sexual-activity with one of these demons may cause various-health problems, sometimes even death. In the modern view of the Succubus, she may or may not appear in people's dreams. People which saw her mainly described her a very-attractive and seductive. Though in the past they we're described as very demonic-like.
History
In the Jewish history, it's believed that the Adam's first wife is the first Succubus to exist. She left Adam once she got mated with Samael the Archangel. Though Samael was mated with four queens of the demons. The Succubus mainly takes the form of a gorgeous-young-women, but closer looking at her, people noticed that she has deformed body-parts of various animals. When having the intercourse with the Succubus, the men enter a ice-cave, in which men drip out urine on their vulvases. Future on, people described them as sirens.
Reproduction
The Succubus collect the semen of the men they seduced. The male demons use the male semen in order to make human females pregnant. Children which we're created by these demons, appear to be more deformed and have the supernatural abilities.
Community content is available under
CC-BY-SA
unless otherwise noted.