| | | |
| --- | --- | --- |
| " | Somebody screwed up, calling this the Suicide Squad! Everybody wants to murder everybody else! | " |
| | ~ Deadshot | |
| | | |
| --- | --- | --- |
| " | The world doesn't care about us Hell, Waller needs us and she still doesn't give a damn about us. We could die tomorrow and Waller would just pick a whole new group of prisoners. I've seen it happen. The Squad isn't a team. We're just the ones who keep surviving... | " |
| | ~ Deadshot | |
The Suicide Squad is a team of imprisoned supervillains who perform high-risk missions for the U.S. Government in exchange for commuted sentences. They are formally known as Task Force X. The team's actions are highly classified, and the government is able to deny any involvement by claiming that they are not responsible for the damages of a random supervillain attack. Their commander is Amanda Waller, who runs the organization out of Belle Reve prison.
History
Arrowverse
Arrow
The Suicide Squad appears as an anti-hero team in Season 2 and Season 3 of the Green Arrow TV series Arrow, led by A.R.G.U.S. commander Amanda Waller. This team consists of Deadshot, Shrapnel, Bronze Tiger and Lyla Micheals. They were used as a spy group assembled by Amanda Waller to handle national threats with extreme measures. Shrapnel is killed by Waller for bailing on a mission, while Deadshot had a tracking device implanted in his eye to attract a drone-strike to blow up a chemical compound (literally Suicide Squad), but they get the tracking device out. John Diggle also frees them to take Amanda Waller hostage in the Season 2 finale so that she doesn't drone-strike Starling City (because of Slade Wilson's army tearing the city apart).
In Season 7, the Suicide Squad was reassembled under the name "The Ghost Initiative" when A.R.G.U.S. director Lyla Michaels and John Diggle started investigating a terrorist financier known only as Dante. This incarnation consists of Ricardo Diaz, Joe Wilson, Cupid and China White.
Possible TV series
Talks are being made among the producers of Arrow that a spinoff series based on the Arrow-verse's version Suicide Squad could be made and could "connect the tissue of the last season [Season 2] to the beginning of the [third] season". Given that a Suicide Squad film is coming in 2016 (see below), the idea of creating the spinoff is not out of the question (as of yet, at least)
DC Extended Universe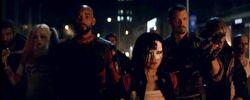 As mentioned above, a film about the Suicide Squad was released in August 2016 as the third film in DC Comics' new DC Extended Universe. The team includes Deadshot, Harley Quinn, Captain Boomerang, Killer Croc, El Diablo and Slipknot. When the Enchantress and her brother Incubus attack Midway City, the Squad is dispached into the city to retrieve a target (who is eventually revealed to be Amanda Waller). As in the comics, each member is outfitted with a bomb to ensure his obedience. The Suicide Squad is accompanied by a team of soldiers led by Colonel Rick Flag and Katana.
After their helicopter crashes, the team is forced to travel Midway City on foot, resulting in various battles with the city's inhabitants who have been turned into hostile beasts by the Enchantress. After retrieving Waller, the group is attacked by the Joker who escapes with Harley Quinn. Quinn later rejoins the team when her helicopter crashes and, led by Flag once more, the team goes after Amanda Waller who has been captured by Incubus.
With combined efforts, the team defeats and destroys the Enchantress and Incubus. Although they rejoice their victory, Waller shows up and uses the threat of blowing up the bombs to force the Squad members to continue their prison sentence, although some members obtain special rights. 10 years of each member's sentence are removed and they resume their prison sentence. However, Harley is busted out of prison by the Joker.
Members
Katana
Nightshade
Power Girl
Steel
Vixen (one of the few members who is not a villain)
Trivia
Suicide Squad was created by the late Robert Kanigher and the late Ross Andru.

While the modern Suicide Squad was created by John Ostrander.
Extended Universe Villains
Man of Steel
Batman v Superman: Dawn of Justice
Suicide Squad
Wonder Woman
Justice League
Aquaman
Shazam!

Villains
Comics
Alfred Stryker | Alice | Amanda Waller | Amygdala | Anarky | Arkham Knight | Arnold John Flass | Azrael | Baby Doll | Bane | Barbatos | The Batman Who Laughs | Black Glove | Black Mask | Blockbuster I | Broker | Blockbuster II | Brain | Brother EYE | Calculator | Calendar Man | Captain Fear | Carmine Falcone | Catman | Catwoman | Circus of Strange | Clayface | Claything | Clock King | Club of Villains | Cluemaster | Commissioner Loeb | Composite Superman | Condiment King | Copperhead | Court of Owls | Crazy Quilt | Crime Doctor | Curtis Base | Dark Archer | David Cain | Dark Knights | Deacon Blackfire | Deadshot | Dealer | Deathstroke | The Dawnbreaker | The Devastator | Doctor Death | Doctor Dedalus | Doctor Double X | Doctor Hurt | Doctor Phosphorus | The Drowned | Electrocutioner | Emperor Penguin | Ernie Chubb | Faceless | Film Freak | Firebug | Firefly | Flamingo | Floronic Man | Gearhead | General Ulysses Armstrong | Gorilla Boss | Gotham City Police Department | Grant Walker | Great White Shark | The Grim Knight | H.A.R.D.A.C. | Harley Quinn | Holiday | Holly Robinson | Humpty Dumpty | Hugo Strange | Hush | Jack the Ripper | James Gordon, Jr. | Jason Todd | Joe Chill | The Joker | Judge of Owls | Joker's Daughter | Key | KGBeast | King of Cats | King Snake | King Tut | Killer Croc | Killer Moth | Kite Man | Lady Shiva | League of Assassins | Leviathan | Lex Luthor | Lock-Up | Lloyd Ventrix | Mad Hatter | Mad Monk | Magpie | Malochia | Man-Bat | Maxie Zeus | The Merciless | Merrymaker | Mister Bloom | Monk | Mr. Freeze | Mrs. Freeze | Mr. Toad | Mutants | Nightslayer | Nocturna | Nyssa Raatko | Onomatopoeia | Orca | Outsider | Owlman | Penguin | Penny Plunderer | Phosphorus Rex | Planet Master | Poison Ivy | Polka Dot Man | Professor Pyg | Prometheus | Ra's al Ghul | Ragdoll | Ratcatcher | Reaper | Red Claw | Red Death | Reverse-Flash | Riddler | Roland Daggett | Roxy Rocket | Royal Flush Gang | Rupert Thorne | Sal Maroni | Scarecrow | Sensei | Sewer King | Signalman | Sinestro | Snowman | Solomon Grundy | Spellbinder | Squid | Steeljacket | Suicide Squad | Talia al Ghul | Tally Man | Ten Eyed Man | Terrible Trio | Thomas Wayne Tiger Shark | Timecode | Tony Zucco | Tweedledum and Tweedledee | Two-Face | Ubu | Vandal Savage | Ventriloquist | Ventriloquist II | Ventriloquist III | Vertigo | Victim Syndicate | Victor Zsasz | Whisper A'Daire | Wrath | Zebra-Man
Movies
Batman (1966): Joker | Catwoman | Penguin | Riddler
Batman (1989): Joker | Bob Hawkins | Alicia Hunt | Carl Grissom | Max Eckhardt | Vinnie Ricorso | Joe Chill
Batman Returns: Penguin | Red Triangle Circus Gang (Organ Grinder, Poodle Lady, Tattooed Strongman, Stungun Clown, Thin Clown, Fat Clown, Sword Swallower & Knifethrower Dame) | Max Shreck | Catwoman | Charles "Chip" Shreck
Batman: Mask of the Phantasm: Phantasm | Joker | Salvatore Valestra | Arthur Reeves | Chuckie Sol | Buzz Bronski
Batman Forever: Riddler | Two-Face | Sugar | Spice | NygmaTech (Frogmen) | Neon Gang (Neon Gang Leader) | Salvatore Maroni
Batman & Robin: Poison Ivy | Mr. Freeze | Bane | Snowy Cones Thugs | Golums | Jason Woodrue
Batman Begins: Ra's al Ghul | League of Shadows (Ra's Decoy) | Scarecrow | Carmine Falcone | Victor Zsasz | Joe Chill
The Dark Knight: Joker | Joker's Thugs (Thomas Schiff, Chuckles, Kilson, Bus Driver, Happy, Dopey, Grumpy & Bus Driver) | Two-Face | Sal Maroni | The Chechen | Gambol | Lau | Bank Manager | Michael Wuertz | Burmese Bandit
The Dark Knight Rises: League of Shadows (Bane, Talia al Ghul & Barsad) | Catwoman | John Daggett
Batman v Superman: Dawn of Justice: Lex Luthor | Doomsday | Anatoli Knyazev | Mercy Graves | Cesar Santos | Amajagh | Joe Chill | Dru-Zod | Steppenwolf
Suicide Squad: Eyes of the Adversary (Enchantress & Incubus) | Suicide Squad (Deadshot, Harley Quinn, Captain Boomerang, El Diablo, Killer Croc, Slipknot & Amanda Waller) | Joker's Gang (Joker, Jonny Frost, Panda Man & Monster T) | Griggs
The Lego Batman Movie: Joker | Harley Quinn | Catwoman | Poison Ivy | Two-Face | Bane | Riddler | Phantom Zone Criminals (Zod, Sauron, Kraken, Lord Voldemort, Jaws & Gremlins)
Joker: Clowns (Joker & Clown) | Penny Fleck | Randall | Wall Street Three | Penny Fleck's Boyfriend
Community content is available under
CC-BY-SA
unless otherwise noted.