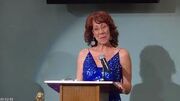 Susan Skidmore is an antagonist of the Disney Channel series A.N.T Farm. She is the corrupt principal of the High School that the main protagonists go to. She is portrayed by Mindy Sterling.
She considers herself as extremely beautiful and often thinks she is helping others. Skidmore is ridiculously strong on saving school budget money at her school right to the point of selling cheaper food. She uses other people to benefit herself. 
At one point in the series, she invented a machine that makes yogurt out of people's talents and personalities. Without them, the students would be nothing but Skidmore's slaves that worked for her. However, her plan was eventually foiled.
She appeared for a short time in the first episode of the third season and wasn't seen afterwards.
Similar pages:
Mr. Kidswatter (Wayside School)
Winter Maddox (ANT Farm)
Trivia
She is extremely similar to "Miss Francine Briggs" from iCarly:
    Both were portrayed by the same actress.
    Both had jobs at a school.
    They hate children/ teenagers.
    She is also similar to Winter Maddox who is twice as bad as she is Season 3.