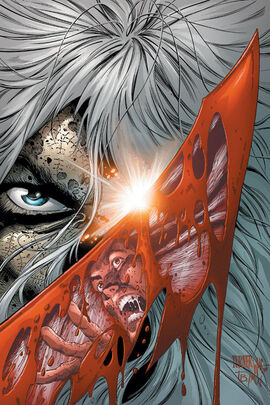 Suture is a female villain in the Spawn series.
History
Gretchen Culver was a pleasant, beautiful office manager for a boutique-publishing house called McGregor Arnold, and she was engaged to a nice man named Wayner Unfortunately, she met a gruesome end before they could be wed and her fiance was also killed.
retchen takes off running and is hit by a police car a few blocks away, and knocked unconscious. She regains consciousness while being raped by the police and ambulance attendants, where she is beaten unconsciousness again. They deliver her to another serial killer, Jeremiah "Sharpie" Eude for disposal. There she is violently murdered by the Sharpie and cut up into hundreds of pieces.
She is then found and is literally stitched back to life and imbued with special powers by a mysterious gypsy woman, named only Odessa. Gretchen, now calling herself Suture goes after serial killers and rapist.
power anda ablitiles
Suture is a vicious killer and as undead more dangerous than she was human
Community content is available under
CC-BY-SA
unless otherwise noted.