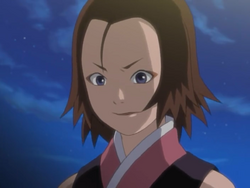 | | | |
| --- | --- | --- |
| " | I must avenge the people of my clan! I can't let you succeed, even if it kills me and that bikōchū! | " |
| | ~ Suzumebachi to Naruto, Hinata, Kiba, Akamaru and Shino | |
Suzumebachi (in Japanese: スズメバチ, Suzumebachi) is an anime-exclusive villain in Naruto, serving as the main antagonist of the Bikōchū Search Mission arc.
She was voiced by Rica Matsumoto in the Japanese dubbed version, and by Cindy Robinson in the English dubbed version.
History
Years ago, Suzumebachi's grandfather, First Tsuchikage hid away the Kamizuru's clan's secrets after they were humiliated by their defeat at the hands of the Aburame clan.
As the new head of the Kamizuru clan, Suzumebachi led her brothers, Jibachi and Kurobachi in search of the bikōchū beetle, hoping to restore her clan's name. She has her clan kidnap Hinata Hyuga and demand the beetle in exchange for her safety.
When Naruto and his teammates try to save Hinata, Suzumebachi has her swept away down a river, stuck in a cocoon. As the team is cocooned by Suzumebachi's skullduggery, Hinata escapes and uses Byakugan and Protecting Eight Trigrams Sixty-Four Palms to defeat the insects.
With her brothers defeated, Suzumebachi angrily tries one last attack using a Giant Bee but was blown away by Naruto's Rasengan. Whether she survived or not remains ambiguous.
Powers and Abilities
Suzumebachi can summon bees to sting at her opponents to put them to sleep. She can also make clones of honey and use it to entrap her enemies. Suzumebachi can also make a beehive out of earth to lure her enemies.
Trivia
Her name can be translated to literally mean "sparrow bee" (by breaking down the name, with "suzume" being "sparrow" and "hachi" being "bee") in Japanese - the name for the Asian giant hornet. It can also be translated to "hornet", which is hinted by the way her techniques revolve around hornets.