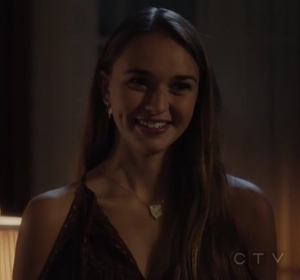 Sybil Sadik
is a villainess from "Family Ties," episode 2.07 of
Designated Survivor
.
She was played by Nikki Roumel.
Sybil Sadik was introduced as the girlfriend of Leo Kirkman, the son of President Tom Kirkman. On their way to a nearby cafe, Sybil and Leo encountered a group of protesters rallying against the reign of Farih Turan as President of Turkey, with one of them, Peter Potuck, being shoved by Leo after he got in Sybil's face. However, it was revealed by Mike Ritter that the encounter was a set-up orchestrated by Turan, with Sybil revealed as a villainous co-conspirator.
Mike revealed to Kirkman that Potuck worked for a charity known as the Ankara Trust, which funds Turan's regime. The charity is run by Emre Sadik, who is revealed as the father of 17-year-old Sybil, and as part of the plot, the evil Sybil placed herself as Leo's girlfriend and set him up to head towards the rally, where the incident happened. Sybil's set up led to Leo being on the receiving end of a civil suit by Turan. After learning the truth about Sybil and Turan's plan, Kirkman made a deal that included demanding that Turan drop the civil suit, and the episode ended with Sybil's fate being left unknown.
Community content is available under
CC-BY-SA
unless otherwise noted.