Jurassic World: Dominion Dominates Fandom Wikis - The Loop
Play Sound
This article's content is marked as Mature
The page Mature contains mature content that may include coarse language, sexual references, and/or graphic violent images which may be disturbing to some. Mature pages are recommended for those who are 18 years of age and older.


If you are 18 years or older or are comfortable with graphic material, you are free to view this page. Otherwise, you should close this page and view another page.
| | | |
| --- | --- | --- |
| " | Four months ago I crossed paths with a guy by the name of Keicho Nijimura, and he gave me a pretty handy special ability. I hadn't a clue what was happening, but it felt great! And I figured if I put my new powers to good use, I'd never have to worry about a thing for the rest of my life! Alright, cough it up already! You bein' cheap means The Lock stays right where it is! You wouldn't want that, would you? | " |
| | ~ Tamami Kobayashi to Koichi. | |
Tamami Kobayashi is a minor antagonist from JoJo's Bizarre Adventure: Diamond is Unbreakable. A greedy con artist, he tries to swindle Koichi before being beaten by him and redeeming himself. He wields the stand The Lock.
He was voiced by Satoshi Tsuruoka in Japanese and Frank Todaro in English.
Biography
Past
Four months before the events of the story, Tamami received a stand from Keicho Nijimura, and intended to use it to gain great wealth.
JoJo's Bizarre Adventure: Diamond is Unbreakable
Tamami is first introduced trying to convince Koichi Hirose that he ran over his cat with his bike. Succeeding in making him feel guilty for the presumed deed, the guilt from his actions activates The Lock on him. Josuke and Okuyasu later come to help, and although Okuyasu is affected by The Lock after punching Tamami, Josuke reveals the "cat" was actually a doll. Tamami swears revenge and gives Koichi back some of his money, but steals another part of it and flees.
Later on, Tamami tries to convince Koichi's family that he purposely swapped their wallets, with Tamami's holding 500,000 yen. Koichi's mother originally doesn't believe it, but when Tamami shows her a receipt he had in his wallet, she believes him and is affected by The Lock. An angered Koichi attacks him, only for it to be revealed that Tamami not only plans to take their house, also made his sister be affected by The Lock after she believed she spilled tea on Tamami's hand. Further anger from Tamami's perversion unleashes Echoes, as Koichi stands to face the con artist on his own.
Despite Tamami being wounded by Echoes' deafening noises, he further increases his family's guilt by staging that Koichi stabbed Tamami. The guilt amplifies for both to the point Koichi's mother considers killing herself to escape her own guilt. Despite the dire situation, Koichi uses Echoes and the phrase "Believe in me." to snap his mother back to her senses and realize that Koichi would never do such things. Defeated, Tamami is forced to hand over Koichi's purloined yen, but now is greatly intimidated by Koichi and serves as a mild goon. From then on, Tamami redeems himself and becomes a loan shark.
Later on, Tamami both helps Josuke and Koichi obtain info on Toshikazu Hazamada and briefly takes on the role as a juror for Josuke's and Rohan Kishibe's dice game.
Thus Spoke Kishibe Rohan
Tamami makes a minor appearance in the second episode of Thus Spoke Kishibe Rohan, begging for Rohan's autograph with Akira Otoishi.
Personality
Sly and greedy, Tamami is a master of trickery and and shaming, duping people into giving into The Lock's effects. His devious mind also allows him to both make planned and spur-of-the-moment schemes. Once beaten, however, Tamami is quite the coward, easily folding to Koichi when he loses and being scared to head after Hazamada. Tamami also takes great pride in his sneaky actions and is also rather perverted, lusting over Koichi's sister.
Powers and Abilities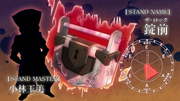 | | | |
| --- | --- | --- |
| " | I was wondering when it would appear! Now, the weight of her guilt over her baby boy turned criminal will will oppress her soul! I'm gonna bleed you dry, kid! | " |
| | ~ Tamami Kobayashi on The Lock activating on Koichi's mother. | |
Tamami wields the stand The Lock, which activates upon his victim feeling guilty. Once it appears, it can rapidly increase the victim's guilt (it growing in size with said guilt) to the point the victim can consider killing themselves to escape. The Lock stays put until Tamami cancels its effect, the victim is dead, or when the victim doesn't feel guilty anymore. The Lock can also detect when someone is dishonest and can supposedly reflect any damage taken to it to its attacker.