Jurassic World: Dominion Dominates Fandom Wikis - The Loop
Play Sound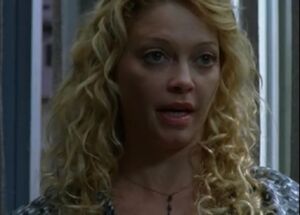 Tammy Mills is the secondary villainess from "Lonelyville", episode 7.04 of Law & Order:  Criminal Intent.
She was portrayed by Amanda Detmer, who also portrayed the evil Ciaobella on Psych.
Biography
Backstory
Tammy's backstory reveals that she was married, but separated from her husband after he took a job at an oil rig on the Gulf of Mexico--claiming that she felt abandoned by him. She engaged in an online relationship with Leanne Baker (referred to as "Lee"), a lawyer and con artist, and the pair began blackmailing various victims with the same routine: engaging in sexual acts with their married victims and later blackmailing them for money. 
Events
In the episode, Tammy was sent by Leanne to pose as the girlfriend of writer Noah Brezner, which she does for two months. The plan was to lure Noah into a compromising position with prostitute Anya Pugach, with Tammy posing with the two of them. However, Tammy began to develop actualy feelings for Noah, which complicated things for Leanne, who resorted to strangling Anya to death and tying her up. The plan was later changed to extorting Noah for murder, demanding $200,000 from him. Under the instruction of Leanne, who appeared as Tammy's lawyer, Tammy denied Noah's statement that he told her about being set up and blackmailed, and hung up on Noah while he was interrogated by Logan and Falacci. After this, Tammy was shown in a car making out with Leanne, revealing their relationship.
Noah later committed suicide out of heartbreak, and it was following this that Logan and Falacci (along with Ross) learned about Tammy and Leanne's romantic relationship. The pair staged a fake lineup to catch the pair, with a bartender (who was being blackmailed by Leanne) pointing out Tammy. She was later escorted to holding, which was full of men leering at both of them. Tammy was later shown a photo of the murder scene, revealing that Noah made three attempts at hanging himself because the past two times were unsuccessful due to his inability to tie knots, with Falacci stating that it was the exact proof that Noah couldn't have killed Anya. After reading a note written by Noah before his suicide, Tammy--full of heartbreak and remorse over the man she loved-- tearfully revealed their plan, to the extreme dismay of Leanne. She stated that she loved Anya as well as Noah, and that no one supposed to get hurt, while also telling Leanne that she did what she was told because she thought Leanne loved her. Tammy was handcuffed and arrested along with Leanne, while realizing that Leanne didn't care about her at all.