Boba Fett Returns - The Loop
Play Sound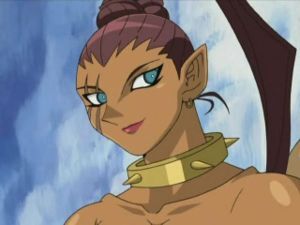 Tania is a villain from the first season of Yu-Gi-Oh! GX. She is an amazon, and the third of the Seven Stars Assassins.
She was voiced by Kazue Komiya in the Japanese version, and by Kathleen Delaney in the English version, who also voiced Snow Queen and Tina in Viva Pinata.
Design
Tania is a lady with a dark skin, and big blue eyes. She has two scars running over her right eye. She wears a blue tank top, combat pants, and gloves, with several rings and a large spiked collar. Her long hair is tied back in a ponytail. She is very muscular.
As a Seven Stars Assassin
Tania is a somewhat different Seven Stars Assassin. She promises rare cards to students of Duel Academia, but they have to help her build a colosseum. She does not take away souls. During her first duel, she falls in love with her opponent Bastion Misawa. He gets so distracted that he loses, and he stays with Tania in the colosseum. However, after a few days, he comes back to Duel Academia. It turns out that Tania lost interest in him after he began to lose duels with her. They go back to the colosseum, but this time, Judai Yuki duels Tania and he defeats her. She reveals her Dark Item, a gauntlet. When she takes it off, she turns into a tiger and leaves.
Gallery