Jurassic World: Dominion Dominates Fandom Wikis - The Loop
Play Sound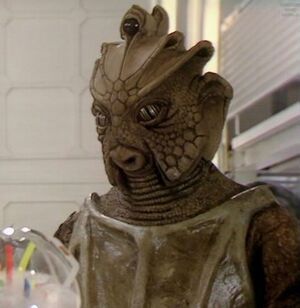 Tarpok is one of the three secondary antagonists of the Doctor Who story "Warriors of the Deep", along with Sauvix and Scibus.
He was portrayed by Vincent Brimble.
Biography
Tarpok, along with Scibus, was one of the companions of the Silurian leader Icthar. He associated with Icthar in his plan to wipe out humanity in the year 2084 by triggering a mutually destructive world war. Their plan was to take control of Seabase 4 and launch its missiles at the opposing power bloc, which would result in retaliation. Tarpok seemed to be the technical expert in the group. He supervised the revival of Sauvix's group of Sea Devils and personally provided Sauvix with his instructions to attack the Seabase.
Tarpok was the one who used a particle suppressor to reflect the base's weaponary back at it, crippling its defences. He also seemed to have some control over the Myrka, directing it to attack the base and informing Icthar of its destruction. Eventually, the Silurians gained control of the bridge, with most of the crew dead, where Tarpok operated their manipulator device to gain control of the base's missiles and start the countdown.
Tarpok died, along with most of the other Silurians and Sea Devils, when the Doctor arranged for Lieutenant Bulic to flood the base with hexachromite gas, lethal to reptile and marine life.
Trivia
The novel The Scales of Injustice portrays Tarpok as a member of the Silurian Triad. This would appear to contradict "Warriors of the Deep", in which Icthar is said to be the sole surviving member of the Triad.