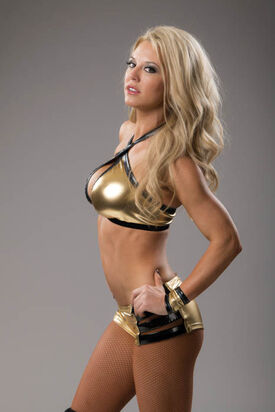 Taryn Terrell
is a female professional wrestler known for her stint in WWE under the name
Tiffany
, where she served as ECW's final General Manager. She is currently in TNA as a Knockout and is a former Knockouts Champion. While she has never been a heel in WWE, Taryn currently serves as the lead villainess in TNA.
Taryn captured the Knockouts Championship on the November 19, 2014 edition of Impact Wrestling, but she has spent the last several weeks feuding with Awesome Kong over the title. After retaining her title in a singles match via DQ and a three way match that included Gail Kim, Taryn faced Kong again on the April 24 edition of Impact Wrestling, which was dubbed "TKO: A Night of Knockouts." Before the match began, Taryn decided to make it a No DQ match against Kong, and shortly afterwards, new Knockouts Jade and Marti Bell (known as The Dollhouse) appeared and later attacked Kong with Singapore Canes. After the attack, Taryn put Kong through a table and defeated Kong, and as a result of the collusion, Taryn became a villainess. Following her victory, the evil Taryn cemented herself as the leader of The Dollhouse and said that she beat Kong even though no one else though she could. Taryn later said that she'll never be beaten because they'll have to deal with her new friends and they "don't play very nice."
Taryn successfully defended the Knockouts Championship against Brooke Tessmacher on the May 1 edition of Impact Wrestling, with help from Jade and Marti Bell. After the match, she was confronted by Gail Kim over her recent actions, which led to Awesome Kong aligning with Gail. On the following week, Taryn was shown in an exclusive segment interacting with the daughters of Gail's husband, Robert Irvine; attempting to get under Gail's skin. Later in the evening, The Dollhouse defeated Gail and Kong in a handicap match, with Taryn grabbing Gail's tights while pinning her. Taryn later retained her title against Gail inside Six Sides of Steel, and after the match, The Dollhouse attacked Gail and broke her ring finger.
Taryn's feud with Kong would later include Brooke, as she defeated both of them in a three way match to retain her title. On the July 15 episode of Impact, Taryn lost the Knockouts Championship to Brooke after Gail Kim returned and attacked Jade and Marti Bell.
Gallery
Community content is available under
CC-BY-SA
unless otherwise noted.