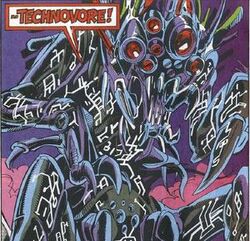 Technovore is a savage nanotech monster from Marvel Comics and is an enemy of Iron Man. The artificially intelligent creature was created to destroy data and technology, but went out of control and began to consume all technology in came across, making it a prime foe for the tech-based Iron Man.
Technovore has appeared in The Avengers: Earth's Mightiest Heroes and Iron Man Armored Adventures TV shows.
In Avengers: EMH it was imprisoned by SHIELD in the Vault until it got loose in the Breakout arc. In was captured by A.I.M. and appeared again in season 2, where A.I.M. reprogrammed it to seek out arc-reactor technology and let it loose in Stark Tower. It attacked Tony Stark and Maria Hill, almost killing Tony by eating away at the arc-reactor in his chest, before going after War Machine. It was destroyed when Iron Man lured it into the tower's arc-reactor power system and overloaded it, causing Technovore to swell up and explode from too much consumed energy.
Technovore appeared in Iron Man: Rise of Technovore as the titular secondary antagonist.
Gallery
Community content is available under
CC-BY-SA
unless otherwise noted.