We're Getting Mutants in the MCU - The Loop
Play Sound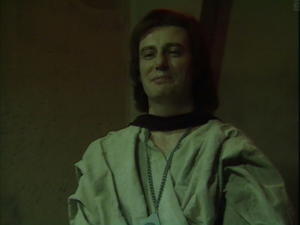 Tekker, also known as Maylin Tekker, is the secondary antagonist of the Doctor Who story "Timelash".
He was portrayed by the late Paul Darrow, who also played the Sheriff of Nottingham in The Legend of Robin Hood and voiced Grand Moff Tarkin in Star Wars: Empire at Dawn and Zarok in the English version of MediEvil.
Biography
Tekker was a member of the Inner Sanctum council on the planet Karfel. He was loyal to the Borad, the planet's shadowy ruler who the council merely served as a front for, and dismissive of the pleas of leniency from two rebels condemned to exile through the Timelash. When the Borad discovered that the council's leader, Maylin Renis, was a dissident, he killed him and "elected" Tekker as his replacement. Tekker casually informed Renis' daughter Vena of events and also that her husband Mykros was about to be sent through the Timelash. Vena grabbed Tekker's amulet, vital for the Borad's operations, and fell into the Timelash.
When the TARDIS arrived moments later, Tekker was aware of the Doctor from stories of a previous visit and greeted him as an old friend of Karfel, although in truth the Borad saw him as an enemy. Tekker went along with the Borad's orders to break a treaty with the Bandrils and deny them promised grain supplies, prompting the Bandrils to declare war: Tekker believed the Borad had a plan to defeat them. He told the Doctor he had taken Peri prisoner and was holding her to ensure the Doctor took the TARDIS to the other end of the Timelash, the Scottish Highlands, and recover Vena and the amulet. In fact, Peri had fled the citadel, although she was successfully captured along with a group of rebels in the Doctor's absence.
The Doctor returned with the amulet but Tekker promptly ordered him, his passenger Hubert, Mykros, Vena and the captured rebels thrown into the Timelash. The Doctor distracted the android preparing to carry out the sentence with a mirror and a fight broke out, during which Tekker fled the scene with Kendron, one of the few council members not to have rebelled, allowing the rebels to triumph. Called before the Borad to explain the failure, Tekker lied that Kendron, who he had pacified with a promise to be made Deputy Maylin, had betrayed them and the Borad killed him.
Tekker remained at the Borad's side as the Doctor arrived to confront the dictator, discovering that the Borad was a half-Karfelon, half-Morlox hybrid caused by a laboratory accident. The Borad revealed the real reason he had provoked war: The Bandrils' weapons would wipe out all Karfelons but the Borad himself would be immune and free to repopulate the planet with creatures like himself. At this, Tekker turned on the Borad who promptly killed him with his time destructor ray, ageing him to death in seconds.