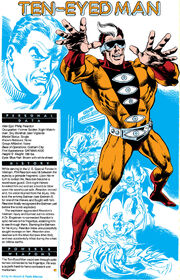 Ten-Eyed Man, real name Phillip Reardon, is a villain appearing in the Batman comic series by DC Comics.
History
A veteran of the U.S. Special Forces in Vietnam, Reardon had been nicknamed "Three-Eye" Reardon when a grenade fragment left an indentation scar on his forehead. Upon leaving the forces, Reardon took a job as a security guard at a warehouse in Gotham City. Attacked by a gang of thieves one night, and disoriented by a blow to the head, Reardon staggered onto the scene of an impending explosion at the warehouse vault. Arriving on the scene, Batman assumed he was a thief, and Reardon took him for one of the thieves. The two struggled, and were caught in the explosion of the vault.
Both men were left blinded, Reardon permanently. An underworld doctor named Engstrom performed radical experimental surgery, connecting Reardon's optic nerves to the sensory cells in his finger-tips, in effect giving his fingers both touch and sight. Reardon blamed Batman for his loss of sight, and became a recurring villain for the Dark Knight.
Finally, the Ten-Eyed Man was killed during the Crisis on Infinite Earths during the merging of realities by a shadow assault on the city.
In other media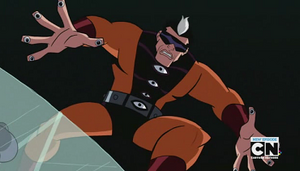 The Ten-Eyed Man made a cameo appearance in the Batman: The Brave and the Bold episode "A Bat Divided!", where he is seen in a bar with a number of other minor Batman villains. In the episode "Emperor Joker!", Reardon attempts to rob a jewelery store, but is interrupted by Batman. Bat-Mite gives Batman a cactus, which he tricks Reardon into catching, blinding him. He makes another bar cameo in the episode "Joker: the Vile and the Villainous!".
Powers and Abilities
Ten-Eyed Man's surgically altered fingertips give him 360 degree vision, and combined with his military experience make him a superb fighter and marksman.
Community content is available under
CC-BY-SA
unless otherwise noted.