We're Getting Mutants in the MCU - The Loop
Play Sound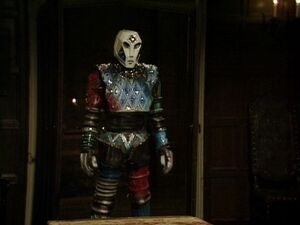 The Terileptil Android is the secondary antagonist of the Doctor Who story "The Visitation".
It was portrayed by Peter Van Dissel.
History
The android accompanied four Terileptils who escaped from the prison planet Raaga and crashlanded on Earth in 1666. They investigated a manor house, where the android killed the owner Squire John and his two grown-up children Charles and Elizabeth. In order to keep locals away, the Terileptils dressed the android up as the Grim Reaper to scare them off. It also exercised some control over the humans that the Terileptils had fitted with control devices.
The Terileptil Android investigated when the Doctor, together with Tegan, Nyssa, Adric and their local ally Richard Mace, broke into the manor house. It stunned Tegan, with Adric also being knocked out in the confusion, but was forced to allow the others to escape when the Doctor filled the area with flammable gas, preventing it from using its weapon. The android took the two prisoners to the Terileptil Leader, and later prevented Tegan from escaping, although failed to stop Adric.
When an attempt to use the controlled humans to capture the Doctor failed, the android was sent instead and captured him and Mace without a fight, delivering them to the Terileptil Leader. It was then sent to steal the TARDIS and used its Grim Reaper guise to scare off a group of villagers who had captured Adric, before using his presence to trick Nyssa into letting it into the craft. However, Nyssa activated a sonic disruptor she had been working on, which shook the android apart.