She-Hulk Trailer Dropped - The Loop
Play Sound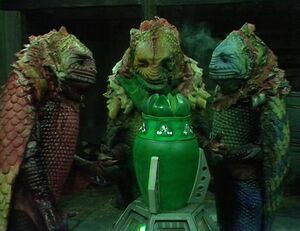 The Terileptils are the main antagonistic faction of the Doctor Who story "The Visitation". Aside from a cameo as an illusion in "Time-Flight", this is the species' only on-screen appearance.
History
Four Terileptils crashlanded on Earth in the 17th century, having escaped from the prison planet Raaga, where they had been sentenced to life imprisonment. They quickly sought out a nearby manor house. One of the Terileptils was killed in a gun battle with the house's occupants, but ultimately the squire, his two grown-up children and their servant were killed by the Terileptils and their android. The Terileptils took over the manor as their base and used mind-control bracelets to get the co-operation of several locals, including the miller, the village headman and a group of poachers, using them as servants.
When the Doctor and his friends came to the manor, the Terileptil leader realised they were not from Earth. His android managed to capture Tegan and Adric for interrogation. Using his human agents, the Terileptil leader was eventually able to capture the Doctor and his friend Richard Mace. The Terileptils had concluded they would not co-exist with humans so intended to increase the vitality of the plague sweeping the planet. They had implanted several rats with the modified bubonic plague and were planning to release them. The Terileptil leader took the rats to London where his fellows had made their base, leaving the Doctor behind as a prisoner. He also tried to have his android steal the TARDIS.
The Doctor and company eventually made it to the Terileptil base in London, where a fight soon broke out during the two parties. During the ensuing fracas, one of the Terileptils was killed by Mace and a fire broke out, made worse when it caused one of the Terileptil guns to explode. The Doctor and his friends fled and both the surviving Terileptils, along with the infected rats, were killed in the blaze, which started the Great Fire of London.
Trivia
The Terileptil leader was played by Michael Melia. The other two Terileptils were played uncredited by Michael Leader and David Sumner.