Jurassic World: Dominion Dominates Fandom Wikis - The Loop
Play Sound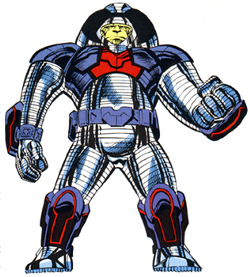 | | | |
| --- | --- | --- |
| " | You thought me slain, fools! Now learn the peril of how wrong you were! For no world can escape, nor any power stand against THE WRATH OF TERMINUS! | " |
| | ~ Terminus. | |
Terminus is a villain in the Marvel comics. He is a massive alien who travels the galaxy in search of worlds to conquer.
Origin
Millennia ago, the extraterrestrial Terminex race came into conflict with the Celestials and were exterminated. Before they perished, however, they engineered a life form—the Termini—that would extract their revenge on the Celestials and sent it into space.
The Terminus begins as a microbe (stage 1). When it finds an inhabited planet, native life forms ingest the microbes and change into robot versions of themselves (stage 2). The robots ingest metal and radioactive material, which provide material and fuel to grow into larger robots (stage 3). Several stage 3 robots then merge together to form a Terminus (stage 4). On the rare occasions when two Termini meet, one can ingest the other and become an Ulterminus (stage 5).
The first Terminus took shape on an unknown world. It then embarked on its mission to find inhabited planets and extinguish all life on them. The exact number of planets is unknown but could reach one thousand. After destroying Arianis Major, Terminus fired a beam at Earth.
A century later the beam reached its target. It etched a message in the planet's surface in letters a half mile wide: "I claim this world~~TERMINUS." The Fantastic Four encountered an alien scientist who had been Terminus's slave but who had angered him and been punished. Before he died he revealed Terminus's history and nature. The FF located Terminus as he prepared to ravage Earth. Reed Richards managed to plant an inertia-canceling gizmo on him, which sent him to the center of the Earth.
On its trip back to the surface, Terminus contacted Jorro, a Deviant, who made an armored suit like Terminus's and sought out Terminus's lance. Once he found it, he used it to wipe out the Savage Land. The Avengers left Jorro to die in the snow. Some time later, Jorro's armor and Garokk, the Petrified Man, fused. This hybrid creature was defeated by the X-Men and the High Evolutionary. Still later, a scientist named Macross, working for AIM, found the armor and repaired it. Captain America and Ka-Zar convinced him to dismantle it.
Still working its way outward, Terminus created some stage 1 microbes and released them near Mount St. Helens, an active volcano. It summoned its lance and finally reached the surface, but Quasar and Spider-Man sent it into a solar orbit outside the ecliptic, where it could not reach Earth. Quasar also teleported its lance to the outer reaches of the solar system.
Meanwhile, the stage 1 Termini reached the surface and infected several animals, as well as some humans, which progressed to stages 2 and 3. Captain America, Iron Man, Machine Man, Hercules, and Thor fought these robots. Thor, seeking answers, found Terminus floating in space and tried to communicate with it. He got his answers, but a biological attack incapacitated him. Terminus used Thor's hammer, Mjolnir, as a power source to rebuild his lance. With the lance he traveled to Earth.
The stage 3 Termini by this time had become a new stage 4, similar to the original Terminus. These two fought each other. In the end the old Terminus consumed the new one, thereby creating a stage 5 Terminus, or Ulterminus. Apparently considering itself powerful enough to return to its original mission, it prepared to destroy Earth. All three teams of Avengers were unable to stop it. Thor, however, recovered and mystically recalled Mjolnir (still inside Terminus) to himself ... Terminus along with it. Without its power source, Terminus was forced to convert its own mass into energy. Feeding on itself, it became a singularity (black hole) and vanished.
Terminus was not destroyed, but it was forced to undergo a dimensional odyssey. It wound up on another Earth, where it sensed more super-powered beings. Resolving to destroy them, it traveled toward Metropolis. It did battle with the Justice League of America (Superman, Batman, Wonder Woman, Aquaman, Flash, Green Lantern, Martian Manhunter, and Plastic Man). They defeated it when Green Lantern reflected a shot from its power lance back at it. The Spectre (Hal Jordan) sent it into yet another dimension.
Returned to (Marvel) Earth in an astral form, Terminus began infecting the minds of the Moloids of Subterranea. The Mole Man, the Silver Surfer, and the Fantastic Four worked together to stop this plot and cleanse the Moloids of the infection.
Sometime later, Terminus returned in physical form, forcing the Avengers to face them. Realizing they were outmatched, Captain America asks Spider-Man to call in Alpha to aid them. However, the fight between Terminus and Alpha is incredibly one-sided and dangerous as Alpha's reckless use of his powers causes airplanes in a ten mile radius to short out. In the end, Alpha defeats Terminus, but his reckless use of powers causes Spider-Man to reverse engineer Terminus' staff to drain him of his powers.
Television History
Terminus, an alien scavenger, comes to steal all of Earth's resources. While the Fantastic Four try to stop him, they realize he may be unbeatable.
Villains
Comics
Abomination | Absorbing Man | Air-Walker | Alioth | All-Black | Amatsu-Mikaboshi | Angela | Annihilus | Apocalypse | Arcade | Ares | Arnim Zola | Asteroth | Baron Mordo | Beyonder | Bi-Beast | Blackheart | Blackout | Black Winter | Blastaar | Blockbuster | Bolivar Trask | Bor Burison | Bulldozer | Celestials | Collector | Crimson Dynamo | Crusader | Dark Avengers | Dark Gods | Darkoth | Desak | Destroyer | Diablo | Dormammu | Dr. Doom | Dracula | Dweller-In-Darkness | Ego the Living Planet | Enchanters Three | Enchantress | Executioner | Fafnir | Fenris Wolf | Fin Fang Foom | Frost Giants | Galactus | Godzilla | Goliath | Gorr the God Butcher | Grandmaster | Graviton | Grey Gargoyle | Gog | Grog | Growing Man | Hela | Hera | High Evolutionary | Hawkeye | Impossible Man | Immortus | Jormungandr | Juggernaut | Justin Hammer | Kang | Karnilla | King Cobra | Kingpin | Knorda | Knull | Korath | Korvac | Kurse | Laufey | Leader | Living Monolith | Loki Laufeyson | Lorelei | Maestro | Magneto | Mangog | Malekith the Accursed | Man-Beast | Masters of Evil | Megatak | Mephisto | Mercurio the 4-D Man | Mister Hyde | M.O.D.O.K. | Mongoose | Moonstone | Morgan le Fay | Moses Magnum | Namor | Nebula | Norman Osborn | Onslaught | Perrikus | Piledriver | Pluto | Punisher | Punisher (Earth-95126) | Purple Man | Quicksand | Quicksilver | Radioactive Man | Ragnarok | Rhino | Ringmaster | Rock Trolls | Roxxon | Sandu | Scarlet Witch | Set | Seth | Skaar | Skrulls | Space Phantom | Spider-Man | Stranger | Super-Adaptoid | Super-Skrull | Surtur | Terminus | Terrax | Thanos | Thunderball | Thunderbolt Ross | Thunderbolts | Titania | Titanium Man | Valkyrie | Venom | Worthy | Wrecker | Ulik | Ultimus | Ultron | Umar | Ymir | Zarrko
Movies
Hulk Vs. Thor: Loki Laufeyson | Hela | Enchantress | Skurge | Surtur | Malekith the Accursed | Valkyrie
Thor: Tales of Asgard: Algrim | Frost Giants | Loki Laufeyson | Fenris Wolf | Amora the Enchantress | Surtur
Thor: Loki Laufeyson | Frost Giants (Laufey, Grundroth, Hailstrum, Raze & Jotunheim Beast) | The Destroyer | Jasper Sitwell
Thor: The Dark World: Dark Elves (Malekith the Accursed & Kurse the Strong) | Loki Laufeyson | Marauders (Duhg & Kronan Marauder) | Jotunheim Beast | The Collector
Thor: Ragnarok: Berserker Army (Hela Odinsdottir, Skurge & Fenris Wolf) | Sakaaran Guards (The Grandmaster & Topaz) | Loki Laufeyson | Fire Demons (Surtur & Fire Dragon) | Thanos

TV Series
The Mighty Thor: Loki | Amora the Enchantress | Skurge the Executioner | Absorbing Man | Grey Gargoyle | Thunderbolt Ross | Zarrko | Pluto | Sandu | Surtur | Mr. Hyde
Loki: Loki Laufeyson's Variants (Loki Laufeyson (Variant L1130), Sylvie Laufeydottir, Boastful Loki & President Loki) | Time Variance Authority (He Who Remains, Miss Minutes, Ravonna Renslayer, Hunter D-90) | Alioth | Kang the Conqueror
What If: Infinity Ultron | Yellowjacket | Loki Laufeyson | The Destroyer | Brock Rumlow | Jack Rollins | Thunderbolt Ross | Skrulls | Nebula | Grandmaster | Skurge | Yondu Udonta | Ego | Arim Zola | Prince Killmonger | Strange Supreme | Surtur | Frost Giants

Video Games
Thor: God of Thunder: Loki Laufeyson | Frost Giants (Ymir) | Rock Trolls (Ulik) | Fire Demons (Surtur) | Hela
Thor: The Dark World: Loki Laufeyson | Dark Elves (Malekith the Accursed, Kurse the Strong) | Ymir | Mangog | Marauders | Frost Giants

See Also
Hercules (Marvel) Villains

Villains
Comics
Absorbing Man | Adolf Hitler | A.I.M. | Aleksander Lukin | Anaconda | Arcade | Arnim Zola | Awesome Android | Baron Blood | Baron Wolfgang von Strucker | Baron Zemo | Batroc the Leaper | Beetle | Bi-Beast | Black Cat | Black Talon | Black Mamba | Black Widow | Blitzkrieg | Blizzard | Blood Brothers | Boomerang | Boomslang | Brothers Grimm | Bulldorzer | Bullseye | Cache | Carnage | Carrion | Chemistro | Constrictor | Cottonmouth | Controller | Count Nefaria | Cowled Commander | Crimson Dynamo | Crossbones | Dark Avengers | Darren Cross | Death Adder | Demogoblin | Doctor Faustus | Doppelganger | Eel | Electro | Famine | Fer-De-Lance | Firebrand | Fixer | Flag-Smasher | Ghost | Gorgon | Grand Director | Grant Ward | Graviton | Grey Gargoyle | Griffin | Grim Reaper | Grizzly | Heinz Kruger | Herr Kleiser | HYDRA | Hydro-Man | Iron Monger | Ironclad | Jack O' Lantern | Kang the Conqueror | Killer Shrike | King Cobra | Kingpin | Klaw | Korath the Pursuer | Korvac | Kraven the Hunter | Lady Deathstrike | Living Laser | Lizard | Loki | Lucia Von Bardas | Machinesmith | Madame Viper | Madcap | Magneto| Man-Ape | Mandarin | Master Man | Masters of Evil | Mentallo | Mesmero | Mister Hyde | M.O.D.A.M. | M.O.D.O.K. | Mole Man | Moonstone | Namor | Nightmare | Nightshade | Nitro | Piledriver | Princess Python | Puff Adder | Punisher | Punisher (Earth-95126) | Quicksand | Rattler | Red Ghost | Red Skull | Rhino | Ringmaster | Rock Python | Ronan | Roxxon | Säurespritze | Scarecrow | Scorpion | Sebastian Shaw | Secret Empire | Selene Gallio | Serpent Society | Shocker | Shockwave | Shriek | Sidewinder | Silver Sable | Sin | Sinister Six | Skeleton Crew | Slither | Slug | Songbird | Super-Adaptoid | Super-Apes | Superia | Super Patriot | Supreme Intelligence | Tarantula | Taskmaster | Terminus | Thanos | Thunderball | Thunderbolt Ross | Thunderbolts | Tiger Shark | Tinkerer | Titania | Titanium Man | Trapster | Typhoid Mary | U-Foes | Unicorn | Ultron | Vapor | Vector | Vermin | Vulture | Whiplash | Whirlwind | Winter Soldier | Wizard | Worthy | Wrecker | X-Ray | Yellow Claw | Zahnmörder | Zodiac
Movies
Captain America (1990): Red Skull | Valentina de Santis
Captain America: The First Avenger: HYDRA (Red Skull, Arnim Zola, Heinz Kruger, HYDRA Lieutenant, & Velt) | Adolf Hitler | Roeder | Hutter | Schneider
Heroes United: Iron Man and Captain America: HYDRA (Red Skull & Taskmaster)
Captain America: The Winter Soldier: HYDRA/STRIKE (Alexander Pierce, Winter Soldier, Crossbones, Jack Rollins, Jasper Sitwell, Russo, Senator Stern, Arnim Zola, Wolfgang von Strucker, List, Scarlet Witch, & Quicksilver) | Georges Batroc | Ferdinand Lopez | Gerald Durand
Captain America: Civil War: Helmut Zemo | Thunderbolt Ross | Winter Soldier | Scarlet Witch | HYDRA (Vasily Karpov, Josef, & Winter Soldiers) | Hero Mercs (Crossbones)
TV Series
The Falcon and The Winter Soldier: Winter Soldier | Flag Smashers (Flag-Smasher, Dovich, Gigi, DeeDee, Lennox, Nico, Matias, & Diego) | Sharon Carter | Baron Zemo | LAF (Georges Batroc & Louie) | Senator Atwood | Valentina Allegra de Fontaine
What If...?: Red Skull | Arnim Zola | Heinz Kruger | HYDRA's Champion

Video Games
The Amazing Spider-Man & Captain America in Doctor Doom's Revenge: Doctor Doom | Electro | Hobgoblin | Rhino | Boomerang | Grey Gargoyle | Oddball | Batroc the Leaper | Mysterio
Captain America and the Avengers: Red Skull | Crossbones | Klaw | Living Laser | Whirlwind | Sentinel | Grim Reaper | Wizard | Mandarin | Juggernaut | Ultron
Captain America Super Soldier: HYDRA (Red Skull, Arnim Zola, Madam Hydra & Baron Strucker) | Baron Zemo
Captain America: The Winter Soldier: Winter Soldier | Sin | Taskmaster | Shockwave | Serpent Society (King Cobra, Puff Adder & Diamondbak)
See Also
Agent Carter Villains