Doctor Strange in The Multiverse o Madness - The Loop
Play Sound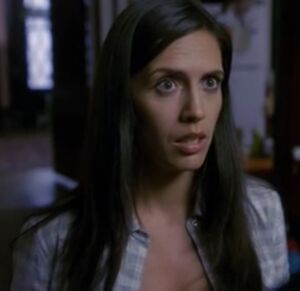 Terri Banes is the antagonist from "Spooked", episode 11.06 of Law & Order: SVU.
She was portrayed by Paola Mendoza.
Biography
Terri Banes is a CIA Analyst for the Cuban desk, as well as a longtime friend of her roommate Ramona Rodriguez. She was in possession of a SIM Card that had the names of American agents, and she was planning to give the card to the Cuban resistance so they could send it to the US. When Ramona came to her regarding business she was doing (serving as a drug mule) as well as wanting breast implants, Terri decided to use this in her plan to send the card.
Terri paid Ramona $50,000 to carry the card in one of her implants and send it to Cuba, with Ramona jumping at the chance. However, Ramona demanded more money; threatening to reveal Terri's role if she didn't comply. Terri told Ramona that there was no more money, but Ramona still made demands. With that, Terri decided to cut the implants out of her, and late one night, she followed Ramona and found her with her lover, Carlos Martinez, and murdered both of them; all while cutting the implants out of Ramona. The villainess left the bodies in the back of a truck and hung up Ramona's undergarments; making the murder look like it was committed by a rapist.
After killing Ramona and Carlos, Terri was asked about Ramona by Benson and Stabler, with Terri deceptively stating that she hardly knew or saw Ramona. Later in the episode, the evil Terri took Ramona's implant (which had the card) and placed it inside a shopping cart belonging to a Cuban attaché who is a double agent. After learning about FBI Agent Dean Porter's connection to Terri, SVU set up a sting that led to Terri being arrested by Benson at her hotel room.
During interrogation, Terri confessed everything and revealed that Porter knew everything about her plan; which included Porter telling her to stage the murder scene. After Porter entered and attempted to quiet Terri, Benson was set to arrest Porter for accessory to murder, only for Cragen to inform Benson and Stabler that they are to let both Terri and Porter go, stating that the case is out of their hands.

Villains