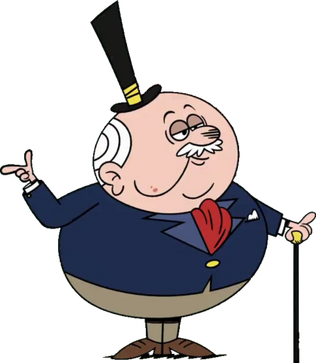 Tetherby is a character from the series The Loud House. He made his debut as the main antagonist the Season 1 episode, Out on a Limo.
Biography
In the episode, Tetherby influenced Lincoln on what life is like without his sisters. but Lincoln proved himself wrong and turned on against Tetherby.
Role
In the episode, Tetherby decided to let Lincoln join him in both of their Limos instead of taking his sisters to The Flippin Burger. When Lincoln arrived back to his house, his sisters became mad at Lincoln for not taking them to The Flippin Burger causing Lincoln to lose his limo. Meanwhile, after Lincoln apologized to his sisters for the misunderstanding, Tetherby appeared while they were at The Flippin Burger but Lincoln along with his sisters squirts Tetherby with Ketchup and Mustard. It is unkown what became of Tetherby after that.
Appearance
Tetherby is an elderly over-weighted man with khaki shoes, brown shoes, white slippers, a blue shirt, light fair skin, a red dressing robe, and wields a black walking stick.
Gallery
Trivia
Community content is available under
CC-BY-SA
unless otherwise noted.