✔
This Villain has been Headlined on January, 2011, and is considered one of the best articles of the Villains wiki.
| | | |
| --- | --- | --- |
| " | Am I not Thanos?! Did I not butcher the woman who gave me birth, who forced me into this hell called life? Is not the wake of my passing crimson with the blood of my enemies and allies alike?! Death is with me every second of the day! | " |
| | ~ Thanos. | |
Thanos, also known as the "Mad Titan", is a major villain from Marvel Comics. He is considered to be one of the most powerful and dangerous villains to be created by Marvel. Thanos' transgressions have brought him into contact with many Marvel superheroes such as Iron Man, the Guardians of the Galaxy, and the Silver Surfer. However, Thanos is notorious for being a major adversary of the Avengers and the archenemy of Captain Marvel and overall the entire Marvel Universe.
He is a powerful alien warlord born on Saturn's moon, Titan, born to the race of demigods known as "Eternals". Being the strongest of all of them and appearing as a threatening and monstrous beast, Thanos fell in love with the living female embodiment of death and is willing to destroy every existence to win her love, no matter how powerful he must become or who dares to stop him.
He is specifically the main villain in the storylines The Infinity Gauntlet, Thanos: The Final Threat, The Thanos Imperative and Infinity.
He made his debut in 1973 in Iron Man #55 and continues to terrorize the entire Marvel universe and beyond up to the modern era. His popularity as a supervillain is seen in his ability to hold a large presence both in mainstream Marvel comics and his own series while also being seen in a large array of products ranging from video games to toys and cartoons (though his nature is toned down in some of the cartoons, for obvious reasons).
Biography
Origin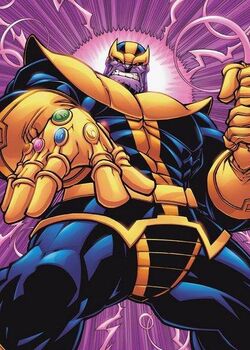 In almost all Marvel canon, Thanos was born on Titan. one of the moons of Saturn - he was born a type of mutant and thus was much more powerful than his fellow Titans and although treated fairly by them was always a loner who was self-aware of being different. In time Thanos becomes obsessed with nihilism and death, especially the cosmic-being known as
Mistress Death
who embodies mortality itself, Thanos grows deeply attracted towards "her" and seeks to please her by any means.
His first act as the self-appointed champion of Death was to mercilessly kill millions of his own race via conducting a nuclear bombardment of his own planet, his first but by no means last act of mass-murder that earned him the fitting title of the Mad Titan.
Role
Thanos is a vast, complex, and above-all-else powerful character thus trying to list every villainous act he has committed over the decades is no easy task. However, his most notable acts of villainy have been the Cosmic Cube incident and the Infinity Gems saga - two times in which
Thanos became, for lack of a better word, a God. In the first incident Thanos, via a complex plan spanning multiple issues of many different Marvel titles, managed to obtain a cosmic artifact of immense power known as the Cosmic Cube which would grant whoever held it their greatest wish.
Thanos used the Cube to wish for omnipotence and easily defeated many of Earth's heroes but foolishly tossed away what he thought was now useless Cube - allowing the hero Captain Marvel to shatter the Cube and undo all of Thanos' evil - as a final blow to Thanos he discovers his beloved Death has abandoned him due to his failure, which while making him immortal by default is also deeply hurtful and destructive to the Titan - who is still in love with the entity.
Sometime later Thanos manages to gather the most powerful artifacts in the Marvel universe together (with some help from unwitting heroes and villains) - these Infinity Gems ultimately granted Thanos power so unbelievably vast he was able to erase half of all life in the universe without much effort and was all-but invincible even to cosmic-beings.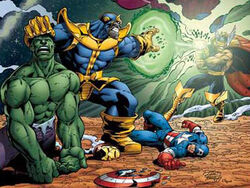 However Thanos, despite his omnipotence, would be defeated again when Adam Warlock managed to take the Infinity Gems away from the Mad Titan and undid all that the villain had done - Thanos, knowing he was defeated, faked his own death in order to escape.
These two events are by no means the only feats of evil achieved by Thanos but are merely some of his more memorable ones - Thanos is responsible for a great many other deeds of cosmic chaos and is almost always scheming up new ways to impress Death or gain unheard of power for himself.
Thanos joins Warlock as part of the Infinity Watch and helps him to defeat first his evil (Magus) and then good (Godess) personas in Infinity War and Infinity Crusade, and cure Thor of "warrior Madness" after fighting Odin due to a misunderstanding in the Blood & Thunder story.
Thanos later recruits a team of Earth-bound super-villains and puts them under the field leadership of Geatar in a mission to capture an ancient robot containing the obscure knowledge of a universal library and extract its data. Thanos uses information from the robot to plot against and battle the powerful Tyrant, the first creation of Galactus turned cosmic potentate.
When trapped in an alternate dimension, a clone of Thanos employs the aid of the brother of Ka-Zar, Parnival Plunder and later the Hulk to escape, although both attempts are unsuccessful. Another clone of Thanos comes into conflict with Thor, aligning himself with Mangog in a scheme to obtain powerful mystical and cosmic talismans which will allow him to destroy all life in the universe, and during their battles the clone and Mangog decimates the planet Rigel-3.
The real Thanos then join forces with heroes Thor and Genis-Vell (Captain Marvel's son) against the death god Walker, who attempts to woo Mistress Death and then destroy the entity after being rejected. Thanos then devises a plan to become the All-Father of a new pantheon of gods created by himself. Thanos, however, finds himself opposed by the Avengers' former member Mantis and her son Quoi, who apparently is destined to be the Celestial Messiah. Thanos abandons this plan after having to unite with Mistress Death to destroy the "Rot", a cosmic aberration in deep space created by Thanos' incessant love for Death. Thanos also once conducted extensive research on genetics, and after studying many of the universe's heroes and villains cloned them and gene-spliced his own DNA into the subjects, creating the Thanosi. Although he later abandons the project, five Thanosi clones survive, being versions of Professor X, Iron Man, Gladiator, Doctor Strange, and Galactus respectively. And it is revealed the incarnations of Thanos encountered in the past by Thor and Ka-Zar were actually clones. The true Thanos – with the aid of Adam Warlock, Gamora, Pip the Troll, Spider-Man, Captain Marvel, and Dr. Strange – destroys the remaining clones.
During the story Marvel: The End, when the ancient Egyptian pharaoh Akhenaten uses a source of cosmic power, the Heart of the Universe, to seize power in present-day Earth (killing most of Earth's heroes in the process), Thanos uses a time-travel stratagem to defeat him. Thanos then uses the Heart of the Universe to reverse Akhenaten's actions and was also compelled to correct a flaw in the universe. Changed by the experience, Thanos advises confidant Adam Warlock he will no longer seek universal conquest.
Thanos decides to attone for the evil acts caused by him and his clones, and agrees to aid a colony of Rigellians in evacuating their planet before Galactus can consume it. During the course of this mission Thanos learns Galactus is collecting the Infinity Gems in an effort to end his unyielding hunger. Thanos later learns Galactus is being manipulated into releasing a multiversal threat called Hunger, which feeds on entire universes. Despite opposition from Thanos, Galactus unwittingly frees the entity, and when its intentions are revealed, the pair team up and attempt to destroy it.
In the Samaritan story, while exploring the Kyln, an ancient intergalactic prison, Thanos meets Death, who for the first time speaks to the Titan. Death claims to be worth wooing, but says Thanos must offer something other than death. At the Kyln Thanos encounters Peter Quill, also known as the legendary Star-Lord, and the Shi'ar warrior Gladiator, who are both prisoners, and the Beyonder, who has been rendered amnesiac by its choice to assume a humanoid female form. Thanos battles the Beyonder, causing its mind to shut down and leaving its power trapped within a comatose physical form. Thanos then instructs the Kyln officers to keep the Beyonder on life support indefinitely in order to prevent the entity from being reborn. Thanos departs the Kyln in the company of Skreet, a chaos-mite freed from the prison. Thanos then meets the Fallen One, revealed to be the true first Herald of Galactus. Thanos defeats the former Herald and places him under complete mental control.
As the Annihilation War began, Death suggested that Thanos and Annihilus should team up. She knew that the ultimate goal was the end of all life, which would have made her irrelevant or even extinct. As her champion, Thanos helped to thwart Annihilus' plan.
Eventually Thanos was killed by his nemesis, Drax the Destroyer, who tore his heart out during the Annihilation storyline. However, in The Thanos Imperative, Adam Warlock encased his body in a cocoon through which he was revived, knowing he was the only means by which the Cancerverse, a mirror universe which was invading the Marvel universe, could be destroyed, since there was no death in the Cancerverse due to its leader, Lord Mar-Vell, sacrificing Death's avatar and killing Death of that universe.
Thanos was imprisoned by the Guardians of the Galaxy, until they realized that only he could kill the villains in the Cancerverse. Thanos was willing to go along with this to impress Death. Drax, overloaded by the life in the Cancerverse (being an Avatar of Life) destroyed Thanos, but he came back, as Death rejected him. Thanos killed Drax, and eventually confronted Lord Mar-Vell, but decided to let him sacrifice him for his ritual (to make the Marvel universe like the Cancerverse, as Thanos was its Avatar of Death), so that he could be reunited with Death, as he could not be killed any other way. However, Death arrived at the ritual and killed Mar-Vell, causing the Cancerverse to inevitably collapse. Death rejected Thanos despite what he did for her, and he became enraged, decicing to destroy the entire universe. Star Lord and Nova contained him inside the Cancerverse until it was destroyed, presumably killing all three.
Eventually Thanos returned, and, in the comic Deadpool vs. Thanos, was later suspected by Deadpool to be the one who imprisoned Death, thus preventing anyone from dying, however, Thanos was not the one responsible, and he and Deadpool set out to find Death, whom both were in love with. They suspected Mephisto, but he led them to Death's true kidnapper, Eternity. Thanos fought Eternity and almost killed him when Deadpool engaged him in a beam struggle and destroyed him.
In the new Infinity trilogy by Jim Starlin, Thanos teams up with a ressurected Adam Warlock to stop Annihilus, who absorbed the powers of The Hulk, from destroying the universe.
In Secret Wars 2015, Thanos joins Namor's Cabal. The group destroys multiple worlds in order to prevent further incursions from the Beyonders, but Namor quickly grows disturbed by the lust for murder that Thanos displays.
Along with the rest of the Cabal, Thanos later ends up on Battleworld after the destruction of the Multiverse. While there, Thanos attempts to lead an insurrection against God Doom, but is easily overpowered and killed by him.
His disembodied soul is later trapped outside the universe when it is reformed, causing him great anguish. He is eventually able to return to the known universe after following a hole made by Galactus.
Now free to return to the living world, during Civil War II, Thanos hijacks an alien space ship and heads to Earth while holding a big gun. He intends to steal the Cosmic Cube from Project Pegasus for unexplained reasons, but the new Inhuman boy Ulysses is able to predict his actions. Captain Marvel (Carol Danvers) hastily marshals a squadron of Avengers to meet Thanos and detain him, but the fight goes bad. Thanos lashes out and attempts to escape, killing War Machine and severely injuring She-Hulk in the process. He is overpowered and taken into custody.
While imprisoned in the Triskelion, Thanos admits he only let himself be captured by Captain Marvel in order to be brought to the base of the Ultimates. He manipulates Conner Sims in order to facilitate his escape. He battles the Ultimates, but is eventually overpowered and defeated once again.
Thanos later recovers and heads to his former stronghold on the Black Quadrant, which has been taken over by Corvus Glaive, one of his former lieutenants. He defeats Corvus and forces him to commit suicide, reasserting his control over the facility.
Infinity Revelation
During the graphic novel trilogy of The Infinity Revelation, Thanos was visiting the realm of death to muse in the Infinity Fountain, Death told him that he and one other existed outside of the pull of life and death, tasking him with escorting a soul out of her realm when he was finished. When he returned to his ship, the soul regained its body, revealing itself to be Adam Warlock, newly resurrected and exhausted from the energy required to regain his body. As Thanos tried to make sense of a strange cosmic force that seemed to pull him, Adam assisted, feeling drawn as well and wanting to make sure Thanos's intentions were not truly malicious. The duo encountered the Annihilators at their destination, teleported away Gladiator, and defeated Ikon, Beta Ray Bill, Ronan, Quasar, and the Silver Surfer. Afterwards the two explored the treasure in the ruins deep below the planet's surface, encountering two copies of themselves from a parallel universe in the process.
The artifact had been created by unknown higher-dimensional entities above even the Living Tribunal, and the two universes were remodeled according to Thanos's and Warlock's respective subconscious perceptions of reality. The remaining incarnation of Thanos had to destroy the version of Warlock in charge of one reality, while the remaining incarnation of Warlock had to destroy the version of Thanos in charge of the other. After the two timelines returned to normal, they merged together, with the parallel, and supposedly much more powerful, version of Warlock retroactively taking over the position of the now annihilated former incarnation. It was left unknown whether or not Thanos was replaced, but he resumed his courtship with Death, and with it his old ways.
As Annihilus, now turned into Annihihulk after stealing the powers of the Incredible Hulk, used Warlock's power to destroy the Posiverse, Pip the Troll woke Warlock up and accidentally caused Warlock to destroy the universe with his power. Annihilus was later brought back to life when the universe was restored as result of a deal between Warlock and the One Above All. With the universe restored to the point before his invasion, Annihilus and his forces were defeated by an army of the dead led by Warlock and Thanos. Annihilus was subsequently killed by Thanos, who stepped on him after Warlock devolved him into a small, harmless bug. After the death and rebirth of his universe by the hands of Annihilus and his alternate self, the 616 version of Adam Warlock was brought back to life by the One Above All at the request of Thanos, while the alternate Adam becomes the new Living Tribunal.
Marvel Cinematic Universe
Main article: Thanos (Marvel Cinematic Universe)
Marvel vs Capcom Infinite
Thanos serves as the secondary antagonist of the videogame Marvel vs Capcom Infinite.
Before the events of the game, Thanos approaches his master, Lady Death, whom tells him that she tires of her universe and entrusts him with the Space Stone to help him collect the Reality Stone and cause the convergence of the Marvel and Capcom universes. However, Thanos was unaware that Lady Death was secretly working with Jedah Dohma from the Capcom Universe, whom came to Lady Death and inspired her with the idea.
The Reality Stone was sealed behind a wall leading to Abel City, impenetrable to Thanos and Lady Death. Thanos entrusts the Space Stone to Ultron, as only he was capable of entering the universe, for he had no soul, and that Thanos promised him Abel City to rule. Upon arriving in the other universe, however, Ultron came across Sigma in Cyberspace and the two formed an alliance together, as both of them have a hatred for humanity.
As Ultron and Thanos arrived at Abel City before Sigma, Ultron seemingly kills Sigma by tearing off his head and taking the Reality Stone from him. But then, Ultron revealed himself to have merged with Sigma, now announcing himself as Ultron Sigma. Now as one, Ultron Sigma defeated Thanos and took the Space Stone from him. Ultron Sigma then used the Space and Reality Stones to change his appearance and combine the Marvel and Capcom universes together to form the convergence. As for Thanos, Ultron Sigma locked him away in the dungeons of Xgard, where Ultron Sigma's domain is.
Once the heroes of both Marvel and Capcom universe noticed the convergence, they banded together to fight Ultron Sigma's forces at Xgard and free Thanos from his imprisonment there.
They placed Thanos in a cell at Avengers Tower, now at New Metro City. Once they remove the restraints on him, Thanos tells the heroes that they doomed themselves, as he points out Thor possessed by Ultron Sigma, who teleports away from the Avengers Tower.
As Gamora approaches Thanos, Thanos mockingly asks Gamora if she came to beg for his help. Gamora tells Thanos that he has no choice, as she tells him that there will be no one else for him to slay for his master, Lady Death. Thanos promises to help the heroes if they free him, but they refuse, as Chun-Li tells him to give them the cause to trust him. Thanos accepts his fate and tells the heroes the locations of the other four Infinity Stones.
Meanwhile, as the Marvel and Capcom heroes search for the Infinity Stones, Ultron Sigma's forces attack Avengers Tower. Thanos laughs at the heroes in their struggle to defend themselves with the shield around their tower. Just then, Ultron Sigma broke through their defenses and into their facility, where he appears before Thanos and mockingly asks him if he will kneel before his god. Thanos tells Ultron Sigma he is no god, but a fool, as he mocks him for the way he uses the Infinity Stones. Ultron angrily goes up to Thanos and tells him he served his purpose. Nathan Spencer disconnects the cell's power cord and connects it to his bionic arm, as he and Iron Man blast energy at Ultron Sigma, damaging the cell and freeing Thanos in the process. As Thanos fought Ultron Sigma, he punched him in the head where the Reality Stone is several times until it cracked, damaging Ultron Sigma. Ultron Sigma then teleports in need of repairs.
Later, after the heroes heard news about the Symbiote attacking the city and the Core of Knowmoon carrying the Sigma Virus entering the Earth's atmosphere, Thanos tells the heroes that there is a way to stop the events from occuring. Thanos was later seen outside Avengers Tower with the heroes, where Iron Man, Mega Man and Zero each hold an Infinity Stone while the Symbiote and the Core are making their way towards them. The heroes combine the stone's powers, blasting and destroying the Symbiote and the Core. However, in results of the explosion, the Ultron Sigma virus is spread out through the city.
As Thanos, along with the Marvel and Capcom characters, were exposed to the virus, it slowly begins to infect them. Dr. Light informs all of them that the only way to stop the virus is to destroy Ultron Sigma. However, the Marvel and Capcom only have three Infinity Stones to stop him and are missing the Soul Stone. Thanos notes that Jedah Dohma has the Soul Stone and has returned to the Dark Kingdom. In order to create a device to harness the stone's powers, however, they need technology from Abel City, since the technology at Avengers Tower is already destroyed.
Thanos offers his help to complete the weapon, as he is seen helping Iron Man in Sigma's lab. While working together, however, Iron Man recalls to Thanos that he saw a flashback while passed out from holding the Time Stone during the virus infestation, revealing that Lady Death used him to create the convergence while secretly working with Jedah Dohma. At first, Thanos does not believe Iron Man and assaults him. After he defeats him, Thanos takes the Time Stone to see the vision for himself, and was then shocked to learn the truth. Thanos completes the weapon intended to defeat Ultron Sigma on his own, and then wears a bionic gauntlet that he uses to drain the Satsui no Hado from Ryu. Before Thanos takes his leave, he gives Gamora the Time Stone, as he says he has no need for it.
Thanos later appeared before Lady Death and Jedah at the end of the game, and conjures an energy ball from his gauntlet that he is about to unleash upon Lady Death. It is unknown if Thanos destroyed Lady Death or not after that scene.
Lego Marvel Superheroes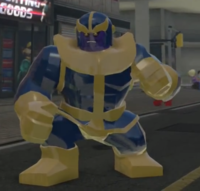 Thanos also appears as a playable character in the 2013 Lego Video Game,
Lego Marvel Superheroes
 in the Super DLC Pack. Although he does not appear as a boss, he can be played as. He is a large LEGO Figure so he possesses super hulk strength and his powers also include Energy Projection. He appears as a DLC character in the two following LEGO Marvel games, LEGO Marvel's Avengers and LEGO Marvel Super Heroes 2. He is the main character of his own downloadable level in LMSH2, where he attempts to infiltrate Attilan.
Super Hero Squad Show
Thanos serves as the main antagonist of the first half of the second season. He seeks to gain all the Infinity Stones and use the Infinity Gauntlet to rule the universe but is ultimately ousted by a corrupted Silver Surfer (now known as Dark Surfer).
Fortnite
Thanos appears in the 2017 free-to-play game, Fortnite, where players get to play Thanos by obtaining the Infinity Gauntlet. His appearance is based on his Marvel Cinematic Universe appearance, specifically how he appeared in Avengers: Infinity War and Avengers: Endgame.
He was first released back in 2018 as an event exclusive promote Avengers: Infinity War then later rereleased in 2019 to promote Avengers: Endgame, along with a couple of new content in a patch.
Powers and Abilities
Thanos is immensely powerful, even when not empowered by outside magic or cosmic-devices, he is superhumanly strong and durable - he can manipulate and absorb cosmic-energy as well as alter matter in various ways and has displayed such varied abilities as telekinesis and limited telepathy. He is also in possession of vast alien technologies capable of time-travel, teleportation, force-field creation and entering alternate-universes. In addition to all this Thanos is knowledgeable, mind forever plotting new ways to get what he wants. He is also an impressive expert in scientific fields like computers and robotics.
Superhuman Intelligence: Possibly Thanos' most dangerous ability is his mind. Thanos' intellect is dedicated to enhancing his own powers and to the annihilation of all life. Thanos is a genius in virtually all known fields of advanced science and has created technology far exceeding contemporary Earth science. He has also shown to quickly adapt to new battle situations, as shown in his fight with the Champion of the Universe, who outclassed him physically and whom he beat by dancing around him, blasting him with energy attacks and tricking him into destroying the planet they fought on. Thanos has remarked that, compared to himself, Bruce Banner's intelligence is only great for human standards.
Superhuman Strength: Thanos possesses vast superhuman strength the full limits of which are unknown. Death has increased his strength beyond their original limits to levels rivaling or surpassing those of the physically strongest Eternals and the Hulk. Thanos' strength is so vast he has destroyed entire planets with the simple force of his blows. He has proven capable of fighting Thor, even when he had the Power Gem, and Odin. His strength is so vast that he has been able to easily defeat the likes of the Silver Surfer, punch away an attacking Hulk, physically subduing Beta Ray Bill and Ronan the Accuser with ease (as well as casually breaking apart the latter's Universal Weapon) and, most impressively, wrestle with the mighty Tyrant (Marvel), although only by being additionally empowered by an external power source. Thanos can also augment his strength with his cosmic energy when needed.
Superhuman Stamina: Thanos' musculature produces almost no fatigue toxins during physical activity. As a result, he has nearly superhuman stamina in all physical activities.
Nigh Invulnerability: Before his "death" at the hands of Adam Warlock, Thanos possessed an impressive degree of resistance to physical injury, even compared to other Eternals. After his resurrection, Lady Death increased his ability to resist injury to a much greater degree and he is nigh invulnerable. He has withstood at point blank range planet destroying attacks without any harm. He has withstood blasts from the Silver Surfer unharmed. He withstood a battering from an enraged, Power Gem-wielding Thor with all but a bloody nose. He possesses such an incredible resistance to injury that he has been shown to survive point-blank blasts from Odin and Galactus. Thanos recently withstood three full screams from Black Bolt, one at point blank range without any significant damage. He also survived being subjected to an artificial singularity.
Immortality: Like all Eternals, Thanos is immortal in the sense that he is immune to all known diseases and infections and is immune to the effects of aging. Thanos was formerly banned by Death itself from entering its realm, rendering him truly immortal. No matter the severity of any injury, Thanos was unable to die and completely recovered. This ban has since been lifted.
Accelerated Healing Factor: Despite his extraordinary durability, it is possible to injure Thanos. Like all Eternals, however, Thanos is capable of regenerating damaged tissue with much greater speed and efficiency than a human being. His healing powers aren't as developed as those of some Eternals. Some Eternals are capable of regenerating any destroyed tissue. Given the circumstances of his death at the hands of Drax the Destroyer during the event Annihilation, Thanos is unable to regenerate missing organs.
Superhuman Agility: Despite his great size, Thanos' agility, balance, and bodily coordination are enhanced to levels that are beyond the natural physical limits of the finest human athlete. His agility is roughly equal to that of the average Eternal.
Superhuman Reflexes: Thanos' reaction time is enhanced to a level that is beyond the natural physical limits of the finest human athlete. Like his agility, his reflexes are about average for an Eternal.
Energy Manipulation and Control: Thanos has displayed great versatility in the use of his energy projection abilities. He has demonstrated the ability to project pure energy as a concussive force, "magnetic" energy, infrared heat-beams from his eyes, and disruptor beams, unilaterally striking separate targets with his optic blasts as well as use his use his mental link to his techo-mystical chair to form vastly powerful energy shields, barriers, and force-fields. The exact extent of Thanos' energy projection abilities are unknown, but his blasts have been capable of rendering the likes of Thor & The Hulk unconscious. He was also able to slightly damage Galactus' armor and blast the Devourer of Worlds off his feet. By collaborating with the In-Betweener they together released the latter from his prison created by Master Order and Lord Chaos. It has been speculated that the nature of Thanos' cosmic energy reserve may be quasi-mystical in nature.
Matter Manipulation & Control: Thanos has demonstrated some ability to manipulate matter on the atomic level, similarly to other Earthborn Eternals. On one occasion, he turned the Skrull, Skragg into stone.
Telepathy: Thanos possesses psionic abilities. His mind is invulnerable to most forms of psychic attack. Thanos has demonstrated the ability to successfully defend himself against psychic assaults from powerful telepaths like Moondragon and Mantis.
Time Mind Sync Warp: A psychic attack he used once on Drax the Destroyer, it plunges the victim's mind into a psychedelic dimension of insanity, causing death or incapacitation. Drax was able to resist it for a while due to his great willpower/cosmic origins, but eventually fell to the attack, although he recovered later
Curse Casting: Thanos seems to be at least partially skilled in magic, evidence being him cursing Deadpool to be unable to die.
Teleportation: Thanos can teleport himself across unknown distances through his link with his techno-mystical transport chair. When stranded in space with Terraxia, he could neither fly, nor teleport to his rescue, presumably because his chair got destroyed in the struggle before.
Telekinesis: A ability which may be tied with his telepathy, he can lift up small objects and levitate people into the air. The Space, Power, and Reality Gem advance the capabilities of Thanos' telekinesis when using them. With the Gems, Thanos could move, manipulate, and lift terrain surrounding him and remove Cybernetic Implants/Enhancements with little to no effort.
Space Throne: The Space Throne of Thanos was a throne-like chair capable of faster than Light travel, teleportation, and dimension travel. The Throne was also capable of generating a powerful force field and emitting energy blasts from the top of its frame.
Energy Stasis Rifle: An experimental weapon built by Thanos capable of generating a cube of pure force, which envelops the target and places them into near-complete physical stasis. This stasis cube was capable of holding the insane, power-gem enhanced Thor during the Blood & Thunder story. The experimental version of this weapon carried charge enough for only one blast.
Skilled Unarmed Combatant: Although he prefers using his wits, Thanos is a highly formidable hand to hand combatant, having been trained in the Arts of War on Titan. He is particularly skillful at using a combination of his physical and energy manipulative abilities during combat. His Old King Thanos incarnation is also a skilled swordsman, being able to overwhelm a Mjolnir-wielding Silver Surfer.
Mystical Knowledge: He also has great knowledge of arcane and mystical lore in a similar manner to Doctor Doom.
Personality
Thanos is extremely prideful, violent, malevolent and ruthless, to the point that he doesn't care about sacrificing innumerable planets and civilizations, even his own race, in order to praise Death and gain it's affections. Thanos also possesses an insatiable hunger for power, always seeking to obtain objects of incalculable power, such as the Cosmic Cubes or the Infinity Gems. However, he often speaks in a sophisticated manner with a calm and collected demeanor, described by the Silver Surfer as professorial. Thanos has also shown appreciation for farming and seeking knowledge.
Despite his overall megalomaniac personality, Thanos doesn't wish to destroy everything, even willing to join forces with heroes when he perceives a threat more dangerous than himself, as when he worked together with Adam Warlock to stop Magus and the Goddess, Teamed up with Thor and Genis-Vell to defeat Walker, sacrificed himself to restore the universe after defeating Akhenaten with the Heart of the Universe, defeated Hunger with the help of Galactus, helped the Guardians of the galaxy in order to stop the invasion of the Cancerverse, or when he worked with Deadpool to release Death from Eternity's prison. He has a genuine respect for Mar-Vell and Adam Warlock. Thanos helped Mar-Vell in his journey to the afterlife and he considers Adam his only friend.
Quotes
| | | |
| --- | --- | --- |
| " | Fools taking up arms against omnipotence. They rush head-on into Armageddon. So I shall provide them with a most glorious doomsday! The heavens will run red with blood! But in the end, as always, Thanos will stand triumphant! | " |
| | ~ Thanos | |
| | | |
| --- | --- | --- |
| " | The entire universe stands in grave peril. | " |
| | ~ Thanos | |
| | | |
| --- | --- | --- |
| " | The past is DEAD. The present, Annihilus, is WAR. | " |
| | ~ Thanos | |
| | | |
| --- | --- | --- |
| " | Death, thunder god, is akin to lovemaking. It gets better every time. | " |
| | ~ Thanos to Thor. | |
| | | |
| --- | --- | --- |
| " | This is how you would treat your Lord Almighty? You would challenge the heavens so brazenly?! So be it then! Let there be war! | " |
| | ~ Thanos as he declares war. | |
| | | |
| --- | --- | --- |
| " | The name is Thanos. | " |
| | ~ Thanos | |
| | | |
| --- | --- | --- |
| " | To claim that Thanos, Death's truest servant, would drop progeny! Now that is truly unforgivable. | " |
| | ~ Thanos to Nebula. | |
| | | |
| --- | --- | --- |
| " | Conscious thought can take one only so far. There are times the subconscious must be keyed into something greater than itself. Something like the Infinty Well. Within its cosmic vortex lies universal knowledge unimaginable. Within that realm thought encounters no barriers. Only then are all things possible. | " |
| | ~ Thanos as he gazes in the Infinity Well. | |
| | | |
| --- | --- | --- |
| " | I may be dead. But you, dear Surfer, are in Dynamo City. I am, by far, the more fortunate of the two of us. Welcome to Bedlam, Surfer. Know that you will never again roam the heavens. That is my legacy to you. | " |
| | ~ Thanos to Silver Surfer. | |
| | | |
| --- | --- | --- |
| " | Did you truly believe I could be so easily duped, demon? | " |
| | ~ Thanos to Mephisto. | |
| | | |
| --- | --- | --- |
| " | Destiny waits for no man. Not even one who shall bring the universe to its knees. | " |
| | ~ Thanos | |
| | | |
| --- | --- | --- |
| " | For I am transformed! I have left the mortal plane behind me! In truth I have risen above the mantle of godhood! Even celestial status is now below me! The Infinity Gems have given me the power of Supreme Being! | " |
| | ~ Thanos gaining the Infinity Gems' power. | |
| | | |
| --- | --- | --- |
| " | "All work and no fair play." Words to live by. | " |
| | ~ Thanos | |
| | | |
| --- | --- | --- |
| " | I, alone, have looked into the darkened corners of your soul... and know you for what you truly are. | " |
| | ~ Thanos to Norrin Radd. | |
| | | |
| --- | --- | --- |
| " | Concerned? No, only curious. After the Silver Surfer has served his purpose... Thanos of Titan could not care less whether he lives or dies. | " |
| | ~ Thanos | |
| | | |
| --- | --- | --- |
| " | Come, Spider-Man. Death and I, we have been waiting for you. | " |
| | ~ Thanos to Spider-Man. | |
| | | |
| --- | --- | --- |
| " | There will be those who wonder why Thanos ever set out on such a glorious campaign as this. They will never understand why, will they Dark One? Only we two will know why! Some will say it was for power, greed, the wish to command all. They will be wrong! Only we two will know why! A few might say it was for the greater glory of the universe, to build a stronger united solar system. They too will be wrong! Only we two will know why! None will ever know it was done for a far deeper reason.... done for that which I, being more alone than any creature in the galaxy, value more than life. Love! Love for you, my dark and deadly beauty! Even though you've never spoken to me... even though I know who you truly are | " |
| | ~ .Thanos to Lady Death. | |
| | | |
| --- | --- | --- |
| " | Many have opposed me: First and foremost the Kree champion Captain Mar-Vell. Long dead against his will while I yet live, against mine. There have always been those who would interfere with my goals. My choices. My dreams. Only one thing has ever remained true. My love and devotion to milady Death. And that thing has now been taken from me. I had accomplished my goals! I was at rest in emptiness and something woke me! I was at peace, and something brought me back to pain! ... Again, insects, you ask what am I? What I am is angry. What I am is insane with rage. What I am is... THANOS! | " |
| | ~ Thanos | |
| | | |
| --- | --- | --- |
| " | Cold. Her kiss...... so cold and... | " |
| | ~ Thanos on Death's kiss. | |
| | | |
| --- | --- | --- |
| " | I had hoped to avoid personal involvment in this affair, for other more important matters now scream for my attention. Yet those plans depend on Warlock's continued well-being, so I find that I am forced to Intervene! So Thanos now stands with you, Adam Warlock, prepared to fight to the death! | " |
| | ~ Thanos | |
Part 2
| | | |
| --- | --- | --- |
| " | I am failure personified. | " |
| | ~ Thanos | |
| | | |
| --- | --- | --- |
| " | I have learned through bitter experience that power is a means to an end, not an end in itself. | " |
| | ~ Thanos after fighting Tyrant. | |
| | | |
| --- | --- | --- |
| " | Who could have guessed that becoming God would prove to be such a hollow victory? | " |
| | ~ Thanos. | |
| | | |
| --- | --- | --- |
| " | I believe you will discover the horizons of my imaginings far wider than you would suspect Lord Chaos. You adress omnipotence. Tread carefully. | " |
| | ~ Thanos | |
| | | |
| --- | --- | --- |
| " | Terraxia: Sire, your body? Thanos: No longer needed...magnificent Thanos has rid himself of the flesh...has shed all vulnerability! | " |
| | ~ Thanos taking the place of Eternity. | |
| | | |
| --- | --- | --- |
| " | An eternity of drifting helplessly in space. An infinity to mull on my sins and follies | " |
| | ~ Thanos after being defeated by Nebula. | |
| | | |
| --- | --- | --- |
| " | While I, whose entire life was dedicated to the pursuit of power, now find myself scraping out a living from the soil. Irony worthy of the drama. Yet strangely enough though, i envy not Adam Warlock. Somehow i feel, that in the long run, Thanos of Titan came out ahead of this particular deal. | " |
| | ~ Thanos becoming a farmer after losing the infinity gauntlet. | |
| | | |
| --- | --- | --- |
| " | At this moment no living thing in the universe will die. Not the lowliest bacteria nor grandest Celestial. While stars collapse and implode, blown to dust all that possesses "life" refuses oblivion. All of it lives on despite its destiny, in defiance of the engine of evolution that culls the weak. All of it, Wilson, but you. I am the only reason you live. And because Thanos decrees it, you will die. | " |
| | ~ Thanos to Deadpool. | |
| | | |
| --- | --- | --- |
| " | And what now are you, lord Thanos? Hero? Villain? Neither? Maybe just wiser | " |
| | ~ Thanos after defeating Magus. | |
| | | |
| --- | --- | --- |
| " | Mephisto you are already enough of a menace for the tranquility of my universe. I fullfilled my part of our arrangement in delivering to you an actual Cosmic Cube. You never specified you desired a functioning unit. Even devils should beware when bargaining with Thanos of Titan. | " |
| | ~ Thanos to Mephisto. | |
| | | |
| --- | --- | --- |
| " | How ironic that, in the end, what Thanos of Titan did best was....be a healer. | " |
| | ~ Thanos as he brings back the universe in Marvel: The End. | |
Trivia
He was created by Jim Starlin and Mike Friedrich.
Thanos was ranked number 47 on IGN's top 100 comic book villains of all time, 22nd on Wizard's Top 100 greatest villains list and number 21 on Complex's 25 Greatest Comic Book Villains list.
The only being, other than Lady Death, who Thanos respects and considers a friend is Adam Warlock despite the many times he helped the heroes of Earth fighting him.
Although Thanos was inspired by Darkseid, the similarities between the two characters are only on a superficial level as Thanos is not really interested in enslaving the universe like Darkseid, but he's mostly motivated by his desire of being loved by Lady Death.

Jim Stalin stated that Darkseid "inspired Thanos' look, but not his character".
Thanos fought Darkseid in an episode of ScrewAttack!'s DEATH BATTLE and lost.

it is common that fans of the character think that nobody but Jim Starlin himself has ever done Thanos justice yet. Part of this reason stems from other writers ignoring or forgetting much of the Character Development Thanos as undergone over the years and writing him like how he acted during his early 1970's appearances where he stole artifacts to kill and conquer the universe, which was over 40 years ago, as well as having him rely more on brute force rather than using his vast intellect. Jim Starlin shared this opinon and have always been very protective of his character in fact he wrote Infinity Abyss in 2002 who resolted around clones of Thanos creating chaos in the universe: he made the story so that he could retconned every time that Thanos was written out of character as the work of a clone of him. Similarly, he wrote Infinity Relativity and Infinity Finale after been disappointed with Thanos' writing by Brian Michael Bendis and Dan Abnett in his absence.
Jim Starlin originally conceived of Thanos of Titan during college psychology classes.
The name "Thanos" is based on the name of the mythological Greek figure Thanatos, meaning "death", a reference to his love for Death.
He created a series of clones called Thanosi using both science and mysticism.
Al Ewing adressed Thanos' use by Brian Bendis as a throwaway Starter Villain in Civil War II by having Thanos explain in The Ultimates that he let himself be easily defeated by Captain Marvel's team in order to be brought in their HQ.
His brother Eros used to be a member of the Avengers under the codename Starfox.
See also

vengers Villains
Comics
Abomination | Abominatrix | Absorbing Man | Adolf Hitler | Agony | A.I.M. | Air-Walker | Alkhema | Aleksander Lukin | Alistair Smythe | Amatsu-Mikaboshi | Amora | Annihilus | Ani-Men | Answer | Apocalypse | Arcade | Ares | Arkon | Arnim Zola | Atlas | Attuma | Avalanche | Awesome Android | Badoon | Barracuda | Baron Blood | Baron Mordo | Baron Wolfgang Von Strucker | Baron Zemo | Baron Zemo II | Basilisk | Batroc | Beetle | Beyonder | Black Knight | Blackout | Black Order | Black Cat | Black Talon | Black Widow | Blackie Drago | Blastaar | Blitzkrieg | Blizzard | Blob | Blood Brothers | Bombshell | Boomerang | Brothers Grimm | Brotherhood of Evil Mutants | Bullseye | Burglar | Bushmaster | Bushwacker | Cache | Carnage | Carrion | Calypso | Celestials | Centurion | Chameleon | Chance | Chemistro | Chester Goudal | Chitauri | Collector | Colonel Ross Whittaker | Commander Kraken | Constrictor | Corruptor | Count Nefaria | Cowled Commander | Crime-Master | Crimson Dynamo | Cristu Bulat | Crossbones | Crossfire | Cutthroat | Daken | Damage | Daniel Whitehall | Dark Avengers | Dark Elves | Deadpool | Deathbird | Deathurge | Death Adder | Deke Wainscroft | Demogoblin | Diablo | Doctor Doom | Doctor Faustus | Doctor Octopus | Doctor Spectrum | Dormammu | Dracula | Dreadknight | Eddie Brock | Eel | Egghead | Ego the Living Planet | Electro | Elementals | Elements of Doom | Enclave | Enforcers | Equinox | Exodus | Ezekiel Stane | Fabian Cortez | Famine | Fin Fang Foom | Finn Cooley | Firelord | Fixer | Frost | Frost Giants | Frightful Four | Galactus | Gargantus | Garthan Saal | Ghost | Goliath | Gladiator | Godzilla | Grand Director | Grandmaster | Grant Ward | Graviton | Green Goblin | Harry Osborn | Grey Goblin | Griffin | Grim Reaper | Grizzly | Growing Man | Grotesk | Hammerhead | Hand | Hazmat | Hela | Hera | Herr Kleiser | Heinz Kruger | High Evolutionary | Hitman | Hive | Horsemen of Apocalypse | Hobgoblin | Hydro-Man | HYDRA | Immortus | Ironclad | Jackal | Jack O' Lantern | Jester | Jigsaw | Johnny Ohm | Jonas Hambleton | Juggernaut | Justin Hammer | Kaine | Kang the Conqueror | Killer Shrike | King Cobra | Kingpin | Klaw | Knull | Korvac | Kraven the Hunter | Kree | Lady Deathstrike | Leader | Lightmaster | Living Brain | Living Laser | Living Monolith | Lizard | Loki Laufeyson | Lucia Von Bardas | Ma Gnucci | Machinesmith | Mad Pharaoh | Madame Masque | Madame Viper | Madcap | Madelyne Pryor | Maelstrom | Maginty | Magneto | Magus | Malekith the Accursed | Man-Ape | Mandarin | Mandrill | Man-Spider | Man-Wolf | Master Man | Master Pandemonium | Masters of Evil | Masked Marauder | Maximus the Mad | Melter | Menace | Mentallo | Mercurio the 4-D Man | Mesmero | Mephisto | Mister Fear | Mister Hyde | Mister Negative | Mister Payback | Mister Sinister | M.O.D.A.M. | M.O.D.O.K. | Mojo | Molecule Man | Mole Man | Molten Man | Moonstone | Morbius the Living Vampire | Morgan Le Fay | Moses Magnum | Mystique | Mysterio | Namor | Nebula | Nekra | Nicky Cavella | Nightmare | Nightshade | Niles Van Roekel | Nicky Cavella | Norman Osborn | Obadiah Stane | Omega Red | Onslaught | Overdrive | Owl | Paladin | Phalanx | Phil Urich | Piledriver | Pluto | Presence | Princess Python | Proctor | Psycho-Man | Puppet Master | Puma | Purple Man | Quasimodo | Quicksand | Radioactive Man | Ragnarok | Ramrod | Reavers | Red Ghost | Red Skull | Reverend Samuel Smith | Rhino | Rhino II | The Rose | Ringer | Ringmaster | Riot | Ronan the Accuser | Roxxon | Sabretooth | Sandman | Säurespritze | Sauron | Savage Land Mutates | Scarecrow | Scarlet Witch | Scorcher | Scorpion | Screaming Mimi | Sebastian Shaw | Secret Empire | Selene Gallio | Sentinels | Sentry 459 | Serpent Society | Shriek | Shocker | Shockwave | Sidewinder | Silver Sable | Sin | Sinister Six | Skaar | Skeleton Crew | Skrulls | Slug | Space Phantom | Spider-Man Revenge Squad | Spider-Slayers | Spot | Squadron Sinister | Stranger | Street | Superia | Super-Adaptoid | Super-Apes | Super Patriot | Super-Skrull | Supreme Intelligence | Superia | Surtur | Swarm | Swordsman | Symbiotes | Tarantula | Taskmaster | Technovore | Temugin | Ten Rings | Terminus | Thanos | Thunderball | Thunderbolts | Thunderbolt Ross | Thundersword | Tiger Shark | Tinkerer | Titania | Titanium Man | Toad | Tombstone | Trapster | Trick Shot | Terrax the Tamer | Typhoid Mary | Tyrannus | U-Foes | Ulik | Ultimus | Ultron | Unicorn | Universal Church of Truth | Vapor | Vector | Venom | Vermin | Vulture | Walrus | Warlord Krang | Whiplash | Whirlwind | White Rabbit | Will-O'-The-Wisp | Winter Soldier | Wizard | Wonder Man | Wrecker | Worthy | X-Ray | Yellow Claw | Ymir | Yon-Rogg | Zahnmörder | Zodiac | Zzzax
Movies
The Avengers: Loki Laufeyson | Chitauri (The Other & Leviathans) | HYDRA (Gideon Malick & Jasper Sitwell) | Georgi Luchkov | Thanos
Avengers: Age of Ultron: Ultron | Ultron Sentinels | HYDRA (Wolfgang von Strucker, List, Scarlet Witch & Quicksilver) | Ulysses Klaue | Madame B | Chitauri (Leviathans) | Thanos
Avengers: Infinity War: Black Order (Thanos, Ebony Maw, Proxima Midnight, Corvus Glaive, Cull Obsidian, Nebula, Outriders, Chitauri & Leviathans) | Red Skull | The Collector | Loki Laufeyson | Winter Soldier | M'Baku | Scarlet Witch | Thunderbolt Ross
Avengers: Endgame: Black Order (Thanos, Ebony Maw, Proxima Midnight, Corvus Glaive, Cull Obsidian, Nebula, Outriders, Sakaaran Mercenaries, Chitauri, Leviathans & Chitauri Gorillas) | HYDRA/STRIKE (Red Skull, Alexander Pierce, Crossbones, Jasper Sitwell & Jack Rollins) | Loki Laufeyson | Winter Soldier | M'Baku | Scarlet Witch | Kraglin Obfonteri | Dark Elves | Thunderbolt Ross | Akihiko
Villains
Comics
Alkhema | Annihilus | Badoon | Blastaar | Black Order | Collector | Celestials | Chitauri | Dark Avengers | Doctor Doom | Ego the Living Planet | Galactus | Garthan Saal | Grandmaster | Kang the Conqueror | Korvac | Kree | Loki Laufeyson | Maelstrom | Magus | Nebula | Ronan | Skrulls | Space Phantom | Super-Adaptoid | Super-Skrull | Supreme Intelligence | Thanos | Ultimus | Ultron | Universal Church of Truth | Venom
Movies
Guardians of the Galaxy: Kree Empire (Ronan the Accuser, Nebula, Korath the Pursuer, Sakaaran Mercenaries & Exolon Monks) | Yondu Ravager Clan (Yondu Udonta, Kraglin Obfonteri, Horuz & Vorker) | Garthan Saal | Eson the Searcher | Chitauri (The Other) | Moloka Dar | Monstrous Inmate | The Collector | Dark Elf | Thanos
Guardians of the Galaxy Vol. 2: Ego | Sovereign (Ayesha, Sovereign Admiral, Zylak & Sovereign Chambermaid) | Yondu Ravager Clan (Yondu Udonta, Kraglin Obfonteri, Nebula, Tullk, Oblo, Taserface, Gef, Retch, Halfnut, Brahl, Vorker, Narblik & Huhtar) | Abilisk | The Grandmaster | Thanos

Villains
Comics
Absorbing Man | Adolf Hitler | A.I.M. | Aleksander Lukin | Arcade | Arnim Zola | Awesome Android | Baron Blood | Baron Von Strucker | Baron Zemo | Baron Zemo II | Batroc the Leaper | Black Talon | Black Widow | Blitzkrieg | Blizzard | Boomerang | Bullseye | Cache | Constrictor | Count Nefaria | Cowled Commander | Crimson Dynamo | Crossbones | Cutthroat | Dark Avengers | Doctor Doom | Doctor Faustus | Doctor Octopus | Electro | Famine | Firebrand | Fixer | Flag-Smasher | Ghost | Grand Director | Grant Ward | Griffin | Grim Reaper | Heinz Kruger | Herr Kleiser | HYDRA | Hydro-Man | Jack O' Lantern | Killer Shrike | King Cobra | Kingpin | Klaw | Korvac | Lady Deathstrike | Living Laser | Lucia Von Bardas | Machinesmith | Madame Viper | Madcap | Magneto | Man-Ape | Mandarin | Master Man | Mentallo | Mesmero | Mister Hyde | M.O.D.A.M. | M.O.D.O.K. | Mole Man | Moonstone | Nightmare | Nightshade | Obadiah Stane | Punisher | Quicksand | Red Skull | Rhino | Ringmaster | Ronan | Roxxon | Säurespritze | Scarecrow | Scorpion | Secret Empire | Selene Gallio | Serpent Society | Shocker | Shockwave | Sidewinder | Sin | Skeleton Crew | Slug | Super-Adaptoid | Superia | Super Patriot | Supreme Intelligence | Tarantula | Taskmaster | Terminus | Thanos | Titania | Titanium Man | Trapster | Typhoid Mary | Unicorn | Ultron | Vermin | Whirlwind | Winter Soldier | Worthy | Wrecker | Yellow Claw | Zahnmörder | Zodiac
Movies
Captain America (1990): Red Skull | Valentina de Santis
Captain America: The First Avenger: HYDRA (Red Skull, Arnim Zola, Heinz Kruger, HYDRA Lieutenant & Velt) | Adolf Hitler | Roeder | Hutter | Schneider
Captain America: The Winter Soldier: HYDRA/STRIKE (Alexander Pierce, Winter Soldier, Brock Rumlow, Jack Rollins, Jasper Sitwell, Russo, Senator Stern, Arnim Zola, Wolfgang von Strucker, List, Scarlet Witch & Quicksilver) | Georges Batroc | Ferdinand Lopez | Gerald Durand
Captain America: Civil War: Helmut Zemo | Thunderbolt Ross | Winter Soldier | Scarlet Witch | HYDRA (Vasily Karpov, Josef & Winter Soldiers) | Hero Mercs (Crossbones)




| | | | | | |
| --- | --- | --- | --- | --- | --- |
| | January | March | April | May | June |
| | July | August | September | October | November |

| | | | | | |
| --- | --- | --- | --- | --- | --- |
| | January | February | March | April | May |
| | June | July | September | October | December |

| | | | | |
| --- | --- | --- | --- | --- |
| | January | February | March | April |
| | May | June | July | September |

| | | | |
| --- | --- | --- | --- |
| | January | February | March |
| | April | May | June |

| | | | |
| --- | --- | --- | --- |
| | February | September | December |

May

May

May

July

August


| | | | |
| --- | --- | --- | --- |
| September | October | November | December |




| | | | | | | |
| --- | --- | --- | --- | --- | --- | --- |
| | January | February | March | April | May | June |
| | July | August | September | October | November | December |

| | | | | | | |
| --- | --- | --- | --- | --- | --- | --- |
| | January | February | March | April | May | June |
| | July | August | September | October | November | December |

| | | | | | | |
| --- | --- | --- | --- | --- | --- | --- |
| | January | February | March | April | May | June |
| | July | August | September | October | November | December |

| | | | | | | |
| --- | --- | --- | --- | --- | --- | --- |
| | January | February | March | April | May | June |
| | July | August | September | October | November | December |

| | | | | | | |
| --- | --- | --- | --- | --- | --- | --- |
| | January | February | March | April | May | June |
| | July | August | September | October | November | December |
Community content is available under
CC-BY-SA
unless otherwise noted.