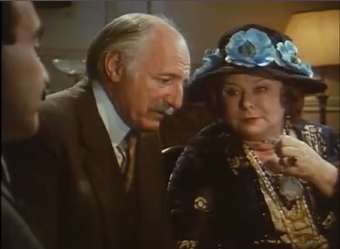 Bert and Mildred "Milly" Croft are supporting antagonists of Dame Agatha Christie's 1932 Hercule Poirot novel Peril at End House.
They were claimed to be an Australian couple who were neighbours to Nick Buckley, the owner of End House. However, they were eventually revealed to be a couple of notorious forgers that adopted another name and false identities.
In Agatha Christie's Poirot, Bert Croft was portrayed by Jeremy Young, and Milly Croft was portrayed by Carol MacReady.
Overview
Mr. and Mrs. Croft, because of their unscrupulous nature, was amongst the list of ten suspects of Maggie Buckley's murder, as well as the possible culprits that the will of Michael Seton and Nick's father. After Nick survived after being poisoned by the chocolate that was containing cocaine, the suspicion around the Crofts cemented, and Japp recognized their true identities as fugitives that committed multiple forgeries.
Poirot worked with Nick, Hastings and Japp to expose the Croft's true identity, with Nick pretending to be a ghost and accused them to fake her father's will and killed her cousin, Maggie. Although claiming their innoncence over Maggie's murder, the Crofts could not justify themselves from their other past forgeries. As such, they were arrested.
Turned out, however, the Crofts were not the real culprit behind Maggie Buckley's death, just their scapegoat, though Poirot eventually saw through the real murderer's trick. After the real culprit's arrest, the Crofts was clear from committing the murder or forging the will of Nick's father. Nevertheless, they remained in police custody and later in prison due to committing forgeries elsewhere in the past.
Villains
Community content is available under
CC-BY-SA
unless otherwise noted.