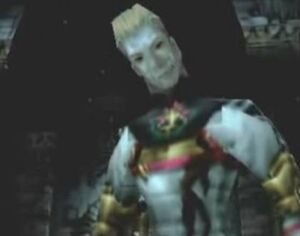 | | | |
| --- | --- | --- |
| " | The Dark is formless and invisible. It invades the body like a plague, an unseen visitor. Yet those it taints become... undying. | " |
| | ~ Romeo Guildenstern's description of the Dark. | |
The Dark is an evil force of pure dark energy that is the main source of power and magic in Vagrant Story. Leá Monde, the abandoned "city of evil", is said to permeate with its power, as a result of the city's numerous incantations carved throughout its walls and the dark magical influence of an ancient religious cult who practiced these incantaions and learned the ways of the Dark since the time of the cult's founder. Whoever can control Leá Monde's power will gain immense strength, at least enough to conquer all of Valendia.
People who enter Leá Monde slowly begin to gain new powers over the Dark, such as Ashley Riot's acquiring of magical powers and Callo Merlose's awakening into a Heart-Seer.
Romeo Guildenstern and his Crimson Blades all undergo training outside of Leá Monde to obtain power over the Dark. Even without the Blood-Sin required to take Leá Monde, Guildenstern is shown to be equally as powerful as Sydney Losstarot who holds it. Jan Rosencrantz is immune to the Dark's power, though it never explained how.
Having control over the Dark allows its users to perform many feats. The most common trick is to summon monsters to attack enemies. Those without much Darkness power will be killed or almost die in the attempt. Other tricks include the ability to cloak oneself in the guise of another person, some powers of levitation, and immunity to injuries. Though those who use the Dark die unique deaths: instead of leaving corpses, they explode into particles of light. Others who die in places where the Dark is heavy, die "incomplete deaths". They return to the world as "undying" (zombies), driven to kill all those around them due to voices they hear coming from the power of Darkness.
Community content is available under
CC-BY-SA
unless otherwise noted.