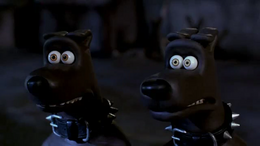 The Dogs are minor villain of Chicken Run. They are pet dogs of Mr. Tweedy & Mrs. Tweedy.

Their vocal effects were provided by Frank Welker.
Personality
They are loyal to Mr. Tweedy and always follow their owner's orders.
Appearance
They are brown dogs. Their eye colors are different to tell.
Role in the film
Mr. and Mrs. Tweedy operate an abusive poultry farm in Yorkshire; the chickens are caged in the style of a World War II POW camp with a high fence and barbed wire, and two dogs patrol the grounds.
Mr. Tweedy reminds his wife that he told her the chickens were organized. When she starts to growl in rage, Mr. Tweedy, having had enough of her abuse and hostility, pushes the heavy metal door down onto her, dogs licked pies on floor.
Gallery
Trivia
Their names is unknown.
Their breed must be Dobermanns Pinschers or Beauceron.

Villains
Animated Features
General Mandible | Colonel Cutter | Pharaoh Rameses | Hotep & Huy | Pharaoh Seti I | Tzekel-Kan | Hernán Cortés | Melisha Tweedy | Willard Tweedy | Lord Farquaad | Thelonious | George Armstrong Custer | Roy, Bill, Jake, Pete and Joe | Eris | Cetus | Roc | Fairy Godmother | Prince Charming | Trees | Don Lino | Lola | Frankie | Luca | Fossas | Nana | Victor Quartermaine | Philip | Vincent | Gladys Sharp | Dwayne LaFontant | The Toad | Le Frog | Spike & Whitey | Thimblenose Ted | Fat Barry | Ladykiller | Rapunzel | Layton T. Montgomery | Ken | Tai Lung | Makunga | Teetsi | Tour Guide | Gallaxhar | Robot Probes | Red Death | Rumpelstiltskin | Fifi | Pied Piper | Megamind | Minion | Tighten | Lord Shen | Lord Shen's Wolf Army (Boss Wolf) | Jack & Jill | Humpty Alexander Dumpty | Chantel DuBois | DuBois' Men | Pitch Black | Nightmares | Guy Gagné | Ms. Grunion | Ay | Drago Bludvist | Drago's Army (Muddy Bewilderbeast & Eret) | Dave | Octopi | Captain Smek | The Boov (Officer Kyle) | Kai the Collector | Chef | Creek | King Gristle Sr. | Francis E. Francis | Eugene Francis | Professor Poopypants | Benjamin Krupp | Melvin Sneedly | Turbo Toilet 2000 | Tara Ribble | Talking Toilets | Bank Robbers | Grimmel the Grisly | Deathgrippers | Warlords
Live-Action Movies
The Mouse | Major Chip Hazard | Commando Elite (Butch Meathook, Nick Nitro, Brick Bazooka, Vasquez & Gwendy Dolls) | Gil Mars | General Roth'h'ar Sarris | Commodus | Lamar Burgess | Connor Rooney | Harlen Maguire | Sadako Yamamura | Ocean Entity | Larry Quinn | Rasputia Latimore | Big Black Jack Latimore | Blue Latimore | Earl Latimore | Deion Hughes | Buster Perkin | Robert Turner | Megatron | Decepticons (Starscream, Barricade, Frenzy, Blackout, Scorponok, Bonecrusher & Brawl) | Sweeney Todd | Nellie Lovett | Judge Turpin | Beadle Bamford | Jonas Fogg | Adolfo Pirelli | ARIIA | The Fallen | Decepticons (Soundwave, Sideways, Grindor, Ravage, Alice & Scalpel) | Constructicons/Devastator (Demolishor, Rampage, Long Haul, Mixmaster, Scrapper, Scavenger & Overload) | Theodore Galloway
Shorts, TV Shows and Video Games
Mr. Chew | Tour Guide | Boneknapper | Wu Sisters | Le Chuchoteur | Fearless Leader | Boris Badenov | Natasha Fatale | Arachne | Snidely Whiplash | Doom Syndicate (Psycho Delic) | Coverton | D-Structs | Skrap-It | Splitter | Blayde | Pounder | D-Stroy | Goldtrux | Emperor Zarkon | Galra Empire (Prince Lotor, Haggar, Sendak & Lotor's Generals) | Gunmar | Gumm-Gumms (Bular) | Stricklander | Angor Rot | Usurna | Dictatious Maximus Galadrigal | Morgana | General Morando | Bloodwolf