Jafar says: Read my lips and come to grips with the reality!


This article is a stub and is in need of expansion. You can help Villains Wiki by expanding it.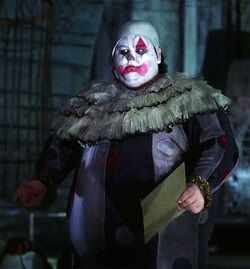 The Fat Clown is one of the supporting antagonists in Tim Burton's 1992 superhero film Batman Returns. He was a thug who worked for The Penguin, as a member of the Red Triangle Circus Gang.
He was portrayed by Travis McKenna.
Biography
He was often seen alongside The Thin Clown.
The Penguin shot the Fat Clown dead after he questioned The Penguin's plan for the kidnapping and drowning of children. The Penguin proceeded to kick the Fat Clown's bullet-riddled corpse into the murky depths of the sewers. Later, Max Shreck found the Fat Clown's body at the bottom of the sewers, and took his Smith and Wesson Model 15-3 pistol, using it to shoot Catwoman four times. Whether the Fat Clown's corpse remained on the sewers as his final resting place or was recovered isn't known.
Trivia
From all the members of the Red Triangle Circus Gang, the Fat Clown seems to be the only one who was honorable, as he refused to aid the Penguin and his fellow teammates in the plot to kidnap and drown all firstborns from Gotham's wealthy citizens, yet such decision costed him his life.
It's unknown how the Fat Clown's gun could've been functional after submerging in water as in real life. A wet gun's powder would ruin the gun, therefore, a bullet would be unable to be ejected. It is possible that Shreck may have added new bullets while Batman tried to talk Catwoman out of killing him.
In the Batman Returns video game for the SNES, two versions of the Fat Clown are encountered: red (jumps towards Batman) & green (dashes towards Batman).
Villains
Villains
Movies
Beetlejuice: Beetlejuice
Batman (1989): Joker | Bob Hawkins | Alicia Hunt | Carl Grissom | Max Eckhardt | Vinnie Ricorso | Joe Chill |
Edward Scissorhands: Jim
Batman Returns: Penguin | Red Triangle Circus Gang (Organ Grinder, Poodle Lady, Tattooed Strongman, Stungun Clown, Thin Clown, Fat Clown, Sword Swallower & Knifethrower Dame) | Max Shreck | Catwoman | Charles "Chip" Shreck
The Nightmare Before Christmas: Oogie Boogie | Lock, Shock and Barrel
Batman Forever: Riddler | Two-Face | Sugar | Spice | NygmaTech (Frogmen) | Neon Gang (Neon Gang Leader) | Salvatore Maroni
James and the Giant Peach: Aunt Sponge | Aunt Spiker | Rhino | Skeleton Pirates | Shark
Batman & Robin: Poison Ivy | Mr. Freeze | Bane | Snowy Cones Thugs | Golums | Jason Woodrue
Mars Attacks!: Martian Leader | Martians (Martian Ambassador & Martian Girl)
Sleepy Hollow (1999): Lady Van Tassel | Headless Horseman | Reverend Steenwyck
Planet of the Apes (2001) General Thade | Attar | Limbo
Charlie and the Chocolate Factory: Arthur Slugworth
Corpse Bride: Barkis Bittern | Maudeline Everglot
Sweeney Todd: The Demon Barber of Fleet Street: Sweeney Todd | Mrs. Lovett | Judge Turpin | Beadle Bamford | Jonas Fogg | Adolfo Pirelli
9: Fabrication Machine | 1 | 8 | Machines (Cat Beast, Winged Beast, Seamstress, Steel Behemoths, Seeker Drones & Spiderbots) | Chancellor Fredinand | The Chancellor's Party
Alice in Wonderland (2010): Red Queen | Knave of Hearts | Card Soldiers | The Jabberwock | Jubjub Bird | Hamish Ascot
Dark Shadows: Angelique Bouchard | Julia Hoffman
Abraham Lincoln: Vampire Hunter: Adam
Frankenweenie: Mr. Whiskers | Shelley | Were-Rat | Sea Monkeys | Mr. Burgermeister
Big Eyes: Walter Keane
Miss Peregrine's Homes for Peculiar Children: Mr. Barron
Dumbo (2019): V.A. Vandevere | Neils Skellig | Pink Elephants | Rufus Sorghum
Community content is available under
CC-BY-SA
unless otherwise noted.