Cobra Kai Season 4 - The Loop
Play Sound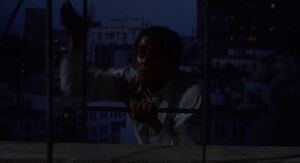 The Fugitive is a minor but pivotal antagonist of the 1958 Alfred Hitchcock film, Vertigo. He partially responsible of John Ferguson's fear of heights he suffers for most of the film and retirement from his police career.
History
During the opening prologue-sequence, the fugitive is being chased across a flat San Francisco city rooftop. A policeman and another dark-suited, plainclothes pursuer (who later turns out to be John Ferguson) follow the man. Two shots are fired towards the fugitive but they both miss him. The fugitive and the policeman successfully jump across a gap onto a tenement roof, but John doesn't make the jump and is left clinging and dangling from a weakened gutter drain pipe by his fingertips. The policeman turns back to offer help and leaves the criminal to escape. The officer tries to help John up, but in doing so, the officer slips of the roof and falls to his death.
After John somehow managed to get down, he's left with a tramatizing fear of heights and had to retire from the police squad. It's unknown what happened to the fugitive afterwards as he's not seen for the rest of the film.