"
At this point they came in sight of thirty or forty windmills that there are on plain, and as soon as Don Quixote saw them he said to his squire, "Fortune is arranging matters for us better than we could have shaped our desires ourselves, for look there, friend Sancho Panza, where thirty or more monstrous giants present themselves, all of whom I mean to engage in battle and slay, and with whose spoils we shall begin to make our fortunes; for this is righteous warfare, and it is God's good service to sweep so evil a breed from off the face of the earth."
"What giants?" said Sancho Panza.
"
~ Don Quixote notices the "Giants".
The Giants are imaginary creatures and minor antagonists that first appear in Chapter VIII (titled "Of the good fortune which the valiant Don Quixote had in the terrible and undreamt-of adventure of the windmills, with other occurrences worthy to be fitly recorded") of the 1605 classic novel El ingenioso hidalgo Don Quijote de la Mancha (The Ingenious Gentleman Don Quixote of La Mancha) by Miguel de Cervantes.
Portrayals
As Don Quixote is one of the pieces of literature with most adaptations, the Giants have been featured in many plays, movies and TV shows, though the actors that portray them tend to go uncredited. In others, the Giants remain as windmills.
In 2010's Las Aventuras de Don Quijote/The Adventures of Don Quixote, the bicephalous Giant's left head was voiced by Ramón Rocabayera and the right head was voiced by Vicente Gil.
In 2018's El Hombre Que Mató a Don Quijote/The Man Who Killed Don Quixote, they were portrayed by Javier Iglesias, Manuel Monzón and Ferran Gadea, though their voices were provided by Peter Dickson, Terry Gilliam and Tony Hertz.
Appearance
| | | |
| --- | --- | --- |
| " | [...] "with the long arms, and some have them nearly two leagues long." | " |
| | ~ Don Quixote's only description for the Giants. | |
In many myths of Spanish folklore, the Giants are, for the most part, simply large humans with slightly exaggerated characteristics, as is the case throughout much of Europe.
Though the Giants in the novel don't get any descriptions beyond being Giants and some of them having arms nearly as long as two leagues (11 km or 6.9 miles), many have interpreted them as being windmill-like, with either four arms or two of the blades representing sword sheaths or part of their clothing. Some adaptations make them more monstrous, turning them into cyclopes (which were sometimes part of the Giant family in Spanish folklore) or making them bicephalous (a.k.a. giving them two heads).
Biography
"
"Look, your worship," said Sancho; "what we see there are not giants but windmills, and what seem to be their arms are the sails that turned by the wind make the millstone go."
"It is easy to see," replied Don Quixote, "that thou art not used to this business of adventures; those are giants; and if thou art afraid, away with thee out of this and betake thyself to prayer while I engage them in fierce and unequal combat."
"
~ Don Quixote charges the "Giants".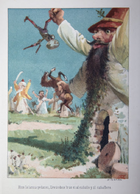 The titular Don Quixote deludedly confused thirty to forty windmills with Giants and attacked them in spite of his "squire" Sancho Panza telling him what they really were, only to be swatted away, along with his horse, by one of the windmill's blades after a sudden strong gust of wind caused it to move with great force.
After Sancho came to help him, Don Quixote still denied the truth, telling Sancho that the wizard Frestón (Friston in English adaptations) had turned the Giants into windmills before he could strike them in order to steal the glory of victory from him.
| | | |
| --- | --- | --- |
| " | "Hush, friend Sancho," replied Don Quixote, "the fortunes of war more than any other are liable to frequent fluctuations; and moreover I think, and it is the truth, that that same sage Friston who carried off my study and books, has turned these giants into mills in order to rob me of the glory of vanquishing them, such is the enmity he bears me; but in the end his wicked arts will avail but little against my good sword." | " |
| | ~ Don Quixote denies reality. | |
Outside of these Giants, many others are mentioned and imagined by Don Quixote, such as one who stole princess Micomicona's kingdom. While sleepwalking, Quixote defeats this Giant, though in actuality he just damaged a few wineskins.
Gallery
Trivia
As they originate from one of the most famous scenes in what's often considered the best literary work in history, the Giants, while not real, have become quite iconic across the world, even spawning an idiom and being referenced in countless pieces of media.
Community content is available under
CC-BY-SA
unless otherwise noted.