She-Hulk Trailer Dropped - The Loop
Play Sound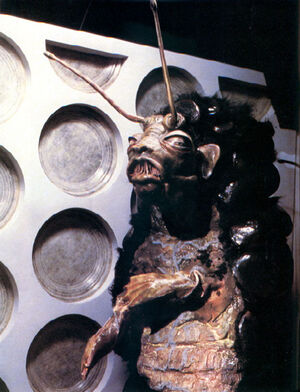 The Gravis is the main antagonist of the Doctor Who story "Frontios".
He was played by John Gillett.
Biography
The Gravis was the leader of the Tractators, located on the planet Frontios. He functioned as a queen bee, mentally controlling the other Tractators. He had a plan to transform Frontios into a giant spaceship using his people's power over gravity, to which end he was hollowing out the core of the planet. He caused a human refugee ship to crashland on the planet and gave the survivors twenty years to form a colony: His technology relied on human brains to drive it. He and the other Tractators used their powers to attract asteroids from a nearby belt, bombarding the colony with them. Under the cover of this, they dragged injured humans down under the earth in order to use them in their machines, a process that would eventually kill them. Among those captured was the colony leader, Captain Revere. When he was near death, his son Plantagenet was captured to replace him.
The Doctor and Tegan stumbled upon the Gravis' hideout, and the Gravis was intrigued by the Doctor as a Time Lord. The Doctor convinced him Tegan was an android to stop him using her in his machines and played on his arrogance with flattery. Turlough was able to lead a group of colonists to the Tractators' lair and the Doctor, Tegan, Turlough and Plantagenet fled through the tunnels.
The Gravis tracked the Doctor down to the TARDIS control room: The TARDIS had earlier been blown apart by one of the bombardments, with the remains scattered throughout the tunnel. Eager to possess the TARDIS, the Gravis used his powers to pull it back together. However, not only did the effort leave him exhausted but being sealed inside the TARDIS' internal dimension cut him off from the other Tractators, rendering them helpless. The Doctor took the Gravis off the planet, leaving him alone on the barren planet Kolkokron.