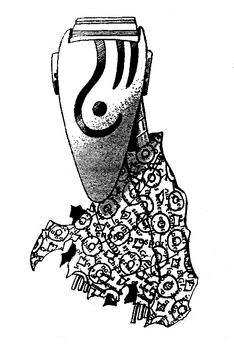 Jafar says: Read my lips and come to grips with the reality!


This article is a stub and is in need of expansion. You can help Villains Wiki by expanding it.                       

The Index is the Intelligence of the Book of Eibon and the Creator of Noah and a villain in the Soul Eater series. It wants to teach the world of Eibon's knowledge and the madness that would be caused by it.
it makes his first appearance in the book of Eibon where it meet the spartoi team, and lead them at the inner of the seven chapters of the book, but isn't sure if it try to drag them in the madness or not. After the Noah's Greed demise, it pursuit his goal to collect the kishin Asura, creating the new Noah's wrath and travelling with him on the moon. During the war on the moon, it support Noah against Asura, using Brew and amplifying his power, but when it is sure of his victory on the kishin, Crona arrives and swallow him with Asura,the book of Eibon and Noah. His fate is not sure, but when Crona imprison Asura and the book of Eibon with him on the moon, for atone his sins, with the help of the mad blood, is probably that even the Index has been imprisoned with them.
Français :
L'Indice est un Livre d'Eibon Intelligent et le Créateur de Noé et un méchant dans la série Soul Eater. Il veut enseigner le monde de la connaissance et de la folie d'Eibon.
Il fait sa première apparition dans le livre d'Eibon où il rencontre l'équipe spartoi et il les conduit à l'intérieur des sept chapitres du livre, mais il ne sait pas si elle essaie de les faire glisser dans la folie ou pas. Après la disparition de Greed à Noé, il a poursuivi afin de terminer son objectif qui est de recueillir les kishins d'Asura, en créant la colère de la nouvelle Noé et en voyageant avec lui sur la lune. Pendant la guerre, sur la lune, il supporte Noah contre Asura, en utilisant Brew et en amplifiant son pouvoir, mais quand il est sûr de sa victoire sur le kishin, Crona arrive et lui faire avaler avec Asura, le livre d'Eibon et Noah. Son destin n'est pas sûr, mais quand Crona emprisonne Asura et le livre d'Eibon avec lui sur la lune, pour expier ses péchés, avec l'aide du sang fou, est probablement que même l'Indice a été emprisonné avec eux.
Community content is available under
CC-BY-SA
unless otherwise noted.