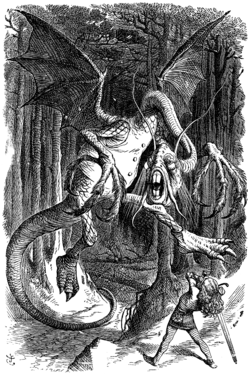 The Jabberwock, also called the Jabberwocky, is a fictional monster from the novel Through the Looking-Glass, and What Alice Found There both by Lewis Carroll. It only appears within the poem, Jabberwocky that Alice reads during the first chapter and never interacts with the rest of the cast.
Description
In Tenniel's illustration, the Jabberwock is a large winged chimera with the body of a dragon, a whiskered, fish-like head, insectile antennae and a pair of talon-like hands on both its arms and its wings, which may also serve as forelegs when it walked on the ground. Several versions depict the Jabberwock wearing a buttoned vest.
Apparently a ferocious maneater in life, Jabberwocky warns the unnamed hero to beware "The jaws that bite" and "the claws that catch," It presumably lived within a dark forest until it was slain by an unnamed hero wielding a vorpal blade.
Original Poem
Twas brillig, and the slithy toves Did gyre and gimble in the wabe. All mimsy were the borogoves, And the mome raths outgrabe.
"Beware the Jabberwock, my son! The jaws that bite, the claws that catch! Beware the Jubjub bird, and shun The frumious Bandersnatch!"
He took his vorpal sword in hand, Long time the manxome foe he sought—So rested he by the Tumtum tree, And stood awhile in thought.
And, as in uffish thought he stood, The Jabberwock, with eyes of flame, Came whiffling through the tulgey wood, And burbled as it came!
One, two! One, two! And through and through! The vorpal blade went snicker-snack! He left it dead, and with its head He went galumphing back.
"And, hast thou slain the Jabberwock? Come to my arms, my beamish boy! O frabjous day! Callooh! Callay!' He chortled in his joy.
`Twas brillig, and the slithy toves Did gyre and gimble in the wabe. All mimsy were the borogoves, And the mome raths outgrabe.
Other Appearances
While the Jabberwock does not appear in the classic animated 1951 Disney film, he was planned to, voiced by the late Stan Freberg. The scene was axed fairly late in the game. An illustration of his intended appearance does appear in a Little Golden Books storybook with record. His role seemed fairly non-antagonistic. He would have had eyes that burned, a stovepipe-like nose, orange hair and a third hand on the end of his tail. The Cheshire Cat recites the classic poem when he first appears.
The Jabberwock is the main antagonist and title character in Terry Gilliam's 1977 fantasy film Jabberwocky. It is an unseen character throughout most of the film, stalking the countryside and eating peasants. It finally reveals itself in the film's climactic scene, appearing as a huge, scaly, worm-like creature with wings and sharp tusks. It attacks protagonist Dennis Miller, who cowers under his shield - and accidentally stabs it in the eye with his sword, killing the beast.
The Jabberwock appeared in the 1985 film as a brown dragon with a horn, long spikes from his head to his neck and yellow wings. It first appeared in Alice's house when the room becomes dark after she recited the Jabberwocky poem. Alice wishing it to go away, the Jabberwock disappears. But since it is a creation of Alice's own fears, it appears again after Alice knocks Humpty Dumpty off the wall. When Alice participates at a feast inside the castle, she opens a present which the Jabberwock comes out, therefore frightening and terrorizing everyone. The White Knight tries to stop it from harming Alice, but fails. The Jabberwock finally appears in her house, when it disappears completely after Alice doesn't believe in it anymore.
The Jabberwocky appeared as the main antagonist in the 2010 Alice in Wonderland film. He was voiced by the late Christopher Lee, who also played Dracula in the Dracula films, King Haggard in The Last Unicorn, Francisco Scaramanga in The Man With the Golden Gun, Lord Summerisle in The Wicker Man, Count Dooku in the Star Wars prequel films and Saruman in the Lord of the Rings and Hobbit film trilogies. He appears as a giant, black dragon with sharp teeth, sharp claws, bigger wings, a spiked tail, a forked tongue in which he hisses, and the ability to speak. he is ruler of all matter of evil in underland. He also breathes an electrical blast of purple fire which can even obliterate someone as shown on a White Knight. He serves as the Red Queen's champion and master and prepares to fight Alice. He says that the Vorpal Sword is his old enemy, possibly hinting that another hero used the vorpal sword before Alice. Alice cuts off his tongue, costing him his speech capability, but he counterattacks with a tail swipe. The Jabberwocky gains the upper advantage, but Tarrant interferes by poking his tail with his sword which leads the armies in battle. The Jabberwocky chases Alice on ruins. As Alice reaches the top, the Jabberwocky catches up to her, but trips which allows Alice to get on his neck. However, the Jabberwocky throws Alice into the air, and while Alice is falling, he gets decapitated as she slices off his head.
In Tim Burton's Alice in Wonderland game for Wii and PC, it is the final boss of the game. The player doesn't fight the Jabberwock directly. The player must use the March Hare Telekinesis to rebuild a broken bridge, and distract the Jabberwocky by throwing rocks at it. As it rages, the bridge will fall off, trapping its neck. While it is trapped, the player must assist Alice to get on top of the destroyed building using each character's ability.

In Tim Burton's Alice in Wonderland game for Nintendo DS, it is the final boss and attacks the player in Chapter V. Alice, in possession of the Vorpal Sword, hides in a tower while the player battles the Jabberwocky. It will jump around the arena, breathing fire towards the player from different directions. At any opportunity, the player must hit its head to deplete its health. When its first bar is depleted, the Jabberwock smashes Alice's tower and flings her onto its tail. It then inhales heavily to try and swallow the player by pulling them across the arena. At this point, the player must use the Cheshire Cat to vanish a piece of the destroyed tower. He/she must run behind it before making it reappear - the Jabberwock will continue to inhale until it accidentally knocks the tower piece into itself and depletes another bar completely. Alice is then flung onto the Jabberwock's back, but the Red Queen opens a vortex which will consume Alice if she falls. The player must fight the Jabberwock again using the first method except with a time limit saying how long until Alice falls. When the third bar is depleted, Alice falls from the Jabberwocky's back and lands on another already-broken tower. The player must then once again use the Cheshire Cat to trick the Jabberwock. When this final bar is depleted, the Jabberwock roars and bats Alice upwards with its tail; as Alice falls, she uses the Vorpal Sword to strike the Jabberwock and kill it.

The Jabberwock also appeared in the anime and manga Pandora Hearts as a black bird with insane eyes. It is renamed as Jabberwocky and was Glen Baskerville's chain.
In the manga and anime Project ARMS the titular nano-bot weapons known as the ARMS are named off of various characters from Lewis Carrol's Alice's Adventures in Wonderland and Alice's Adventures Through the Looking Glass. Jabberwock is the name of the ARMS located inside Ryo Takatsuki's left arm, known for being the most powerfull of all the ARMS do to its limitless evolution in terms of destructive power. It is a sentient and malevolent weapon which often tries to takeover Ryo's mind, thus making it one of the series' minor antagonists.
In the novel series "The Looking Glass Wars", there are multiple jabberwocks which are betted on fights.
In the TV miniseries "Alice", there is a computer-animated Jabberwock that appears in one scene.
In the video game "American McGee's Alice", the Jabberwock had his parts replaced with machinery by the Mad Hatter after his encounter with the Vorpal Blade made him weak. In this game the Jabberwock is a manifestation of Alice's guilt for surviving the fire that took the lives of her parents, for which he mercilessly berates her. He kills the Gryphon, only to be defeated by Alice. His eye is severed from his face and incorporated into a superweapon in Alice's armory, which is vital to getting to the Red Queen's palace. He is voiced by Roger Jackson.
In the Nippon Animation anime "Fushigi no Kuni on Alice", he appears as a dragon with horns and smaller wings who plans to eat Benny Bunny as stew.
In the Nintendo DS game "A Witch's Tale", he appears as a human jester who put cards everywhere for Liddell to find.
The Jabberwock appears as one of the villains in the Australian movie Alice Through The Looking Glass. He was voiced by Mr. T.
In the cartoon series "The Real Ghostbusters" called "The Grundel" , the Jabberwock is shown in an opening scene being captured by the Ghostbusters.
The Jabberwock appears as an antagonist in the "Wonderland" stage of the Laserdisk game "Dragon's Lair II: Time Warp" It starts out tiny and quickly grows to a menacing size.
Popeye faces off against the classic monster in a "Treasure Hunt" episode of the 1980's Hanna-Barbara "Popeye" cartoon.
A robtic version of the jabberwock is the boss of the Wonderland level in Disney Universe.
It is also a highly-used creature in MLP fanfics.
In Christina Henry's ''Alice'' novel series, the Jabberwock appears as the main antagonist. He is a dark sorcerer who was one of the first magicians, and ruled mankind long ago, but grew hungry for power. So, his rival, a good sorcerer, was advised to imprison the Jabberwock, his former friend. He imprisons him in land which eventually became an asylum. A young woman, Alice, is imprisoned there, and when she and a friend, Hatcher, escape during a fire which destroys the place, the Jabberwock breaks free. Once out in the world, the sorcerer, the Jabberwock, destroys all life he finds, and eventually, he is defeated by Alice, who is herself a sorcerer; who traps him in the form of a butterfly and imprisons him in a bottle.
In the movie Care Bears Adventure In Wonderland, the Jabberwocky is a misunderstood monster named Stan (it was much easier to stay) and was civilized. He could talk and was actually pretty sensitive. The Princess of Wonderland was put up in a cage by the evil Wizard's henchmen Dim andDum to be his prisoner, but the Care Bears saved her and when they helped pull out a thorn he had in his paw he became their friend and help them get the Princess back to the palace and scare the Wizard into insanity.
The Jabberwock is featured in the second Bestiary of the Pathfinder rpg.
The Jabberwocky aappears in the anime film Penguin Highway, Onee-san mentions having nightmares about it. Later in the film Jabberwocky start manifesting and eat the penguins.
Gallery

Villains
Animated Features
Queen Grimhilde | Magic Mirror | Honest John | Gideon | Stromboli | Coachman | Coachman's Minions | Monstro | Chernabog | Zeus | Vulcan | Boreas | Man | Ronno | Aconcagua | Toy Bull | The Wolf | Tetti-Tatti | Lumpjaw | Willie | Rustlers | Mr. Winkie | Weasels | Brom Bones | Headless Horseman | Lady Tremaine | Anastasia Tremaine | Drizella Tremaine | Lucifer | Queen of Hearts | Card Soldiers | Cheshire Cat | Walrus & Carpenter | James Hook | Neverland Pirates (Mr. Smee) | Tick Tock | Rat | Si & Am | Maleficent | Diablo the Raven | Maleficent's Goons | Cruella De Vil | Jasper & Horace | Madam Mim | Shere Khan | Kaa | Bandar Log (King Louie) | Edgar Balthazar | Prince John | Sheriff of Notthingham | Sir Hiss | Captain Crocodile | Rhino Guards | Wolf Arrowmen | Trigger & Nutsy | Heffalumps and Woozles | Madame Medusa | Mr. Snoops | Brutus & Nero | Amos Slade | Chief | The Bear | Horned King | Horned King's Army (Creeper & Gwythaints) | Cauldron Born | Orddu, Orwen & Orgoch | Arawn | Professor Ratigan | Thugs (Fidget, Felicia & Bartholomew) | Bill Sykes | Roscoe & DeSoto | Ursula | Flotsam & Jetsam | Percival C. McLeach | Joanna | Beast | Gaston LeGume | LeFou | Asylum D'Loons (Monsieur D'Arque) | Tom, Dick, Stanley & Walter | Wolves | Jafar | Iago | Razoul | Prince Achmed | Gazeem | Cave of Wonders | Scar | Hyena Clan (Shenzi, Banzai & Ed) | John Ratcliffe | Claude Frollo | Frollo's Soldiers (Captain Phoebus, Brutish Captain, Oafish Guard, Pierrat Torturue & Henriet Cousin) | Hades | Pain & Panic | Fates | Cerberus | Titans (Lythos, Hydros, Pyros, Stratos & Cyclops) | Nessus | Hydra | Nemean Lion | Shan Yu | Hun Army (Hayabusa & Elite Hun Soldiers) | Cecil Clayton | Sabor | Clayton's Pirates | Firebird | Black Triangles | Jack-in-the-Box | Kron | Bruton | Kuzco | Yzma | Kronk | Lyle Tiberius Rourke | Rourke's Mercenaries (Helga Sinclair) | Leviathan | Vikings | Gantu | John Silver | Pirates (Scroop, Onus, Hands, Turnbuckle, Blinko, Longbourne, Fayvoon, Grewnge, Krailoni, Hedley, Torrance, Mertock, Verne, Crex & Zoff) | Nathaniel Flint | Alameda Slim | Rico | Willie Brothers | Mr. Wesley | DOR-15 | Bowler Hat Guy | Dr. Calico | Dr. Facilier | Lawrence | Facilier's Shadow | Shadow Demons | Ian the Gator | Marlon the Gator | Reggie, Darnell & Two Fingers | Friends on the Other Side | Mother Gothel | Stabbington Brothers | Zhan Tiri | Turbo | Cy-Bugs | Sour Bill | Wynnchel & Duncan | Prince Hans | Duke of Weselton | Erik & Francis | Wolves | Yokai | Alistair Krei | Mr. Yama | Dawn Bellwether | Doug Ramses | Woolter | Jesse | Sheep Cops | Ram Thug | Duke Weaselton | Mr. Big | Polar Bear Thugs (Koslov, Raymond & Kevin) | Te Kā | Tamatoa | Kakamora | Arthur | King Runeard | Namaari | Druun
Live-Action Movies
Captain Nemo | Pony Sugrue | Prince John (1952) | Red Stick | Bigfoot Mason | Chato | Samuel Mason | Harpe Brothers | The Marten | Wilse Owens | Kuala | Vicky Robinson | Ute Chief | Jacques Lebeau | Makoos | Durante | Barnaby | James Haggin | Cattlemen | Alonzo Hawk | Comanche Chief | Apaches | Mr. Dawes Sr. | Tanamashu | Judge Huggins | Mountain Ox | Peter Thorndyke | Havershaw | Vince Heber | Mrs. Satterfield | A.J. Arno | Chillie Walsh | Colonel Pierson | Ab Cross | Colonel Heller | King Leonidas | Bookman | Swinburne | Mr. Eben | Mark Pierson | Hugh McRae | Sam Eagle Speaker | Kerwood Krinkle | Frank Sitwell | Hnup Wan | Dr. Terminus | Gogans | Charles Olympus | Wooly Bill Hitchcock | Big Mac | Hans Reinhardt | The Watcher | George McKinzie | Alec Frost | Bluto | Vermithrax Pejorative | Master Control Program | Sark | Ed Dillinger Sr. | Program Guards | Mark Jennings | Kelly | Mr. Dark | Mike | Rosie Little | Hunters | Nome King | Princess Mombi | Connie | Bullwhip | Parker | Buzz | Wolf's Owner | Timber Wolf | Hunter | Eagle | Alistair Patton | Patton Sr. | Judge Doom | Toon Patrol (Smartass, Greasy, Psycho, Wheezy & Stupid) | Abdullah | Mr. Patel | Nigel | John Merrick | Beauty Smith | Luke & Tinker | Sykes | Cherokee | Lip-Lip | Fritz | Neville Sinclair | Lothar | Nigel Snyder | Joseph Pulitizer | Delancy Brothers | Charles Hendrickson | Terrence Wheeler | Winifred Sanderson | Mary Sanderson | Sarah Sanderson | John Ricketts | The King and the Duke | Pap Finn | Cardinal Richelieu | Comte de Rochefort | Milady de Winter | Borg Guillarson | Leland Drury | Heath | Miners | Lloyd Halverson | William Boone | Buldeo | John Wilkins | Tabaqui (1994) | Sergeant Harley | Bandits | Sergeant Clairbourne | Shere Khan (1994) | Bandar Log (1994) (King Louie (1994) & Kaa (1994)) | Gilbert Sipes | Juice | Ranch Wilder | Injun Joe | Emmett | Tony Perkis | Agent Woods | Jack and Ralph | Ashcan and Pete | Aunt Sponge | Aunt Spiker | Rhino | Skeleton Pirates | Shark | Cruella De Vil (1996) | Jasper and Horace Badun (1996) | Mr. Skinner | Jean-Pierre Le Pelt | Alonzo | Norman Snively | Ricky King | Charlotte | Lyle Van de Groot | Max & Thor | Lion | Beatrice Stanhope | Stepmother | Calliope and Minerva | Chester Hoenicker | Wilson Croft | Smith & Wesson | Bennett Hoenicker | Luanne LeSeur | Meredith Blake | Natalya | Popov | Frank Slater | Shere Khan (1998) | Tabaqui (1998) | Bandar Log (1998) | Eddie Taffet | Andrei Strasser | Elliot Coleye | Dr. Claw | Kramer | RoboGadget | PAT | Malcolm | Snerbert | Lana Thomas | Elliot T. Jindraike | Professor Siles | Jennifer Stone | Toy Santa | Louise Walker | Mr. Sir | Charles "Trout" Walker | Kissin' Kate Barlow | Linda Walker | Sheriff | Doug & Gordon | Hector Barbossa | Crew of the Black Pearl (Bo'sun, Scratch, Pintel & Ragetti) | Master Gracey | Madame Leota | Ramsley | Zombies | Werecat Lady | Carla Santini | Lord Kelvin | Black Scorpions (General Fang) | Inspector Fix | Viscount Mabrey | Ian Howe | Bill Fawcett | Zaphod Beeblebrox | Frankie & Benjy | Prostetnic Vogon Jeltz | Vogons | Humma Kavula | Gag Halfrunt | Royal Pain | Stitches | Lash | Speed | Penny Lent | Jadis the White Witch | Jadis' Secret Police (Maugrim & Vardan) | Ginarrbrik | General Otmin | Thantos DuBaer | Dr. Kozak | Jack Frost | Davy Jones | Crew of the Flying Dutchman (Maccus & Kraken) | Cutler Beckett | East India Trading Company | Janice Avery | Queen Narissa | Mitch Wilkinson | Simon Bar Sinister | Cad Lackey | El Diablo | Henry Burke | Siphon | Miraz | Telmarines (Glozelle & Sopespian) | Nikabrik | Hag & Werewolf | Kendall Duncan | Tess Tyler | Speckles | Lucinda | Oswald Granger | Red Queen | Knave of Hearts | Card Soldiers | Jabberwock | Jubjub Bird | Hamish Ascot | Morgana le Fay | Morganians (Maxim Horvath, Abigail Williams, Sun Lok, Drake Stone & Marrok) | Nizam | Ms. Stout | CLU 2 | Rinzler | Gem | Black Guards | Blackbeard | Angelica Teach | The Spaniard | King Ferdinand VI | King George ll | San Than | Matai Shang | Tal Hajus | Jenny | Latham Cole | Butch Cavendish | Jay Fuller | Evanora | Theodora | Maleficent (2014) | Diaval | King Stefan (2014) | King Henry | The Witch | The Wolf | Lady Tremaine (2015) | Grand Duke (2015) | Anastasia Tremaine (2015) | Drizella Tremaine (2015) | Lucifer (2015) | David Nix | Shere Khan (2016) | Bandar Log (2016) (King Louie (2016)) | Kaa (2016) | Fleshlumpeater | Giants (Bloodbottler & Bonecruncher) | Pramod Kadam | Beast (2017) | Gaston LeGume (2017) | LeFou (2017) | Asylum D'Loons (Monsieur D'Arque (2017)) | Tom, Dick & Stanley (2017) | Wolves (2017) | The King (2017) | Armando Salazar | Crew of the Silent Mary (Lesaro) | Scarfield | It | Sugar Plum Fairy | Tin Soldiers | William Weatherall Wilkins | V.A. Vandevere | Neils Skellig | Rufus Sorghum | Jafar (2019) | Iago (2019) | Cave of Wonders (2019) | Scar (2019) | Hyena Clan (2019) (Shenzi, Kamari & Azizi) | Queen Ingrith | Gerda | Borra | Rat (2019) | Devon & Rex | Isaac | Artemis Fowl | Opal Koboi | Briar Cudgeon | Troll | Alexander Hamilton | Aaron Burr | Thomas Jefferson | James Madison | Maria Reynolds | James Reynolds | King George III | Bori Khan | Hun Army (Xian Lang)
Other Animated Movies
Br'er Fox & Br'er Bear | Giant Magnet | Evil Clown | Merlock | Dijon | Oogie Boogie | Lock, Shock & Barrel | Bill Bluff | BluffCo Industries (Guy Graham, Bob & Bluff Agents) | Gloomius Maximus | Ivan Krank | Von Talon | Cufflingk and Underlingk | Kazar | Wildebeests (Blag) | Scab and Scraw | Vidia | Jacob Marley | Old Joe | Supervisor | Mr. Whiskers | Shelley | Were-Rat | Sea Monkeys | Mr. Burgermeister | Ripslinger | Zed | Ned | Zarina
Direct-to-video/Disneytoon Studios Sequels
Abis Mal | Sa'Luk | Forty Thieves | Maestro Forte | Jesters | Zira | Outsiders (Nuka & Vitani) | Mack McCro | Jim Bob | Supreme Commander | Morgana | Undertow | Cloak & Dagger | Bradley Uppercrust III | The Gammas | Buster | Sarousch | Pom-Pom | Tad White | Jacques von Hamsterviel | Reuben | Sparky | Leroy | Erik Hellstorm | Ashton Carnaby | Edgar Volgud | Krakken | Lil Lightning | Bandits | Mama Gunda | Uto & Kago | Marina Del Rey | Cad Spinner
Shorts, Television, Comics and Video Games
Peg Leg Pete | Old Man Tree | Phantom Blot | Skeletons | Grim Reaper | Mad Doctor | Demon Cats | Gustav the Giant | Lonesome Ghosts | Doctor Vulter | Solego the Chaos God | Arpine Lusene | Eli Squinch | Sylvester Shyster | Fantomius | Inquinator | Spectrus | Zafire | H. U. Hennessy | Jolly Roger | Witch | Pluto's Devil | Zeke Midas Wolf | Boogeymen | Captain Katt | Mortimer Mouse | Butch the Bulldog | Beagle Boys | Foxy Loxy | Ajax Gorilla | Witch Hazel | Adolf Hitler | Nazi School Teacher | Little Hans | Fat Cat | Norton Nimnul | Aldrin Klordane | Baby Thaddeus | Ratso Ratzkiwatzki | Julius | Dr. Frankenollie | Mizrabel | Miss Hendra | Huntsman | Huntsgirl | Dark Dragon | Al Roker | Chuckles | Princess Irmaplotz | Grace Goodwin | Molly | Shadow Blot | False Shadow Blot | Foxy Loxy | Goosey Loosey | Oswald Gardner | Commander Heist | Lazlo | Jordan Buttsquat | Suzi | Chip Whistler
Disney Parks
Alien | Lava Monster | Mad Hatter | Nebula Ghosts | Professor J.T. Wu | S.I.R. | Yeti (Expedition Everest) | Yeti (Matterhorn Bobsleds)
See Also
101 Dalmatians Villains | 2010 Marvel Animated Universe Villains | 20th Century Studios Villains | A Twisted Tale Villains | Air Bud Villains | Aladdin Villains | Alice in Wonderland Villains | Amphibia Villains | Artemis Fowl Villains | Atlantis Villains | Beauty and the Beast Villains | Big Hero 6 Villains | Buena Vista International Villains | Buzz Lightyear of Star Command Villains | Cars Villains | Cinderella Villains | Club Penguin Villains | Darkwing Duck Villains | Descendants Villains | DuckTales Villains | Fantasia Villains | Fillmore! Villains | Frozen Villains | Gargoyles Villains | Gravity Falls Villains | Hamilton Villains | Haunted Mansion Villains | Hercules Villains | Incredibles Villains | Kim Possible Villains | Kingdom Hearts Villains | Lilo & Stitch Villains | Little Einsteins Villains | Marvel Animated Movie Universe Villains | Marvel Cinematic Universe Villains | Medfield College Villains | Mighty Ducks Villains | Milo Murphy's Law Villains | Mulan Villains | Muppet Villains | Narnia Villains | Peter Pan Villains | Phineas and Ferb Villains | Pinocchio Villains | Pirates of the Caribbean Villains | Pixar Villains | Recess Villains | Robin Hood Villains | Sleeping Beauty Villains | Snow White Villains | Sofia the First Villains | Star Wars Villains | Star vs. the Forces of Evil Villains | Super Robot Monkey Team Hyperforce Go! Villains | Tangled Villains | Tarzan Villains | The Hunchback of Notre Dame Villains | The Jungle Book Villains | The Lion King Villains | The Little Mermaid Villains | The Owl House Villains | The Princess and the Frog Villains | The Proud Family Villains | Toy Story Villains | Treasure Planet Villains | Wander Over Yonder Villains | Winnie the Pooh Villains | Wreck-It Ralph Villains | X-Men Movie Villains | Zootopia Villains
Villains
Movies
Beetlejuice: Beetlejuice
Batman (1989): Joker | Bob Hawkins | Joker Goons | Alicia Hunt | Carl Grissom | Max Eckhardt | Vinnie Ricorso | Joe Chill |
Edward Scissorhands: Jim
Batman Returns: Penguin | Red Triangle Circus Gang (Organ Grinder, Poodle Lady, Tattooed Strongman, Stungun Clown, Thin Clown, Fat Clown, Sword Swallower & Knifethrower Dame) | Max Shreck | Catwoman | Charles "Chip" Shreck
The Nightmare Before Christmas: Oogie Boogie | Lock, Shock and Barrel
Batman Forever: Riddler | Two-Face | Sugar | Spice | NygmaTech (Frogmen) | Neon Gang (Neon Gang Leader) | Salvatore Maroni
James and the Giant Peach: Aunt Sponge | Aunt Spiker | Rhino | Skeleton Pirates | Shark
Batman & Robin: Poison Ivy | Mr. Freeze | Bane | Snowy Cones Thugs | Golums | Jason Woodrue
Mars Attacks!: Martian Leader | Martians (Martian Ambassador & Martian Girl)
Sleepy Hollow (1999): Lady Van Tassel | Headless Horseman | Reverend Steenwyck
Planet of the Apes (2001) General Thade | Attar | Limbo
Charlie and the Chocolate Factory: Arthur Slugworth
Corpse Bride: Barkis Bittern | Maudeline Everglot
Sweeney Todd: The Demon Barber of Fleet Street: Sweeney Todd | Mrs. Lovett | Judge Turpin | Beadle Bamford | Jonas Fogg | Adolfo Pirelli
9: Fabrication Machine | 1 | 8 | Machines (Cat Beast, Winged Beast, Seamstress, Steel Behemoths, Seeker Drones & Spiderbots) | Chancellor Fredinand | The Chancellor's Party
Alice in Wonderland (2010): Red Queen | Knave of Hearts | Card Soldiers | The Jabberwock | Jubjub Bird | Hamish Ascot
Dark Shadows: Angelique Bouchard | Julia Hoffman
Abraham Lincoln: Vampire Hunter: Adam
Frankenweenie: Mr. Whiskers | Shelley | Were-Rat | Sea Monkeys | Mr. Burgermeister
Big Eyes: Walter Keane
Miss Peregrine's Home for Peculiar Children: Mr. Barron | Malthus
Dumbo (2019): V.A. Vandevere | Neils Skellig | Pink Elephants | Rufus Sorghum

Villains
Community content is available under
CC-BY-SA
unless otherwise noted.