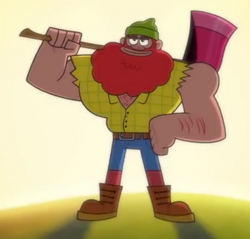 The Lumberjack is a one-time villain from the Cartoon Network original series Teen Titans Go!, only appearing in the episode "The Bergerac", as part of the Superhero Summer Camp miniseries. He is a lumberjack who is always trying to steal Robin's girlfriends.
Biography
Robin retold the other Teen Titans the story of his first love, which happened at a summer camp once. Robin's girlfriend was a tree that he used to make out with. One fateful day, The Lumberjack came by and chopped down the tree that Robin was in love with and took her away, stealing his girlfriend. Robin cried and mourned as The Lumberjack took off with his girlfriend and he still remembers it to this very day.
At the end of the episode, Robin fell in love with Wonder Girl and was about to kiss her on the lips and officially become her boyfriend, until The Lumberjack made a shocking return, getting ready to steal Wonder Girl from him just like he stole his tree girlfriend. Robin started running straight toward The Lumberjack to attack him, but The Lumberjack simply leaned back on his ax and punched robin in the face, knocking him down and defeating him with just one punch. When Robin fell down, he got crushed straight into the ground and The Lumberjack thought that he was victorious. He was about to claim his prize when Robin arose from the ground and beat the snot out of The Lumberjack with his well-toned muscular thighs, causing The Lumberjack to tear up and cry, running away like a pansy, which meant that Robin won the fight and the heart of the Wonder Girl.
Gallery

Villains
Comics
Andre LeBlanc | Anti-Monitor | Arsenal | Blackfire | Blizzard | Brother Blood | Brotherhood of Evil (Brain, Monsieur Mallah, Madame Rouge, General Immortus) | Brutale | Calculator | Cheshire | Clock King | Damien Darhk | Deathstroke | Deuce & Charger | Deathwing | Ding Dong Daddy | Doctor Light | Doctor Polaris | Duela Dent | Electrocutioner | Gentleman Ghost | Gizmo | Holocaust | Ice Kate | Jericho | Jinx | Kid Kold | Kwiz Kid | Legion of Doom (Superboy-Prime, Sun Girl, Headcase, Inertia, Indigo, Persuader, Zookeeper) | Mammoth | Mantis | Mister Twister | Neron | Neutron | Ocean Master | Phobia | Prometheus | Psimon | Puppeteer | Pylon | Ravager | Royal Flush Gang | Shimmer | Sunburst | Terra | Terror Titans | Trident | Trigon | Twister | Two-Face | Veil | Ultra-Humanite | Warp | Wildebeest | Wintergreen
Television
Slade | Terra | Trigon | Blackfire | H.I.V.E. Five (Jinx, Gizmo, Mammoth, Billy Numerous, See-More, & Kyd Wykkyd) | Dr. Light | Cinderblock | Brother Blood | Brotherhood of Evil (Brain, Monsieur Mallah, Madame Rouge, General Immortus) | Control Freak | Puppet King | Killer Moth | Mad Mod | Mother Mae-Eye | Mumbo Jumbo | Plasmus | Overload | Nega Cyborg | Nega Starfire | Nega Beast Boy | Fang | Kitten | Angel | Adonis | Johnny Rancid | Malchior | Master of Games | Ternion | Glgrdsklechhh | The Source | Guard | Kardiak | White Monster | Thunder & Lighting | Atlas | XL Terrestrial | H.I.V.E. Academy | Private H.I.V.E. | Krall | Radiation Creature | I.N.S.T.I.G.A.T.O.R. | Professor Chang | Sammy & Cash | Steamroller | Wrestling Star | Baron Ryang | Punk Rocket | Soto | Space Monster | Katarou | Red X | Trogaar
Video Games
Injustice: Superman | Damian Wayne | Cyborg | Raven | Deathstroke
Films
Teen Titans: Trouble in Tokyo: Uehara Daizo | Brushogun | Nya-Nya
Justice League vs. Teen Titans: Trigon | Legion of Doom (Lex Luthor, Cheetah, Solomon Grundy, Toymaster, & Weather Wizard) | Atomic Skull | Ra's al Ghul
Teen Titans: The Judas Contract: H.I.V.E./Church of Blood (Brother Blood, Mother Mayhem, Deathstroke, & Terra)
Teen Titans Go! To the Movies: Slade Wilson | Lex Luthor
Teen Titans Go! vs. Teen Titans: Hexagon (Trigon (Teen Titans Go!) & Trigon (Teen Titans)) | Master of Games | Gentleman Ghost | Darkseid
Teen Titans Go!
Trigon | Terra | Slade Wilson | Ed | Hurt Bot | Pain Bot | Twin Destroyers of Azarath | Legion of Doom | Death | Perry | Santa Claus | Piglets | Evil Dragon | The Lumberjack

Titans (2018)
Season 1: Trigon | Dr. Adamson | Nuclear Family (Nuclear Dad, Nuclear Stepdad, Nuclear Mom, Nuclear Sis, & Nuclear Biff) | Angela Azarath
Season 2: Deathstroke | Cadmus Laboratories (Mercy Graves & Walter Hawn) | Dr. Light | Wintergreen | Shimmer | Trigon | Angela Azarath | Blackfire
Community content is available under
CC-BY-SA
unless otherwise noted.