Jurassic World: Dominion Dominates Fandom Wikis - The Loop
Play Sound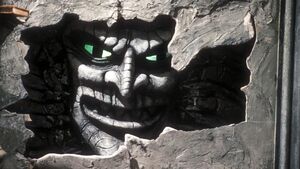 The Malus is the main antagonist of the Doctor Who story "The Awakening". It was an alien war machine created by the people of Hakol.
Biography
The Malus, an engineered cyborg creature, arrived on Earth some time in the past as part of a planned invasion, sent in an automated probe. For unknown reasons, the invasion was called off and the Malus was left dormant, with the church of the village of Little Hodcombe eventually being built around it. Powered by psychic energy and feeding off fear and hatred, it was briefly reactivated when the village became embroiled in a battle during the English Civil War in 1643, but quickly became dormant again.
In 1984, the Malus was uncovered by historian Andrew Verney. He reported his finding to the local lord of the manor, Sir George Hutchinson, who fell under the influence of the Malus and began trying to find a way to reactivate it, serving as a medium to gather the psychic energy it needed. To this end, Hutchinson initiated a war game to recreate the civil war battle that had first awakened the Malus, intending for the last battle to be real.
The Malus also created smaller versions of itself to gather energy, as well as bringing projections of people from the 17th century forward through time, including at least one real person, Will Chandler. It eventually grew strong enough to break through the church wall, encountering the Fifth Doctor.
Hutchinson's latest tactic, burning Tegan at the stake in accordance with ancient May Queen traditions, was halted when his associate Ben Wolsey became sick of the violence and freed her. This weakened the Malus and the Doctor was able to use the TARDIS to cut the Malus off from the village, causing its smaller selves to die. The Malus responded by using projections of soldiers to attack the Doctor and his friends at the church, hoping to feed off their fear. Hutchinson arrived but Chandler pushed him into the Malus, killing him. Deprived of its medium, the Malus saw no option but to self-destruct. The explosion destroyed the church but the Doctor managed to get everyone clear in the TARDIS.
Trivia
The novel The Hollow Men involves the Seventh Doctor battling another Hakol probe,

Jerak

, sent at the same time as the Malus.