Obi-Wan Finale - The Loop
Play Sound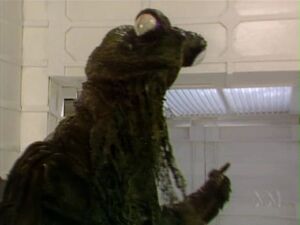 The Myrka is a minor antagonist in the Doctor Who story "Warriors of the Deep".
It was played uncredited by William Perrie and John Asquith.
History
The Myrka was a genetically modified sea monster used by the Silurians and Sea Devils during their attack on Seabase Four. Although it did not appear to be sentient, they seemed to have some control over it. It was immensely strong, immune to weapons fire and equipped with an electrical charge which meant even touching it was fatal.
The Myrka first destroyed one of the seabase's probes, then launched an attack on one of the airlocks. It came close to killing the Doctor and Tegan when they were trapped in the airlock with it. Knowing it originally involved in the deepest depths of the sea and wasn't used to light, the Doctor temporarily blinded it by detonating the power pack of a rifle. He and Tegan were able to escape but the Myrka also got out of the airlock and invaded the base.
The Myrka set off on a path towards the bridge, killing several crewmembers along the way, including the traitorous medical officer Solow. The Doctor set up an ultraviolet light converter in one of the corridors it needed to use and, when the Myrka entered the corridor, bathed it with the blinding light, killing it.
The novel The Scales of Injustice acts as a prequel to "Warriors of the Deep" and explained the Doctor's familiarity with the Myrka, which attacked a group of UNIT troops on a beach.