Jurassic World: Dominion Dominates Fandom Wikis - The Loop
Play Sound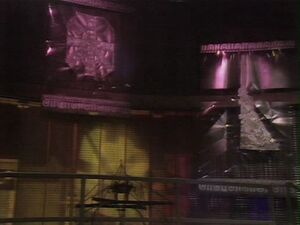 The Oracle is the main antagonist of the Doctor Who story "Underworld".
It was voiced by the late Christine Pollon.
Biography
The Oracle was the computer of the Minyan spaceship P7E, charged with guarding their race banks. The ship was lost for thousands of years, at the edge of the known universe where a planet known as the Underworld formed around it. The Oracle developed delusions of godhood and used the race banks to create a race of Minyans to serve it. The lowliest, known as "Trogs", were supervised by guards, who themselves were answerable to the two Seers who the Oracle had modified into cyborgs.
The Oracle maintained strict order, arranging regular rockfalls to cull the Trogs' population and also demanding sacrifices. Idmon, a Trog who had spoken out against it, was slated for this but was saved by his son Idas, with help from the Doctor and Leela.
The Oracle's sense of order was shattered by the arrival of the crew of the Minyan ship R1C, who had spent centuries searching for the P7E and the race banks, which brought them into conflict with the Oracle's guards. Seeing itself as the guardian of the race banks, the Oracle refused to part with them and instead constructed two fission grenades in the shape of the race banks, having the captive Herrick released with them.
The Doctor, Leela and Idas overheard the exchange and the Doctor confronted the Oracle, who let slip that it still had the race banks. The Doctor was able to force the container open and retrieve them. The Oracle despatched its guards to recover them, but they accidentally retrieved the fission grenades instead. The Oracle realised the mistake but had designed the grenades to be impossible to defuse. The detonation of the grenades destroyed the Oracle and the whole of the Underworld.