Doctor Strange in The Multiverse o Madness - The Loop
Play Sound
Jafar says: Read my lips and come to grips with the reality!


This article is a stub and is in need of expansion. You can help Villains Wiki by expanding it.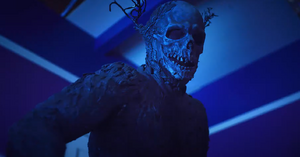 The Shadowman is the main antagonist of the second season of the revival series Are You Afraid of The Dark?, titled "Curse of the Shadows".
He was portrayed by Kyle Strauts.
Biography
The Shadowman is hard to see clearly, since he usually appears in the dark when the sun goes down. However, during the times when the Shadowman can be clearly seen, he appears as a monstrous humanoid figure whose body is covered in what appears to be rotted oak from a tree. The rotten oak doesn't cover his face, however, as his face resembles that of a human skull. He also has small tree branches coming out of both sides of his head, making it look like he has horns on the both sides of his head. Also, in some instances, like in one scene where he holds up Luke McCoy with his hand, he can be seen with large glowing yellow eyes.
The Shadowman can also become a shadowy version of himself. In this form, he is a silhouetted version of his original appearance (The one listed above). He can also appear as a mass of shadowy vines or spikes.
When he is in disguise as Connor Stevens, his appearance is exactly like him. He can make his eyes become black with white glowing pupils, or have his eyes completely blacked out whenever he becomes hostile to others, and he also gains the ability to speak, something that he can't do in his real form. Also, when a bright light is shown into his eyes, his pupils become bigger, this being a sign that the Shadowman is taking the form of Connor (A normal human's pupils would become smaller when a bright light is shown in their eyes).