We're Getting Mutants in the MCU - The Loop
Play Sound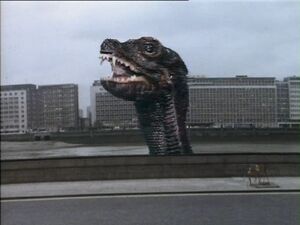 The Skarasen is a minor antagonist in the Doctor Who story "Terror of the Zygons".
It was realised with a stop motion puppet.
Biography
The Skarasen was a creature kept by the Zygons, who were dependent on its lactic fluid to survive. They had converted it into a powerful, armoured cyborg which they insisted could survive the blast from a nuclear missile. It journeyed with them to Earth where it took up residence in Loch Ness and became the basis of the legend of the Loch Ness Monster. Over the following centuries, it was able to travel to the open sea by an underground lake and was controlled by the Zygons using a signalling system.
When the Zygons decided to conquer Earth, the Skarasen was instrumental to their plans. It began attacking and destroying North Sea oil rigs which had been fitted with devices to attract the Skarasen, causing several deaths. Since its usual route had been blocked by the construction of an oil refinery, it crossed the moor, killing a UNIT soldier. The Zygons later tried to get it to kill the Doctor by having it follow the signal device he was carrying. Thanks to Harry sabotaging the Zygons' controls, the Doctor was able to throw the device away at the last minute so the Skarasen destroyed it harmlessly.
With Zygon leader Broton planning to announce his people's presence to the world, he had the Skarasen travel underwater to London and emerge from the Thames, intending for it to destroy the world energy conference that several VIPs were attending nearby. The Doctor managed to retrieve the signalling device the Skarasen was following and throw it to the monster, who swallowed it. With the Zygons all dead, the Skarasen peacefully returned to Loch Ness, the only home it knew.
Trivia
The later story "Timelash" established that the Borad had travelled to Loch Ness and apparently become the basis of the legend centuries before the Zygons and the Skarasen arrived. It has been speculated that the Skarasen killed him.
Further Skarasens appeared in the novels, being encountered by the Eighth Doctor in The Bodysnatchers and the Tenth Doctor in Sting of the Zygons.