Jurassic World: Dominion Dominates Fandom Wikis - The Loop
Play Sound

✓
This Villain was proposed and approved by Villains Wiki's Pure Evil Proposals Thread. Any act of removing this villain from the category without a Removal Proposal shall be considered vandalism (or a futile "heroic" attempt of redemption) and the user will have high chances of being terminated blocked. You cannot make said Removal Proposal without permission from an admin first.
Additional Notice: This template is meant for admin maintenance only. Users who misuse the template will be blocked for a week minimum.

| | | |
| --- | --- | --- |
| " | I wanted what you had for myself, Parker. The things I could do with it... with power like that... But what I got was different. Something better, Parker. Something worse. Something that can live inside, that could liquefy the innards of a man and walk the earth within his hollow shell... Something that could watch. And wait. And fester. See? See now? I AM THE THOUSAND. | " |
| | ~ The Thousand introducing his true form to Spider-Man. | |
The Thousand (real name: Carl King) is a minor yet extremely despicable supervillain from Marvel Comics, and an enemy of Spider-Man. He is the main antagonist of The Coming of the Thousand story arc, comprised from Spider-Man's Tangled Web #1-3, published in 2001.
He was a bully who liked to pick on Peter Parker, but when he realized that Peter was bitten by a radioactive spider and became Spider-Man, he eats the spider to likewise acquire his powers, only to become a living swarm of spiders that can kill people from inside and use their corpses as vessels.
History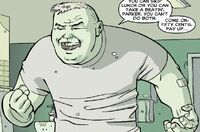 As a child, Carl King was a bully who frequently targeted Peter Parker. This involved King extorting money from Peter, forcing him to do his homework for him, dunking his head on a toilet, and physically beating him up with no mercy. He continuously tormented Peter from grade school (as early as kindergarten) through high school. During a science exhibit depicting the effects of radiation, King witnesses Peter getting bitten by a radioactive spider and gaining superpowers. He begins stalking Peter, and further witnesses his becoming of the superhero Spider-Man.
This causes him to become jealous of his rival. Wanting to gain superpowers as well, King returns to the science exhibit and eats the dead spider that bit Peter and Cindy Moon. Thereafter he showed no signs of mutation for several days, until one morning when he discovers that his body is now composed entirely of spiders. He also discovers that he can consume the innards of other people and use their skin as a suit, after doing so to his mother accidentally. Curious as to whether or not he could do it again, he does the same to his father (the imagery implies that he raped him first). Seeking to master his new abilities, King consumes and takes over the bodies of his girlfriend, as well as various homeless people and children. King learned that he became stronger with each new host.
Years later, King decides to kill Peter Parker out of jealousy of the fame and glory he has received as Spider-Man. He kills and possesses Jess Patton, an employee at the Daily Bugle, during his rampage. At the Daily Bugle, King, as Patton, lies to Peter about being broke, alcoholic, and homeless after breaking up with a boyfriend. Out of pity, Peter takes "Jess" to his apartment to stay. Once there, King reveals his true identity and attacks Peter, defeating him easily after the hero changes into his Spider-Man costume. King bites Peter, paralyzing him, and then puts him in restraints.
Before Carl King can eat Peter, Peter's landlord Mr. Ambrose enters the room. Not wanting a witness to his existence, King takes over Ambrose's body. King, as Ambrose, then tells Spider-Man his full origin story. In the time it takes him to do this, the venom in Spider-Man's body wears off and he attacks King. The two trade insults as they fight, and King gains the upper hand. Preparing to deliver the finishing blow to his childhood rival, King accidentally strikes a transformer instead. This electrocutes him and kills the majority of his spiders.
Believing that his old rival is dead, Spider-Man leaves the scene. Unbeknownst to him. However, one of the spiders survives and vows revenge. Seconds later, however, the spider is stepped on by an oblivious passerby who was searching for a place to smoke. Unless another of his spiders survived, this definitely killed Carl King, bringing his threat to an end once and for all.
Personality
Unlike many of the members of Spider-Man's rogues gallery, which were ordinary people until some accident or personal tragedy happened to them, and much like Carnage, Carl was already a bad person before he got his powers. A despicable bully, Carl picked on Peter Parker since kindergarten and continued his physical and verbal abuse on him up to high school. While other students like Flash Thompson and his gang also liked to pick on Parker too, they knew there were certain boundaries they weren't willing to cross, but Carl had no restrictions and loved to beat Parker mercilessly, dunking his head on a toilet and even teasing him that his Aunt May had called him to set him up and did not love him. Carl also believed that all students liked him because no one was willing to stood up for Parker against his rampage.
However, after Peter acquired his powers and became Spider-Man, Carl stalked him and grew up to be jealous of him, believing that he deserved those powers, yet he would have only wanted them to gain money and fame instead for helping others. As such, Carl found the deceased spider that bit Peter and Cindy Moon and ate it in his mad hopes of acquiring the same powers. Such decision costed Carl his body, transforming his concioussness into a living swarm of spiders. Blaming Parker for his condition, Carl became so determined to track him that he started to change bodies every certain amount of time, not caring on who he killed, including his mother, his father, his girlfriend, homeless people, children, J. Jonah Jameson's secretary, etc. His ultimate desire was take over Spider-Man's body to become famous, but his wicked ways and their past history were enough for Spidey to defeat him once and for all and make Carl pay for all of his villainous actions
Trivia
He was created by the infamous Garth Ennis and John McCrea.
The Thousand is similar to Eddie Brock, as they are both supervillains obsessed with Spider-Man who know his secret identity and possess spider-like powers and an immunity to the Spider-Sense. However, while The Thousand had zilch regret for his crimes, Eddie has some morality on his actions.
Due to his powers and appearance, it is possible that the Thousand was inspired by Oogie Boogie, the main antagonist of The Nightmare Before Christmas. Like Carl, Oogie is essentially a living sack used as a vessel by a swarm of insects, with one of them serving as the leader and who ends up being squished to death. However, unlike Oogie, Carl is proven to be a far more dangerous threat.
His demise was ironic, as Carl wished to become a famous individual like Spider-Man, but instead died without anyone-else but Peter knowing of his existence.
External Links

Villains
Comics
Abomination | Absorbing Man | Agony | A.I.M. | Alistair Smythe | Annihilus | Answer | Arcade | Ares | Arnim Zola | Attuma | Awesome Android | Baron Mordo | Baron Zemo | Basilisk | Batroc the Leaper | Beetle | Beyonder | Big Man | Black Cat | Black Widow | Blackie Drago | Blastaar | Blizzard | Blob | Bolivar Trask | Bombshell | Boomerang | Brothers Grimm | Burglar | Bulldozer | Bullseye | Bushwacker | Cadaverous | Calypso | Carlton Drake | Carnage | Carrion | Chameleon | Chance | Constrictor | Count Nefaria | Crime-Master | Crossbones | D'Spayre | Daemos | Dark Avengers | Deadpool (Earth-1610) | Demogoblin | Destroyer | Diablo | Doctor Doom | Doctor Faustus | Doctor Octopus | Doppelganger | Dormammu | Dracula | Dreadknight | Electro | Enclave | Enforcers | Equinox | Fancy Dan | Firelord | Fixer | Freak | Frightful Four | Gabriel Stacy | Galactus | Ghost | Gibbon | Gog | Goliath | Grant Ward | Graviton | Green Goblin (Norman Osborn (Earth-1610), Harry Osborn and Bart Hamilton) | Grey Gargoyle | Grizzy | Hammerhead | Hand | Hazmat | High Evolutionary | Hitman | Hobgoblin | Hood | Human Fly | Humbug | Hybrid | HYDRA | Hydro-Man | Ironclad | Impossible Man | Inheritors | Iguana | Jackal | Jack O' Lantern | Jester | Jigsaw | J. Jonah Jameson | Johnny Ohm | Jonas Harrow | Juggernaut | Justin Hammer | Kangaroo | Kang | Kaine | Karn | Killer Shrike | King Cobra | Kingpin | Knull | Kraven the Hunter | Kristoff Vernard | Lady Octopus | Lasher | Lady Deathstrike | Leader | Leap-Frog | Lee Price | Life Foundation | Lightmaster | Living Brain | Living Laser | Lizard | Loki Laufeyson | Lucia Von Bardas | Mad Thinker | Madame Masque | Madame Viper | Maestro | Maggia | Magneto | Mandarin | Man-Spider | Man-Wolf | Mania | Masked Marauder | Master Mold | Masters of Evil | Maximus | Menace | Mephisto | Mesmero | Mister Brownstone | Mister Fear | Mister Hyde | Mister Negative | M.O.D.O.K. | Mojo | Mole Man | Molten Man | Montana | Moonstone | Morbius | Morlun | Moses Magnum | Mysterio (Quentin Beck, Daniel Berkhart and Francis Klum) | Nebula | Nekra | Nightmare | Niles Van Roekel | Nitro | Onslaught | Overdrive | Orka | Owl | Ox | Phage | Phil Urich | Piledriver | Princess Python | The Prowler | Psycho-Man | Puma | Punisher | Punisher (Earth-95126) | Puppet Master | Quasimodo | Quicksilver | Ramrod | Raze | Red Ghost | Red Skull | Rhino | Rhino II | Richard Fisk | Ringer | Ringmaster | Riot | Roland Treece | The Rose | Roxxon Energy Corporation | Sabretooth | Sandman | Sarah Stacy | Sauron | Scarecrow | Scarlet Witch Scorcher | Scorpion | Scorn | Scream | Sebastian Shaw | Secret Empire | Serpent Society | Sentinels | Seth Youngblood | Shocker | Shriek | Sin-Eater | Silvermane | Silver Sable | Sinister Six | Skip | Skrulls | Solus | Songbird | Patton Parnel | Spider-Carnage | Spider-Man Revenge Squad | Spider-Slayers | Spot | Stegron | Street | Super-Apes | Supercharger | Swarm | Symbiotes | Tarantula | Taskmaster | Terminus | Terrax | Thanos | The Thousand | Thunderball | Thunderbolt Ross | Thunderbolts | Tiger Shark | Tinkerer | Titania | Titanium Man | Toad | Tombstone | Trapster | Turner D. Century | Typhoid Mary | Tyrannus | U-Foes | Ultimatum | Ultron | Vapor | Vanessa Fisk | Vector | Venom (Eddie Brock) | Vermin | Vulture | Walrus | Whiplash | White Rabbit | Whirlwind | Will-O'-The-Wisp | Wizard | Worthy | Wrecker | X-Ray | Zodiac | Zombie Spider-Man | Zombie Giant-Man
Movies
Spider-Man: Green Goblin | Dennis Carradine | Bank Robbers | Harry Osborn | J. Jonah Jameson
Spider-Man 2: Doctor Octopus | Harry Osborn | J. Jonah Jameson | Green Goblin
Spider-Man 3: Venom | Sandman | New Goblin | J. Jonah Jameson | Green Goblin | Dennis Carradine
The Amazing Spider-Man: Lizard | Gustav Fiers | Cash Register Thief | Norman Osborn
The Amazing Spider-Man 2: Electro | Green Goblin | Donald Menken | Rhino | Alistair Smythe | Ashley Kafka | Felicia Hardy | Gustav Fiers | Norman Osborn
Spider-Man: Homecoming: Bestman Salvage (Vulture, Tinkerer, Shocker #1, Shocker #2 & Randy Vale) | Mac Gargan | Aaron Davis
Spider-Man: Into the Spider-Verse: Kingpin | Doctor Octopus | Prowler | Tombstone | Scorpion | Green Goblin | Vanessa Fisk | Richard Fisk
Spider-Man: Far From Home: Mysterio's Crew (Mysterio, William Ginter Riva, Victoria Snow, Gutes Guterman, Janice Lincoln, & Doug) | Elementals (Molten Man, Hydro-Man, Sandman, Cyclone and Elemental Fusion) | Skrulls (Talos) | Obadiah Stane | J. Jonah Jameson
Spider-Man: No Way Home: Raimiverse (Green Goblin (Earth-TRN925), Sandman (Earth-TRN927) & Doctor Octopus (Earth-TRN926)) | Webbverse (Electro (Earth-TRN929) & Lizard (Earth-TRN928)) | J. Jonah Jameson | Venom | Mysterio

Television
Spider-Man (1967)
Vulture | Green Goblin | Electro | Rhino | Mysterio | Doctor Octopus | Scorpion | Human Fly | Kingpin | Lizard | Spider-Slayer | Sandman | Dr. Matto Magneto | Enforcers (Cowboy and Ox) | Frederick Foswell | Mole Man | J. Jonah Jameson
Spider-Man (1981)
Doctor Doom | Kingpin | Doctor Octopus | Lizard | Black Cat | Sandman | Silvermane | Magneto | Mysterio | Ringmaster | Green Goblin | Sidewinder | Kraven the Hunter | Red Skull | Chameleon | Vulture | Hammerhead | Wizard | Medusa
Spider-Man and His Amazing Friends (1981)
Green Goblin | Kraven the Hunter | Doctor Doom | Swarm | Chameleon | Electro | Brotherhood of Mutants (Magneto, Blob, Toad, and Mastermind) | Mysterio | Loki Laufeyson | Ymir | Mordred | Kingpin | Doctor Faustus | Red Skull | Juggernaut | Shocker | Sandman | Dracula | Scorpion | Beetle | Doctor Octopus | A.I.M.
Spider-Man: The Animated Series
Kingpin | Green Goblin (Norman Osborn and Harry Osborn) | Doctor Octopus | Hobgoblin | Venom | Vanessa Fisk | Richard Fisk | Silvermane | Insidious Six (Scorpion, (Spider-Man (clone), Rhino, Mysterio, Chameleon, Shocker, and Vulture) | Black Cat | Lizard | Morbius | Spider-Carnage | Spider-Slayers (Alistair Smythe) | Carnage | Baron Mordo | Dormammu | Silver Sable | Hydro-Man | Prowler | Doctor Doom | Red Skull | Electro | Hammerhead | Tombstone | Punisher | Kraven the Hunter | Calypso | Herbert Landon | Jackal | Owl | Spot | Beyonder | J. Jonah Jameson
Spider-Man Unlimited
High Evolutionary | Venom | Carnage | Electro | Kraven the Hunter | Green Goblin | Vulture | Man-Wolf | J. Jonah Jameson
Spider-Man: The New Animated Series
Harry Osborn | Electro | Kraven the Hunter | Turbo Jet | Kingpin | Lizard | Shikata | Silver Sable
The Spectacular Spider-Man
Green Goblin | Tombstone | Doctor Octopus | Hammerhead | Venom (Eddie Brock) | Sinister Six (Rhino, Vulture, Electro, Sandman, Mysterio, and Kraven the Hunter) | Chameleon | Tinkerer | Enforcers (Shocker, Ricochet and Ox) | Molten Man | Silvermane | Silver Sable | Harry Osborn | Lizard | J. Jonah Jameson | Black Cat | Miles Warren | Frederick Foswell | Calypso | Roderick Kingsley | Morris Bench | Cletus Kasady
Ultimate Spider-Man
Doctor Octopus | Green Goblin | Harry Osborn | Taskmaster | HYDRA (Arnim Zola, Crossbones, Morbius, and Baron Mordo) | Sinister Six (Kraven the Hunter, Rhino, Electro, Scorpion, Vulture, and Hydro-Man) | Toad | Batroc the Leaper | Beetle | Lizard | Frightful Four (Wizard, Trapster & Klaw) | Juggernaut | Sandman | Venom | Loki Laufeyson | The Collector | Grandmaster | Carnage | Wolf Spider | Ultimate Green Goblin | Shocker | Shriek | Swarm | Dracula | Spider-Slayers (Kaine) | Absorbing Man | Abomination | Annihilus | Arcade | Attuma | Awesome Android | Blastaar | Blizzard | Boomerang | Chitauri | Deadpool | Destroyer | Doctor Doom | Dormammu | Skurge | Enforcers (Montana, Fancy Dan, Ox) | Frost Giants | Grizzly | Hammerhead | Jack O'Lantern | Korvac | The Leader | Living Laser | Man-Wolf | Maximus | Melter | Mesmero | M.O.D.O.K. | Molten Man | Mister Negative | Mysterio | Nightmare | Norma Osborn | Phalanx | Sabretooth | Skaar | Galactus | Ulik | Whirlwind | Wrecker | Piledriver | Thunderball | Bulldozer | Ymir | Zodiac | Scorpio | Zzzax | J. Jonah Jameson
Spider-Man (2017)
Symbiotes (Venom, Scream, Scorn, and Mania) | Dark Goblin | Hobgoblin | Doctor Octopus | Vulture/Goblin King | Alistair Smythe | Rhino | Jackal | Hammerhead | Electro | A.I.M. (M.O.D.O.K.) | Spider-Slayers | Lizard | Tinkerer | Swarm | Scorpion | Sinister Six | Kraven the Hunter | Man-Wolf | Silver Sable | Beetle | Spot | Prowler | Molten Man | Mister Negative | Chameleon | HYDRA (Crossbones and Arnim Zola) | Black Cat | Ghost | Blizzard | Absorbing Man | Crimson Dynamo | Overdrive | Mysterio | Jack O'Lantern | Silvermane | Lady Octopus | Paladin | Puma | Shocker | Living Brain | Sandman | Technovore | Baron Mordo | Knull | J. Jonah Jameson
Spidey and His Amazing Friends (2021)
Green Goblin | Doctor Octopus | Rhino
Video Games
The Amazing Spider-Man & Captain America in Dr. Doom's Revenge: Doctor Doom | Electro | Hobgoblin | Rhino | Boomerang | Grey Gargoyle | Oddball | Batroc the Leaper | Mysterio
Spider-Man: Return of the Sinister Six: Sinister Six (Doctor Octopus, Electro, Hobgoblin, Mysterio, Sandman and Vulture)
Spider-Man vs. The Kingpin: Kingpin | Doctor Octopus | Lizard | Electro | Sandman | Hobgoblin | Venom | Tinkerer | Mysterio | Vulture | Bullseye | Typhoid Mary
Spider-Man & X-Men: Arcade's Revenge: Arcade | Carnage | Rhino | Apocalypse | Juggernaut | Selene Gallio | Sentinels | Master Mold
Spider-Man and Venom: Maximum Carnage: Carnage | Shriek | Doppelganger | Demogoblin | Carrion
Spider-Man and Venom: Separation Anxiety: The Jury | Sentry | Ramshot | Screech | Bomblast | Firearm | Wysper | Life Foundation | Symbiotes (Carnage | Riot | Phage | Lasher | Agony | Scream)
Spider-Man (2000): Doctor Octopus | Symbiotes | (Carnage, Venom) | Jade Syndicate | Monster Ock | Scorpion | Rhino | Mysterio, J. Jonah Jameson, Lizard
Spider-Man 2: Enter Electro: Electro | Beetle | Hammerhead | Lizard |Sandman | Shocker
Spider-Man (2002): Green Goblin | Shocker | Vulture | Spider-Slayers | Scorpion | Kraven the Hunter | Dennis Carradine | Harry Osborn | J. Jonah Jameson
Spider-Man 2: Doctor Octopus | Harry Osborn | Rhino | Mysterio | Shocker | Puma | Black Cat | Vulture | Calypso | J. Jonah Jameson
Ultimate Spider-Man: Bolivar Trask | Venom | Vulture | Silver Sable | Shocker | R.H.I.N.O. | Electro | Beetle | Green Goblin | Sandman | Carnage
Spider-Man 3: Venom | Sandman | New Goblin | Lizard | Scorpion | Kraven the Hunter | Calypso | Kingpin | Rhino | Morbius | Shriek | H-Bombers (Mad Bomber) | J. Jonah Jameson
Spider-Man: Web of Shadows: Spider-Man | Venom | Kingpin | Black Cat | Vulture | Electro | Tinkerer | Rhino
Spider-Man: Shattered Dimensions: Mysterio | Kraven the Hunter | Hammerhead | Hobgoblin | Electro | Sandman | Vulture | Scorpion | Deadpool | Juggernaut | Silver Sable | Goblin | Serena Patel | Carnage
Spider-Man: Edge of Time: Peter Parker | Atrocity | Walker Sloan
The Amazing Spider-Man: Spider-Slayers (Alistair Smythe) | Lizard | Rhino | Vermin | Scorpion | Felicia Hardy | Iguana | Nattie
The Amazing Spider-Man 2: Carnage | Kingpin | Green Goblin | Shocker | Kraven the Hunter | Black Cat | Electro | Chameleon | Norman Osborn | Cash Register Thief
Marvel's Spider-Man: Sinister Six (Doctor Octopus, Mister Negative, Electro, Vulture, Rhino and Scorpion) | Inner Demons | Norman Osborn | Silver Sable | Kingpin | Shocker | Tombstone | Taskmaster | Black Cat | Screwball | Hammerhead | Walter Hardy | Yuriko Watanabe
Marvel's Spider-Man: Miles Morales: Roxxon Energy Corporation (Simon Krieger) | The Underground (Tinkerer) | Prowler | Rhino | Kingpin | Norman Osborn | Doctor Octopus | Vulture
See Also
Black Cat Villains | Cloak & Dagger Villains | Morbius: The Living Vampire Villains | Prowler Villains | Punisher Villains | Scarlet Spider Villains | Silk Villains | Silver Sable Villains | Solo Villains | Sony's Spider-Man Universe Villains | Spider-Girl Villains | Spider-Gwen Villains | Spider-Man 2099 Villains | Spider-Man Noir Villains | Spider-Woman Villains | Toei's Spider-Man Villains | Venom Villains