Jafar says: Read my lips and come to grips with the reality!


This article is a stub and is in need of expansion. You can help Villains Wiki by expanding it.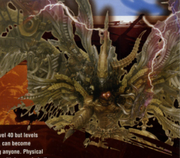 The Undying is the last boss from Final Fantasy XII. After Vayne Solidor is defeated by Vaan's group with the help of Gabranth, he goes to the outside area of the Sky-Fortress Bahamut. Venat, with his goal fulfilled, gives up his own life and lend his powers to Vayne, who fuses himself with parts of the Sky-Fortress, becoming a huge dragon-like creature very similar to Bahamut, the King of Dragons from Final Fantasy myth.
The Undying has no life-bar, so the player may not know how much damage he has taken. He has Bahamut's signature move, Mega-Flare, which deals above 3000 damage to the entire party. Most of the time, he will cast piercing magicks, as well as dispelga, making most buffs useless. After some damage, he will cast a magick barrier, negating all magick damage. After more damage, he will cast perfect defense, negating everything thrown at him, then buff himself and use Giga-Flare. After his protection ends, he will start healing himself, then use Tera-Flare, his strongest attack.
Vaan's party defeats The Undying, who explodes in a burst of mist that covers the entire Sky-Fortress, which falls apart and crashes in the desert outside of Rabanastre.
Community content is available under
CC-BY-SA
unless otherwise noted.