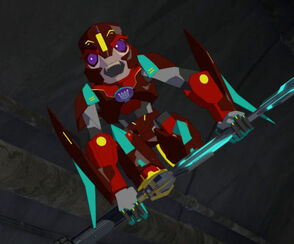 Theorem is an ape-like Torpedo Mini-Con and one Mini-Con partner of Simacore alongside Axiom in Transformers: Robots in Disguise. Often he argues with Axiom.
History
When Alchemor crashed into the Earth by Megatronus, Simacore, Axiom, and Theorem were freed from the stasis pods and later broke into an experimental energy research laboratory to steal the particle accelerator's secondary control circuit, which could be used in a Cybertronian starship. And when Bumblebee, Strongarm and Grimlock met Simacore, Axiom and Theorem fought them with Simacore. And when Grimlock managed to remove the control circuit from Simacore, Simacore threatened to destroy Bumblebee and Strongarm if Grimlock did not hand over the control circuit to Simacore. But at the last minute, Bumblebee and Strongarm were saved from destruction, Simacore, Axiom and Treorem were defeated and taken to stasis. But Simacore managed to escape before his fellow prisoners were returned to prison for Cybertron, and after the escape, she cloned his Mini-Clones from his Mini-Cones to take revenge on the Bee Team, and especially Grimlock.
Relationships
Gallery
Community content is available under
CC-BY-SA
unless otherwise noted.