Doctor Strange in The Multiverse o Madness - The Loop
Play Sound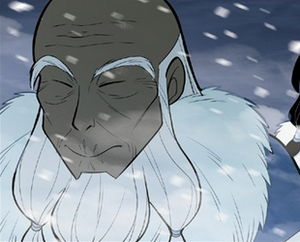 | | | |
| --- | --- | --- |
| " | Do you finally grasp the point of my story, Katara? They may invite you to their campfire. They may flatter you with pretty words. They may even put together a lovely festival for you. But make no mistake. In their eyes, you'll never be anything more than a snow rat. We must remove the foreigners from our midst or they will destroy us. Now will you support Gilak's cause? | " |
| | ~ Thod to Katara. | |
Thod is the secondary antagonist of North and South, the fifth Avatar comic trilogy taking place between The Last Airbender and The Legend of Korra. He is Gilak's second-in-command who tells stories of old Souther Water Tribe traditions.
History
Thod and his group are part of an extremist faction that wants to wipe out the Northern Water Tribe for what they see as a hostile takeover. Thod first encounters Katara and Sokka and tells them a story of a snow rat who entertained humans to the point where it began to believe it was a human itself, but was laughed at and cast back out. Unsure what he means by it, they have no choice but to push him out of the way to escape the rest of Gilak's faction.
Thod is present during Gilak's attack on the celebration festival, and during the attack, he once again approaches Katara, clarifying what his story meant; the Southerners are the snow rat, and the Northerners are the humans. Thod states the Northerners must be driven out and/or killed, and once again asks Katara to join their cause. When she refuses, he attacks her, revealing himself and his two disciples as chi-blockers. At some point after that, he was arrested along with Gilak and his disciples. However, one of the officers, Officer Lirin, listened to Gilak's speech and believed his cause was just, giving Gilak the key to his cell, the latter of whom freed Thod shortly after.
Thod was present during the exchange between Earth King Kuei and Hakoda at the Bridge of No Return. He and his disciples chi-block Team Avatar to prevent them from fighting back during the exchange. However, Malina and Toph's metalbending students distract Gilak, and Team Avatar reveals they were wearing armor designed by Toph to block chi-blocking. Thod is taken down along with the rest of the extremists. After Gilak's death, Thod and the rest of Gilak's faction (including Officer Lirin and the two disciples) are arrested for their crimes.