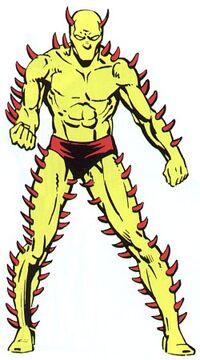 Thornn is a minor Fantastic Four villain.
He was created by Len Wein and George Perez.
History
He was on a team of magical supervillains called Salem's Seven. They were foes of the Scarlet Witch and the Fantastic Four. All seven were the children of Nicholas Scratch and the grandchildren of Agatha Harkness. They were humans with magic powers who could transform into fantastic creatures with super-powers. 
Powers
Shapeshifting - He's able to change his appearance at will, mostly appearing as a demonic yellow skinned demon with red horns all over his body.
Explosive Thorns - He can take off the thorns on his body and throw them as weapons, exploding on impact.
External Link
Community content is available under
CC-BY-SA
unless otherwise noted.